I've been back now a bit over 4 weeks and I've been blown away by how many things are going on especially in the Mobile side of the house. One of the most interesting aspects I've come across is the "Apphaus" a new initiative that is simply beyond rational thinking for the typical SAP mind, and I love it!
The "Apphaus" itself is actually a thought, idea and a thing. It's what you would call a startup inside of the walls of SAP, a business inside of a business yet somehow separate and their goal is consumer based apps from SAP. Having launched last year they produced 6 apps from concept to production within 90 days each. One of those catching a lot of eyeballs and attention right now is the "Recall Plus" and as a parent I say "AWESOME"!
Having taken Hasso to heart ("no new product without community"), "Recall Plus" is already set with it's own Facebook page where customers are worked with directly. Not to mention feedback and comments being taken to heart from the App Store as well.
One of the first reviews I saw was from fellow Irregular, Ray Wang.
At midnight pacific time, February 15th, SAP launched its first ever consumer app – Recalls Plus. This consumer app, downloadable for free on Apple's app store, was developed from one of the world's leading enterprise software companies (see Figure 1.) SAP's first foray into the consumer world will surprise many customers, influencers, and observers. In fact, in an exclusive conversation with Rishi Diwan, who's the product owner for the new consumer apps team, he reinforced SAP's seriousness to enter the market, apply lessons learned, and reiterate.
Ray also has several screen shots up as well.
The second piece I saw was from Alex Jospeh.
I personally love the concept, as few apps better symbolize the essence of this blog title 'From Enterprise to Consumer with Love'! I knew the product was in the making for some time, but did not know any details. If you would like to find out more, please contact Rishi Diwan, the product owner. Here are some personal impressions as a consumer, after downloading and playing with the iPhone app for a while.
As for my own thoughts on the app, as a parent I constantly wonder – how do you know when something is a problem? I mean the local toy store often has something up about recalls but do you really want to stop by the toy store every week and then it's only toys they sell. The news? Only if it's "big" otherwise you have to sit there and check website after website and then how often do you remember to go checking 20 websites every week? So an app that lets me put up a watch list and scan multiple sources all at once – brilliant!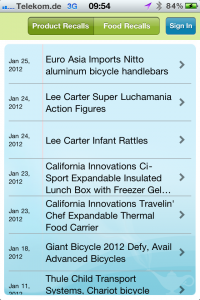 Related articles