Business Platforms are supposed to represent the "fusion of the benefits provided by standard business processes, Cloud computing and SaaS in a singular managed service delivery model".
They are supposed to represent the very future of outsourcing and where our industry is headed: more automated process, more solutions in the Cloud and engagements priced by outcomes and volumes, not wage rates and grunt work.
Well… you've heard all the hype about "Business Platforms", now it's time for the real talk: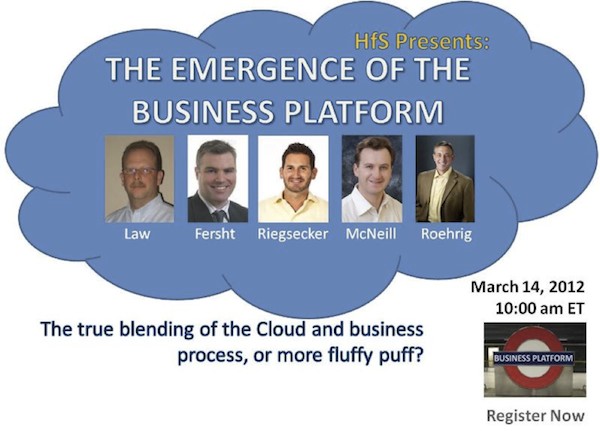 The Panel:
Join the HfS research crew as we highlight our research findings on the adoption of Business Platforms across 21 services providers and 112 Business platforms. We will open up the airspace to three executives who contributed to our research and represent firms that are actively building and marketing Business Platforms.
Paul Roehrig, Corporate Strategy, Cognizant
Bob Law, Technology Platforms, HP BPO
Shawn Riegsecker, Founder and CEO, Centro
Robert McNeill, VP Research, HfS Research
Phil Fersht, Founder and CEO, HfS Research
March 14th at 10:00 AM Eastern Time
The Discussion Topics: 
Why should enterprises adopt Business Platforms?
How ready are enterprises to adopt Business Platforms?
What Business Platforms are already established and what's cooking for the future?
What's hype and what's reality?
What processes and business functions are more likely to be "Platformed" in the medium to long term?
What is really driving Business Platforms – accountability, process improvement or the Cloud?
What are the core benefits and risks posed by Business Platforms?
How should Buyers approach security issues related to a Cloud delivery model?
Why do pure play SaaS providers have relatively little Business Platform traction with service providers?
March 14th at 10:00 AM Eastern Time
We hope you can join us!