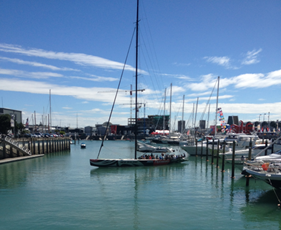 As you may have noticed, we are setting sail on a new, exciting journey at Cornerstone OnDemand. Last week, we announced the acquisition of Sonar6. Sonar6, based in Auckland, New Zealand, represents the first acquisition for Cornerstone and a huge opportunity that accelerates our strategy to deliver the best talent management solutions to companies of all sizes.
I've been a big fan of Sonar6, even dating back to 2008 when I wrote a blog post, We Are Doing Performance Management All Wrong. One of the many reasons why I've always admired Sonar6 is that they've taken a different approach to talent management. They recognized very early that their customers – mostly high growth, small-to-medium size businesses (SMB) — need something that is simple, easy-to-use and delightful for the user. They haven't focused on the process but rather the outcome and have delivered the most innovative tools that enable employees to make more effective talent decisions.
Sonar6 is not just a great talent solution specifically for small businesses. It's a great team and a very cool company. All you have to do is check out their videos to get a feel for their culture. I've had the pleasure to spend time with Mike Carden, Mark Hellier, Pete Weaver and the rest of the Sonar6 team. I am lucky and excited to get a chance to work with them.
I encourage you to read what others are saying about the acquisition including:
My favorite quote about the acquisition is from Ed Newman who stated, "…this is a classic example of a company deciding to Zig while everyone else is Zagging". I couldn't have said it better myself.
Note: The above photo was taken on the day our acquisition was announced in the Auckland harbor. The boat includes our Sonar6 and Cornerstone team ready to set sail on our journey.