It's nearly official at this point: 2012 is the year consumerization upset the enterprise. That's certainly not to say that there won't be any non-consumer innovation in the enterprise this year, but it is limited in comparison and much smaller than the now almost total revolution that mobile, social, cloud, and other external trends are wreaking on how we work and live.
Among them, one particular "meta" trend now stands out above all others: It's what I call the "everythingization" of technology. Pervasiveness is now upon us when it comes to technology availability, connectedness, adoption, and usage. Some types of everythingization stand out more than others… The "appification" of everything, the analysis of everything, the socialization of everything, anything-as-a-service, the smart-enabling of everything. I could easily go on.
The implication of all this is as fascinating as it is difficult to untangle the trends and discern the short-term ramifications and long-term implications. For business and technology leaders, it's imperative to try to keep up. Our job is to navigate our organizations through the blizzard of changes taking place in the technology landscape that are also simultaneously intertwined with a new set of behavior and cultural transformations in the world at large. Arab Spring? Corporate Spring? These are just sign posts on a much longer road that's thoroughly influenced by technology, yet far from solely about it. In fact, it's just as much about us and what we do with the innovations happening all around us.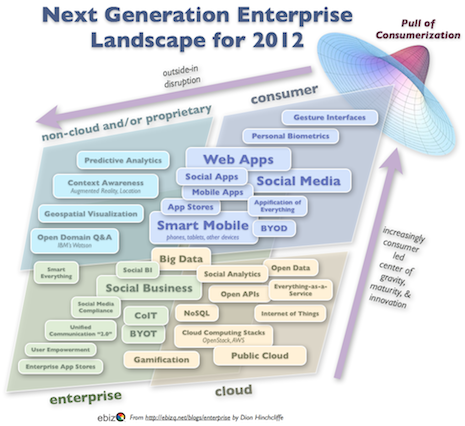 Learning To Adopt Consumer Technology
As I've charted the consumerization story over the last couple of years, I've been trying to assess the impact it has on how we guide, model, design, and govern our organizations given that technology is increasingly the very fabric within which we do business. For decades throughout the 20th century we added technology to what we did, transformed it some, but largely paved the cowpath. Those days are increasingly coming to an end. The profound pervasiveness and variety of technology today, the incredibly deep integration that now makes virtually everyone in the developed world connected together all the time, has remade the possibilities.
This is the story of what is increasingly called CoIT, which is the fusion of this rapidly emerging new world with an overhaul of the practice of information technology. Our current method of deploying and managing IT — via a typically all-too incremental and oft hide-bound bureaucratic process with which most organizations today still try to apply technology to their business — takes place at a pace and scope that is now clearly inadequate to the task. While I've covered in detail the issues, challenges, and profound opportunity that consumerization of IT entails, what's missing is an up-to-date picture of the technology landscape.
I last created such a picture of emerging enterprise tech in detail here on this blog in 2009. The difference between the enterprise landscape in 2012 and that view is stark, even dramatic: Today's major IT mega-trends of mobile, social, big data, and cloud based on largely consumer models now rule the roost.
Related: Updating digital strategy for the social and mobile era.
So let's get down to business and look at what's on plate of most IT departments, and increasingly their users, who increasingly can't and won't wait for the technology to come through the traditional process, which is becoming choked by the volume, variety, and channels, including Web apps, mobile apps, app stores, SaaS, cloud infrastructure, and much more.
One quick note before we look at this year's tech landscape: I frequently use the term "next-generation enterprise" and I'm often asked what I mean by it. In this context, it describes organizations that are proactively moving into the present by changing how they assimilate, architect, apply, and maintain their technology solutions in the context of updating and transforming their processes, structure, and business models to effectively align with and work natively in today's networked and highly digital economy. While that may be a mouthful, it also accurately describes what most organizations must do to ultimately avoid disruption in the marketplace as technology increasingly defines how our businesses engage with and provide value to the world.
Next-Generation Enterprise Landscape for 2012
The list below, also depicted in the visualization above, is broken down into four sections, three of which extensively overlap with the enterprise (non-cloud and/or proprietary tech, consumer tech, and cloud tech) and largely consist of trends from the consumer space (though not exclusively). When they are closely related, the trends overlap in the visual above.
Gesture Interface. Along with touch-based interfaces, the technology for gesture interfaces, such as Microsoft's Kinect will move to mobile devices including tablets. These will be particularly effective for many types of applications that require control at a distance. They will make will make touch-base interfaces more effective than they are today.
Personal Biometrics. More than just a security mechanism, biometrics has moved into measuring and tracking just about everything we personally do. Good consumer examples include the Fitbit, Nike Fuelband, and the Withings scale and this tracking technology will be used to for a growing number of enterprise applications,but because of it's consumer origin, will take some time to take off. These connected devices will use sensors to gather a wealth of data about us to drive performance improvements and efficiencies of many kinds.
Web Apps. Also associated with Software-as-a-Service, Web apps are disruptive because they are just a URL away in a browser. They are one of the bulwarks of consumerization because they're typically so easy to onboard and are much easier to use than many traditional enterprise apps. Web apps tend to be more open and based on a larger number of standards, at least when compared to smart mobile apps.
Social Media. Now the primary form of digital communication on the planet, eclipsing e-mail in 2009, social network services like Facebook, Twitter, LinkedIn, and numerous others have changed how we connect and communicate to be much more open and participative. Businesses are just now reconciling with the fact that their customers have essentially moved elsewhere and learning the rules of engagement in a fundamentally new social world.
Social Apps. Many consumer and enterprise social platforms now allow social apps to operate right inside the activity stream. This enables us to better connect our systems of record and systems of engagement and has many other benefits as well. OpenSocial is the leading technology for this but there are alternate approaches. Increasingly, apps of all kinds will have a social context and run inside of social networks while widely distributed by app stores.
Mobile Apps. While HTML5 will be a strong contender, the native mobile application models offered by iOS and Android has proven extremely compelling from a user experience perspective as well as the best way to take advantage of the wealth of technologies (sensors, touch screens, etc) that smart mobile introduces. The app store has been particularly notable as a way to make mobile software easily discoverable, safe, and monetized, leading to the creation of over a million apps in just the last few years.
App Stores. I find that most organizations are not tracking app stores much yet, either internally or externally, yet most CIOs I speak with are planning to have their own for the enterprise. While still early days yet, app stores have already become enormously influential as a major new conduit and ecosystem for software, and this model will move into the enterprise as well, one way or the other.
Appification of Everything. The app is becoming the defining packaging concept for solving problems ("there's an app for that.) More and more products and services of all kinds (home automation, CRM self-service, consumer toys, and much more) are getting an app to control or interact with it conveniently and from afar.
Smart Mobile Platforms. iOS, Android, Windows 8, RIM OS, and others have brought entirely new operating systems, SDKs, features, and sensibilities to the table that are very different from the traditional platforms like Windows and LAMP.
Bring Your Own Device (BYOD). Three quarters of all companies now have some form of BYOD policy in place. No longer do workers have to carry two smart phones, two tablets, and two laptops. Major challenges involve data security, cloud storage, and leakage of sensitive corporate information.
Big Data. Social media, mobile devices, and user/worker generated data are swamping traditional analytic, data warehousing, and business intelligence approaches. All new techniques (as well as an overhaul of existing ones) are making Big Data one of the biggest IT stories this decade.
Social Analytics. Now that most of the world is participating in social media, making sense of the behavior and data has become a cottage industry in its own right with hundreds of vendors now offering tools to help people make sense of the vast volumes of social media data flows.
Open Data. Maintaining control over hard-to-recreate sets of data has become a strategic competitive advantage. While governments around the world have become leaders in this, along with Internet firms, and a growing number of traditional enterprises, open data is finally taking off as a way to open supply chains and integrate more simply and easily.
Open APIs. One of the leading ways to implement an open data strategy, open APIs provide a "global SOA" that lets business quickly on-board themselves with partners and create successful digital ecosystems.
Everything-as-a-Service. Like app, everything is also being packaged up as an easily accessed and consumer service online. Infrastructure-as-a-service (IaaS), software-as-a-service (SaaS) was the low-level beginning but business-as-a-service is now a reality. Every type of product and service in the world is increasingly being offered on a metered, utility basis as an open platform.
Internet of Things. Everything is getting an IP address and can be found, interacted with, and/or controlled over the cloud.
Cloud Computing Stacks. Like mobile operating systems, the cloud has several takes with full on stacks, with Amazon Web Services and OpenStack as primary examples of ad hoc and de facto offerings, respectively.
Public Cloud. I was rather surprised to learn recently that 58 percent of companies now run mission critical workloads in unmanaged public clouds, regardless of official policy for doing so. This is stark contrast to public cloud that up until recently had limited adoption in the enterprise, but can be a significantly boost to business agility and performance, among numerous benefits.
NoSQL. Non-relational database technology (a good definition of NoSQL here) is becoming more and more popular as the need to deal with highly scaled unstructured data increases.
Gamification. Bring competition, scoring, and tight feedback loops to work processes of all kings, gamification is heating up as a way of driving improved engagement and productivity and other interesting outcomes that aren't possible otherwise
Social Business. Applying social media to business objectives has become a major industry trend and companies that engage in social business fully see significant benefits in revenue and profit growth.
CoIT. The relentless consumerization of information technology is having profound effects in technology choices, user experience, decentralization, and shadow IT. IT department will have to reorganize and update its technology strategy to deal with the changes.
Bring Your Own Technology (BYOT). BYOD is evolving into a broader trends towards users selecting their own apps, services, and technology of any kind.
Social Business Intelligence. Turning analytics into useful business-specific insight is an important new growth area for social business. It's also where much of the long term ROI will reside.
Social Media Compliance. Making social media platforms safe for users, particularly those in regulated industries, is another offshoot industry gaining a lot of traction at the moment..
Unified Communication 2.0. I see unified communication coming back as a way to deal with the profound communications channel fragmentation taking place today. In particularly UC 2.0 is bringing social media and other new forms of communication into the fold.
User Empowerment. Enabling users to self-service and get the IT they want, the way they want is a trend being directly driven by consumerization.
Enterprise App Stores. All the good aspects of consumer app stores, but with enterprise needs. I've predicted policy-based white labeling as the key to making these work in the face of hundreds of thousand of consumer apps that must be screened. This last piece is a ways away yet.
Smart Everything. Closely related to the Internet of Things but a more sophisticated and enterprise take, this is the deliberate infusion of houses, buildings, cars, and every other major structure or object with an advanced set of control, and management interfaces.
Open Domain Q&A. Best exemplified by IBM's Watson, this is the ability to process a large set of data and ask natural language questions to gain strategic insight. Closely related to Big Data.
Geospatial Visualization. Making the rounds of other prediction lists, this creates insights through visualization with specific types of analysis that can be performed on location-related data, which is now widely available due to mobile location-based apps and social networks.
Context Awareness. Because smart devices are acutely aware of their position in 3D space, as well as having a broader sense of what the user is doing in general, can provide useful new user experiences like augmented reality and location-sensitive help.
Predictive Analytics. The techniques of Big Data and open domain Q&A now make it possible to get ahead and identify major trends before they begin. This has major competitive implications.
Astonishingly, as long as this list is, it can't possibly be exhaustive and many of these topics are entire fields by themselves. However, I believe it's a strong short list of near-certain strategic candidates for companies to reference as they look at becoming next-generation enterprises.
I also recommend looking at Gartner's and Deloitte's 2012 enterprise tech trends lists for comparison.
Please add your additions to this list in comments below and I'll issue an update if there are any particularly interesting submissions.