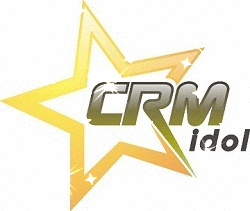 I'm realizing, as I get older and, of course, wiser (heh heh), that Twitter isn't the best place to make announcements, though it isn't bad either. I'm not getting the response I want to a number of things and this year, I'm really anxious to get people and companies and, if you actually exist, extraterrestrials, involved with what I do. I also want to meet more people than ever before because I have a significant number of people that I know via Twitter handle and not much more than that.  So, to that end and inspired by my awesome friend Sameer Patel's posting of his speaking schedule the other day, I decided that I'd use this forum as a place to make a few important announcements that are relevant to me – and, I hope, to you and the industry.
Let's roll.
CRM Idol 2012
We have the dates, we have the new rules, we have the largest judges base in our history. The prizes are starting to roll in. We are getting set to take CRM Idol 2012 to new heights.  There are a significant number of changes in both eligibility requirements and rules for how we are going to conduct the competition.
What I can tell you here is that this year, Asia and Australia/New Zealand is eligible as a third region beyond the Americas and EMEA.
Plus we are eliminating first come first serve, but when you submit for candidacy does matter.  Stay tuned for the announcements very soon leading up to the submission dates.
Also, there is now a rule that limits the length of time a company has been in existence. Too long and you're not going to be eligible. I'm sorry about that. The reason is that we want to keep the focus on emerging companies.
There are several other critical changes too but you'll have to wait for those.  Soon enough.
AND last years contestants, if you qualify under this year's rules, can submit again.
Things to watch for the announcement of the submission dates:
PLUS multiple media properties who I will be publishing about in the future.
I promise, it won't be long and it will be worth it.
Be ready.
CRM Watchlist 2013
As you know, CRM Watchlist 2012 was easily the most exciting and the most rigorous when it came to winning the award.  But one thing that wasn't all that difficult was becoming a candidate.  There were two options – be tracked by me to begin with or submit a questionnaire to become a candidate.  There were some automatics who I tracked ordinarily so they were candidates without having to lift a finger.
But I realized something in the process this year.  In order for me to decide who is going to win or get on the 6-mos review list or not-win, I have to:
Track the companies throughout the year.
Do dozens of hours or research on each of the finalists after they are named finalists.
Score every one of the companies to determine who wins.
Write a review of each of the winners (31 this year) that not only says why they won, but does what is effectively free (though admittedly high level) consulting for each of them, which also takes hours of work – and even days.
What that means is that I'm doing hundreds of hours of research AND writing intensely for 4-5 weeks straight – with what turned out to be 110 pages of reviews this year in that 5 weeks.
I also learned that when I got the questionnaires from the companies that were optionally submitting – those that were candidates anyway – several things came into play.
I learned things about them that my research on them never surfaced.
I was able to correct incorrect assumptions I had made or information that I had
I understood the tenor and culture of the company that I was dealing with much more substantially than what I knew independently.
I also learned from companies that I hadn't tracked, how good they were.  So, for example, the first company to dislodge salesforce.com from its #1 perch ever was a submission that wasn't on the original candidates list – Blackbaud.  They submitted a questionnaire that made me go and do a lot more research and they blew me out of the waters.
SO…
I am thus changing the rules this year.  The first and foremost one is
NO FREE PASSES. YOU MUST SUBMIT A QUESTIONNAIRE IF YOU WANT TO BE CONSIDERED A POSSIBLE CANDIDATE.
This means that you have to return the questionnaire to me by November 30, 2012 or you CANNOT win or even be considered as a candidate.  There are no exceptions to this, including last year's winners.
To that end, I want to thank the 35 companies who have already requested it including salesforce.com, SAP, Oracle, and Microsoft – and Capgemini and CSC on the consulting side among others.
The reasons for this are simple.  If I have to work to come up with what I do, I'd appreciate it if it mattered to you a little that I do. After all, I'm only human. Probably more importantly, it gives me better and more information about you which allows me to make a better judgment on who deserves to win.
So here's the deal.  You can request the questionnaire now (same criteria for being CRMish as last year but with the 2013 rules changes) by emailing me at paul-greenberg3@the56group.com.  When you do, you will get back a registration form that will take you about 30 seconds to fill out.  Fill it out. Send it back to me right away. In return for that registration form, you will get two docs.  First one is the questionnaire – either vendor or consulting/SI version.  Second one is the 2012 CRM Watchlist Yearbook – 110 pages of the 2012 winners reviews and an Appendix A which has the CRM Watchlist 2013 rules changes and some suggestions on how to maximize that.  When I send you that, you become eligible to be a candidate and I start to track you, Watchlist-style (different than my normal tracking I do in the analyst part of my work).   The only thing that qualifies you as a possible candidate though is submitting the questionnaire by November 30.  But I would ask for it now if I were you. It matters.
Here are the CRMish categories that qualify you to enter:
CRM Suite – Enterprise
CRM Suite – Small Business
CRM Suite – Medium Business
Marketing Resource Management
Marketing Automation (Revenue Performance Mgmt)
Social Marketing
Sales Force Automation
Sales Intelligence
Sales Operations
Customer Service
Web Self-Service
Social CRM
Mobile CRM
Customer Experience Management
Social Media Monitoring (must be integrated w/at least one CRM package)
Customer Analytics (including text/sentiment analytics; voice based analytics; social media analytics, influencer scoring, etc.
Enterprise Feedback Management
Reputation Management/Engine
Innovation Management
Community Platforms
Collaboration Applications/Platform
Social Business
Knowledge Management (requires at least one completed integration with a CRM package)
Vendor Relationship Management
Partner Relationship Management
Insight Solutions (Enterprise Search, Sales insight, etc)
Other (this is where Broad Brush qualifiers like Financialforce, Workday, Zuora etc fit)
You can follow CRM Watchlist information on Twitter if you want. Two ways.  First, the#crmwatchlist hashtag. Second, the @crmwatchlist handle.
For those of you who complained to me that you're never on the Watchlist, well, this is your chance to MAYBE make the Winner's Circle.  You want to be a candidate? This is your shot. Fill  in the registration, fill out the questionnaire by November 30 and you might make the pre-season qualifiers.  But don't, and you won't.
Take your best shot.
The 56 Group, LLC Website
Some time this year, for the first time ever, I'm launching a social site. It will be my company website but it will have some unique features including communities and a loyalty program – something that has never been offered by an independent consultant or an influencer before to my knowledge.
The community will be "owned" by me but actually anyone or any company who is in the CRM world or is interested in a CRMish topic could have their own moderated (by them) subcommunity.   That means that for example, a CRM vendor will be welcome to have a subcommunity that's about their company or products. On the other hand, a CRM consultant can have a community devoted to the best restaurants and bars in the towns that they travel to.  Up to you.  There will be some rules but you can be free to talk about what you want – and moderate a subcommunity to do that.
The loyalty program is premised on something, which might be false. That you care enough to earn points that will get you discounts with me of some substance.  You don't have to be a current client to earn the points. There will be several categories that earn you points (details will be available at launch):
Monetary – you buy stuff you get points
Community – you participate in the communities on the site you get points.
External Community – you participate in the industry via events you get points.
Social Good – you do Good in a philanthropic sense – you get points.
How all that shakes out, I'll fill you in later.
Oh yeah, there will be a lots of content there AND PGreenblog will be moving over to the site when it launches.
As far as the launch date goes, it will be when it is.  All I can tell you is sometime this year – which is about my speed as to pinning dates down.
That's it for these announcements.  There's so much more to tell you but it will have to wait. Think CRM Rock Star Bus Tour.  That's all I'll say for now.
Have a great day.