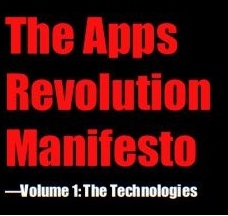 I've been reading a research paper put out by Credit Suisse called The Apps Revolution Manifesto – Volume 1: The Technologies.
It's a fascinating read, if you can get a copy I would encourage you to get a copy (I don't believe I have distribution rights otherwise I would like a download copy myself). As I read it I am struck by 3 thoughts:
1) Credit Suisse's thesis is, to paraphrase, that predictions of big on-premise app vendors deaths are premature. I tend to agree with this view… but with some important caveats.
2) We are upon yet another great app modernization cycle, but for me the question revolves around the winners and those that don't win as much. The last upgrade cycle was CAPEX centric, this one is going to have it's own healthy dose of CAPEX but not nearly as much as the last cycle, while OPEX spending will be greater and spread across a far more diverse market. This is the first caveat on my point #1, existing big application vendors are not well suited to thrive in this environment and it is unlikely to believe they will undergo a radical transformation to achieve these competencies.
3) The forcing event for the last cycle was Y2K, this one is being driven by mobile, social, and cloud-based big data. The last cycle easily translated into product sales cycle, this one does not. Mobile, social, and big data have product componentry but are more accurately described as a transformative business strategy rather than technology strategy.
I have made it through half of the document but one thing is eminently clear, a lot of old world acronyms are being swapped out with new terminology, vendor names, and market forces which are thrusting them into a central position for companies looking at the decade ahead and how they achieve and sustain competitive advantage.