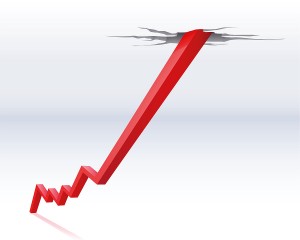 A couple of weeks ago I passed on the opportunity to invest in a SaaS application company that has been growing around 100% YoY for the past couple of years and can now be considered a solid expansion story. While the company's overall story was good, it was not great.  As I have been talking about some of my colleagues in other firms I heard similar stories from them about passing on companies that were good but by today's standards were not considered great.  So I started thinking why our standards are changing and where are these changes leading us.  Top technology venture firms like Trident Capital which are investing on B2B business models in areas such as cloud computing, mobility, social/local/mobile (also known as SoLoMo), ecommerce and big data are looking for breakout companies.  In fact, this is a term you hear more and more often in the Valley these days.  A company may be growing by 100% YoY and may still not be considered breakout.
In my opinion "breakout companies" have the following characteristics:
Leadership position in their market (this means that they are number 1, 2 or 3 but not lower).  For example, there are approximately 45 companies providing solutions for Facebook page management.  Buddy Media and Vitrue are the top two competitors in this category.  Top venture investors competed hard for the opportunity to invest in either of these companies.  Today we routinely receive business from lower-ranked competitors that are raising a round of capital and we always pass on the opportunity to invest.
Work in markets that are either already large and are growing consistently at 8%+ annually, or are projected to become large and is growing at over 25% annually.  For example, Corporate Performance Management is a $7B/year market that has been growing at 8%/year for the past several years and its growth is projected to remain at least at this level.  The Facebook page management market is growing at 40-50% YoY.
Grow must faster than the market and typically over 100% YoY even when its revenue becomes large, i.e., while growing a business is always hard, it is nonetheless typically easier to grow the revenue from $2M to $4M to $8M but much harder to sustain such growth when the revenues reach $30M to $60M or $120M.  Host Analytics, one of my portfolio companies, that provides the leading SaaS analytic application for Corporate Performance Management has been growing at 100% YoY and its revenue is now such that for it to be considered a breakout company.
Points of leverage which can be utilized to sustain, and even accelerate, the growth rate in a capital-efficient manner.  Even though venture capital is flowing rather freely again in specific sectors, investors still want to work with companies that demonstrate that they can reduce their cost of new sales, increase the lifetime value of their existing customers, and maintain their growth rate by combining direct sales with channel partners.
Strong management teams with members who have worked with successful startups before.
Investors are competing fiercely for the opportunity to invest in breakout companies.  They often approach such companies before they need to raise money and pre-emptively offer term sheets with high valuations and other entrepreneur-friendly terms. We typically see 4-5 investors, competing for the same opportunity.  And most of the times, this group of 4-5 are drawn from the same collection of 30-40 venture firms.  Because of the valuations offered, the size of each investment is also very large as the investors want a meaningful piece of each such company.  For example, breakout companies like Yammer, Klout, Lithium, Marketo, and Brightroll have recently raised large pre-emptive rounds.
Investors prefer to invest in breakout companies for the following reasons:
There exist too many early-stage companies in each subsector because of a) an abundance of risk capital from angels, superangels, etc., and b) low technological barriers to enter many of these sectors.  Under these conditions, VCs prefer to let the market identify each sector's leaders, i.e., the breakout companies.
Exits, either through IPO or M&A, appear to reward the breakout companies.   In a recent study he conducted, Morgan Stanley's Adam Holt observed that IBM, one of the most active IT acquirers over the past 10 years, buys only category leaders.  This is an acquisition approach that several other large IT corporations also use.  Moreover, as the number of potential acquires has shrunk, venture investors realize only so many acquisitions can take place in each subsector.  Therefore, unless an investor believes that a private company has IPO potential, the investor would want to invest in a company that will likely be an acquisition target, leading us again back to the breakout companies.
Early stage risk is not being adequately rewarded.  Over the past 10 years VCs have come to realize that by and large they are not being rewarded for taking early stage risk, as startups take longer to mature and require more capital than many early investors had anticipated.  The proceeds from the exits of early stage companies don't provide sufficient returns for the funds these VCs have raised.  For example, having a 2x return on a company where a venture investor invested $5M out of the $300M fund is not "moving the fund's needle."
Image credit: BigStock.