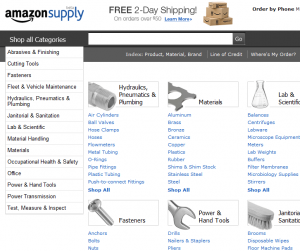 Amazon announced it launched Amazon Supply (or AmazonSupply, depending on which branding is used), a new B2B marketplace clearinghouse for industrial and MRO parts and related SKUs. The announcement describes Amazon Supply as "a new website dedicated to offering a broad selection of parts and supplies to business, industrial, scientific and commercial customers at competitive prices." According to the press release, Amazon Supply "currently offers more than 500,000 items from leading brands" across a range of categories, including: lab & scientific, test, measure & inspect, occupational health & safety, janitorial & sanitation, office, fleet & vehicle maintenance, power & hand tools, cutting tools, abrasives & finishing, materials handling, materials (e.g., metals), hydraulics pneumatics & plumbing, fasteners and power transmission.
Shipping costs are clearly bundled into total costs as "eligible orders $50 or more receive free two-day shipping." Moreover, it appears that Amazon has cloned — potentially improved — its B2B customer service experience providing, in their words, "free 365 day returns" and a "dedicated customer service center." They even offer their own financing through corporate lines of credit, a potentially high margin business.
The announcement undoubtedly builds off the acquisition of Small Parts, Inc. (which Amazon took under its marketplace wing in 2005). Referencing the previous acquisition on the site, Amazon suggests, "that in the past seven years, the dedicated team at Small Parts helped us expand our service and selection until we have grown well beyond our original focus of tubing, parts and fasteners for the medical supply and research industries. We have chosen the name Amazon Supply to help communicate our new, broader selection, but we continue to carry on the Small Parts tradition of providing responsibly engineered products to the business, research and scientific communities."
Lisa Reisman, Managing Director of MetalMiner, said, "Amazon Supply will be very disruptive, particularly for distributors in the MRO world such as Grainger, Wesco, Graybar and DSSI. Of course the story gets interesting when we look at the volumes. Amazon has honed the B2C model — small shipments with high frequencies using parcel service providers. How effectively Amazon will ship LTL and commodities in bulk vs. the Grainger's, Wesco's etc. is an important question. However, I wouldn't say that's a really hard competency to gain."
Lisa also notes that, "the real value-add though for the distributors in the B2B world comes from the other facets of distribution — kitting, consignment, tool crib management, VMI, replenishment etc. How effectively Amazon will play here remains to be seen. And herein lies the rub — B2C and B2B may look similar, but these distinctions separate the two. Amazon can be a strong player in smaller sized businesses that don't have integrated processes and systems, but companies that operate fully integrated vendor replenishment businesses will not be so quick to switch to Amazon. Nonetheless, it's a disruptive offering and will be interesting to watch over the longer term."
From the Spend Matters P2P vantage point, Amazon Supply could very well be a worst MRO-focused eProcurement nightmare scenario for vendors like Ariba, SAP, Oracle, Rearden, and Coupa should Amazon chose to add what amounts to basic buying controls, workflow, compliance and analytics capability that are commonly featured in eProcurement technologies. As one of my colleagues suggests (this individual has many years of firsthand knowledge of competitive P2P products), "the self-service merchant capability is light-years ahead of what the B2B vendors have right now. It will be interesting to watch whether they start adding lightweight P2P capabilities, like approvals, or just sit tight and be the marketplace to which everyone just integrates. What they have now — the integrated catalog, marketplace and payment — is the hard part."
This gets to the crux of what Amazon is exceptional at and what others like Ariba and SAP have not fully internalized — building a platform-based business with interoperability at the very core of the DNA. The advantage of a platform-based model based on true service-oriented architecture (SOA) is difficult to overstate. As we previously wrote, such platforms can enable interoperability that allows for "capabilities, content and related activity to be consumed by other systems, suites and tools, creating worlds where data integration is replaced by true information coordination and orchestration…A lack of a SOA model is the reason one of the best-known vendors in the sector has had such a challenging time with anything-but-vanilla external systems and data integrations across its SaaS/cloud-based products, not to mention making its latest SaaS enhancements available in the supposedly same code base for CD customers."
Now imagine a world where Amazon's onboarding process for new catalog-based suppliers in a business-to-business setting is truly self-service and can be set up through wizard-based configuration and open APIs, something that can take months to get up and running (and tons of services fees) for a traditional ERP P2P provider. Moreover, Amazon is not starting from scratch in terms of coming up to speed on B2B. A few things that stand out to us suggest Amazon may very well get this right. Consider how, for example, that even though Small Parts was only a small business, they have provided Amazon with sufficient learning.
Jeff Bezos and his team (through Bezos Expeditions, his personal investment arm) has also learned what has worked (and what has not worked) through his investment in MFG.com in the custom parts, particularly for smaller production orders/runs (e.g., job shop type stuff). MFG.com has not been a home run in terms of exponential growth, but it continues to push forward, and the lessons it has learned are, at least in part, transferable to Amazon as well (and perhaps we'll see a custom-part integration here).
Perhaps most important, Amazon's open platform-based approach that has allowed merchant affiliates to thrive is completely disruptive compared with the closed supplier networks from incumbent providers, Ariba included. It's like comparing a steam ship loaded by horses to a modern container ship (in more ways than one). And regarding "doing the hard stuff" and the capability of Amazon's platform, a friend and colleague who will go unnamed (and who is close to Ariba) described this as potentially "the end of MRO P2P" as we know it.
The industrial distribution ecosystem will take longer to disrupt in certain areas. In this area Reisman suggests, "the real thing to get behind is not the P2P component (which is not a competitive barrier to entry by itself), but the VMI systems. Now that's very different. For example, the Graingers of the world go into organizations and conduct detailed analyses to determine the replenishment schedule for manufacturers as complex as a Boeing. They consult, help implement the replenishment program, pick, pack, ship, send notifications etc. and warehouse to the precise requirements of the manufacturer. They serve as the complete outsource tool crib owner, in many cases. The P2P piece is one tiny facet of the entire process when it comes to MRO supply. Amazon will threaten the non-integrated customers/suppliers but folks that are integrated doing VMI, that's a different matter altogether."
Stay tuned as our analysis continues later this week.