Bill Starke's sculpture in the lobby of the Hyatt in Denver I stayed at this week is a good metaphor for the changing enterprise software industry.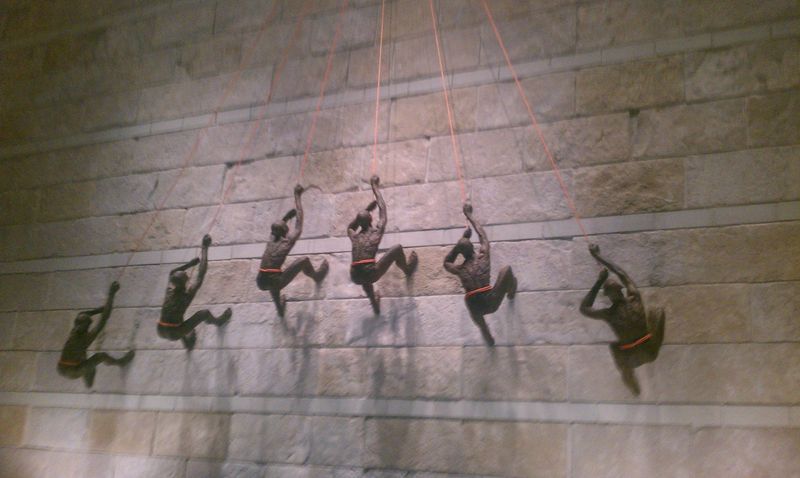 In general, everyone treats SAP and Oracle as the pursued, and SaaS vendors as the pursuers. Infor is generally talked about as a list of 70,000 customers on every one's bullseye. This week at their event, Inforum, new CEO Charles Phillips took pains to show Infor is also a viable pursuer, both to retain his own customers and for new competitive opportunities.
Besides showing off its own investments (including 600 new developers hired in the last year) there were plenty of associations with the future of the industry. In a fireside chat in the Executive track, Phillips hosted Marc Benioff, CEO of Salesforce.com, and they discussed the past – Benioff took a shot at Siebel and Phillips just smiled when he would have pushed back – both are Oracle alums)  and the future – Benioff pointed out Facebook is "younger than our two companies, and already bigger in revenues" and the management cultures the two leaders are shaping at their respective companies.
Backstage (I was on a panel on Consumerization of IT which followed that fireside talk), I spent some time with Phillips, got a quick demo, and got his always incisive view of the industry (I have known him since his analyst days at Kidder Peabody). During the course of the day, I had a chance to mingle with several Infor customers and its executives.
Phillips and much of the fresh blood he has brought into Infor (many from Oracle), and the Lawson acquisition have given Infor a noticeable burst of energy. While much of the conference focused on the mandatory homage to social, mobile, cloud jargon and the "speed" theme via ION (Intelligent Open Network) middleware and a collection of common services I was struck by the vertical niches Infor has presence in.
They include Lawson's healthcare and government, Intentia Fashion, Baan Manufacturing (including Ferrari whose CIO spoke at the conference) and plenty more from the countless acquisitions it has made in the past. While most of the pursuers are going after horizontal financial, HR, CRM areas, Infor has the opportunity to focus on vertical and geographic niches across its wide empire.  The management team Phillips gave plenty of time to in the day include a Canadian and an Englishman and my panel was moderated by Peter Quinn, a well traveled Scotsman.
And most customers don't expect Infor to stray too far from its core strengths. I asked several healthcare customers if they would like Infor to get into clinical areas, and the answer was they should keep focusing and enhancing validated inventory management, profitability analysis, unique labor/contracting related HRM issues for their industry.
Sculptor Starke has been quoted as saying "My observations on the human condition are meant to be both humorous and thought-provoking." Inforum also turned out to be both.