Our new business strategy book has just been published by Jossey-Bass this week and is now available in print and e-book online. It will also be in bookstores near you — depending on your specific locale — within the coming weeks. Co-authored by myself and Dachis Group Chief Strategy Officer Peter Kim, we have carefully designed the book to be highly accessible to executive audiences who have some familiarity with the topic, but who aren't themselves experts. We find that business leaders crave a way to quickly get up to speed on the issues involved in transforming how they operate using social media in order to drive what are increasingly extraordinary outcomes. While perhaps somewhat self-serving, we hope that those leading social business efforts will make sure their executive teams and staff have copies of Social Business By Design as the definitive guide to explain, educate, and accelerate their efforts.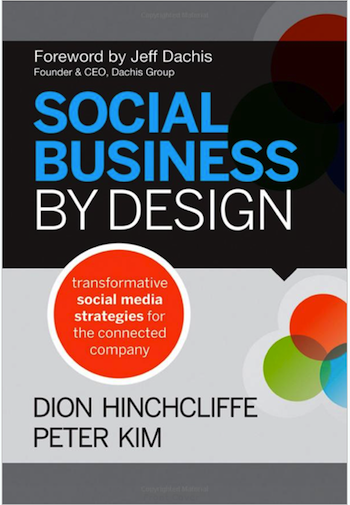 Let's get right to the question of why social business at all. Is it bold to say that applying social media strategically can truly enable extraordinary business outcomes? Probably. Yet, in our years of research and practice, that's exactly what we found in leading companies as they employed the truly profound and powerful forces of human peer production and collective intelligence deeply to the way they work.
To be sure, some organizations have occasionally seen results that are less impressive. Just as not every marketing campaign, IT project, or business initiative is a runaway success, sometimes the application of a powerful tool doesn't squarely connect with the problem. In fact, achieving success requires experience and knowledge of what works and what doesn't in a particular situation. And that is exactly what this book intends to provide: A distillation of experience to create a mature, working foundation for business and technical leaders such that they can effectively apply social business concepts enterprise-wide to drive practical results for their organization.
Peter Kim and I, and those in the Dachis Group team whose ideas are frequently represented here, have spent years in the trenches working on social media within organizations at all levels, in a wide variety of industries, in countries around the world, and in various business functions ranging from marketing, sales, customer care, operations, product development, and support functions like HR, compliance, and legal. We believe this has given us a front row seat that we can share with you about how to think about, design, and successfully situate social media-based solutions in a wide variety of internal and externally facing business functions. Our experience, and the combined knowledge of Dachis Group and our clients as a whole in this space, is instilled in this book. While many companies back into social media unexpectedly or with little upfront plan, we have found that the very best results come from strategic application, intentionally, by design.
The Business Case for Strategic Social Media
The truth is that nobody wakes up in the morning and randomly decides they need to bet their career on a trendy novelty that strikes right at the heart of how they run their business. Yet it's also true that most executives and managers with decision making authority hunger for better ways to work, to drive returns, to beat the competition, to create a survivable future, and to create a better world. But they need to have the confidence that these new innovations are readily within reach and are highly likely to provide significant returns. We believe social media has become such an innovation and we present the evidence throughout the book in statistics, compelling case studies, and deconstructions of the fundamental power laws that make social media a much more effective way of operating most aspects of a business.
But having strong motivation to move towards more social, connected, and participatory business processes isn't nearly enough by itself. Organizations need extremely clear comprehension of the objectives in order to reach them and create sustainable value as quickly and directly as possible. To this end, we've painstakingly recast the concepts of social business into the clearest and most accessible articulation possible. In the book we lay out the underlying tenets of social business in a way that we believe greatly improves the ability of organization to focus on what is most unique and potent about social media from a business perspective.
The Key Features of Social Business By Design
In fact, we think that the book in general is one of the most succinct, focused, and cohesive approaches to how to enable social business for the large to medium-sized enterprise. A breakdown of its salient features makes the case for how this book can quickly aid organizations in their planning, strategy, architecture, design, implementation, management, and governance of social business at a program and project level.
A strong business case for social business as a strategic enabler of business outcomes.
An integrated and holistic view of social business across all major business functions.
10 fundamental principles of social business, culled from research into hundreds of efforts.
Several dozen Dachis Group Xplanations that visually describe key concepts and ideas.
Explorations of dozens of leading companies' social business success stories.
Detailed breakdowns of how to create long term success with adoption, community management, governance, and more.
So far, initial reviews of this approach are promising, such as what Brian Sommer on ZDnet wrote this week, but as more critiques continue to be published we'll highlight them in order to get feedback for future editions, as well as potential expansion into a series. For now, we're eager to get your feedback and hope you find the book invaluable in your journey to become a social business.
Finally, I'd like to thank Jeff Dachis for making this book possible by lending his considerable support to this project, our editor Karen Murphy for her help and guidance, as well as the great many industry and company colleagues who helped organizationally with content, ideas, and insight.
Official Book Site: http://socialbusinessbydesign.com
Book Links: Amazon Hardcover | Kindle | Apple iBook
---
Related Dachis Group Social Business Resources: