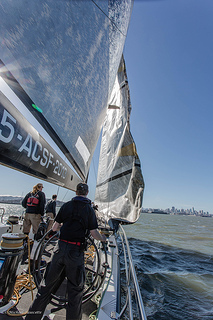 I managed a few minutes out of my schedule last week to stop by the Yammer Tour event in San Francisco. I was in San Francisco doing a keynote for sugarCRM's user event and luckily the events overlapped. As I was listening to Yammer CEO David Sacks talk about some of the new Yammer features and interview some customers, I was struck by how much social tools like Yammer are changing businesses. Yes, I know that's almost all I've talked about for the last 4-5 years, changing businesses with social technologies and driving real cultural changes, but seeing that transformation really makes an impression. It's easy to get lost in all of the forward looking research and discussion on technology when in fact, what really matters is what businesses are actually doing with the tools to get some real business benefits. Does using social tools for business really make any difference? There are all sorts of ways to measure value when it comes to technology, we wrote a whitepaper on the ROI of social that has some ideas. Social business impacts business processes across the company and is having some interesting and very positive returns. Not all are as obvious as others though, and some of the less obvious are perhaps the most transformative.
First I should say that for me, social initiatives need to be clearly tied to increasing revenue, increasing margin, fostering innovation and/or increasing quality to be meaningful and successful. We are trying to run businesses and investments must return value or there's just no point in making them. Think about it, why is building a knowledge sharing culture and implementing a people-centric collaboration system / employee social network valuable? Well, for example getting the "right" information to a sales representative at the "right" time helps close more deals, which in turn increases revenue. Or increasing employee productivity, something that our survey respondents recently reported increases in the range of 11-30%, increases margin (and maybe quality and innovation as well). Implementing an innovation management system and process can increase innovation, and perhaps get better products to market faster which increases revenue (and maybe even reduce the costs of capturing customer input and feedback, which increases margin)… I can go on, but you get the idea. I've looked at a pile of interesting social business case studies over the past year.
Direct, hard ROI is critical to the success of social projects but that is not the only benefit to changing the culture, at least from what I'm starting to see from my discussions with companies that are using these new technologies.  During the Yammer event the CEO of the grocery store chain SuperValu, Craig Herkert, shared how the company is using Yammer. Of course the obvious benefits of collaboration in a distributed organization are playing out for them, for example connecting associates from different stores opens up sharing of successful campaign and ideas in ways that simply would not be possible without the real time connectivity that an employee social network / activity stream provides. In a traditional organization information generally only flows in very predictable directions, down from executives, up from satellite organizations or across in each satellite. Information flow like that is easy to control. Opening up uncontrolled, multidirectional communications changes the dynamic of the flow of information completely. So how transformational could this be? In the SuperValu example Herkert shared how he uses Yammer to get connected to associates and stores by reading and interacting with the real time flow from over 100 stores and thousands of people. Not in a filtered flow up from his direct reports or store managers, but directly from the employees on the floor in each store. It obvious to me that getting associates in stores across regions to help each other solve problems, share successful ideas, etc. would impact revenue, margin, innovation and quality, I mean just opening up local issues to the collective problem solving abilities of thousands would have a huge impact. What's maybe not so obvious though, is the power of this new connectivity for executives like Herkert. Having the CEO and other top executives intimately involved in the conversation is a powerful change agent for building a collaborative culture and a collaborative culture is transformative.
Oh, and in case you're interested let's get back to the Yammer announcements. One of the interesting phenomena that is developing from social network tools like Yammer is the evolution from the old, outdated concept of the corporate intranet to a dynamic employee social network empowered by social collaborative tools. Yammer announced a series of new features and functions this past week that move their solution solidly along that path. The announcements included:
Enhanced mobile apps with many new features
Yammer Universal Search
Premium Groups which provides deep team workspace functionality
External Networks
Yammer integration including Microsoft SharePoint, Yammer Embed (more on this in a future post), Yammer Connect Login, etc.
Features from the recent oneDrum acquisition including Sync and Co-create (for more information see my post)
I'd love to hear what you're doing with social tools to transform your business so please share. I'll post some other case studies in the near future.