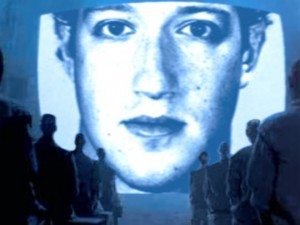 I read a fascinating article in New Scientist (sub required) which cites several academic projects to profile us based on social network data. These include:
a) Work by Lars Backstrom, a researcher at Facebook, showed he could locate 2/3rd of the site user's to within 25 miles by identifying where their friends live

b) Adam Sadilek at U. of Rochester has shown that if just nine of a person's friend's attach GPS tags to their Tweets, you can pinpoint half of those people to within a 100 meter radius

c) Jennifer Golbeck of U. of Maryland has scored people on psychological traits based on their Tweet language

d) Daniel Garcia=Perez at the Idiap Research Institute in Switzerland has studied personality traits based on mobile call analysis

e) Salvatore Scellato and colleagues at U. of Cambridge have studied social patterns of 300,000 people using Gowalla, a location tracking service
Now, extrapolate this to Big Data sophistication increasingly available to corporate marketers. And add to that the commercial interests of Facebook  and others as they go public to sell personal data they may not have done so far.
And wait – this is just social data.
Prof Mary Cronin, in a guest column in my new book, The New Technology Elite highlights the coming privacy issues with all the smart cars, appliances, medical devices etc. increasingly part of my lives. The book describes smart products and services from over 75 industries.
The major new privacy challenge for this decade is the continuous, automatic, and invisible tracking of individuals by multiple smart devices. In the aggregate, consumer-owned smart products collect and report data at a level of precision and frequency that vastly outstrips the consumer information collected online.
Her recommendation
Rather than waiting for the government to mandate smart product policies, companies would be well served in adopting and disclosing consistent and verifiable guidelines for the permissible use, duration of storage, and data security protection measures taken to protect all of the consumer information that is collected by their connected products.Smartphone, automotive, home entertainment, and other smart product vendors should also disclose the privacy practices of their ecosystem partners who develop applications and peripherals for their products.
And us consumers need to push both companies and lawmakers for stronger privacy and profiling laws and corporate disclosures. If you think email spam and fraud and telemarketing of the last decade were a huge nuisance, you have not seen anything yet.
Next-gen data misuse will affect our home security, pacemakers, cooking and plenty more.