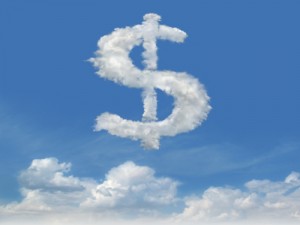 Before I comment on the 1Q12 performance of our SaaS portfolio I wanted to mention that this week Sand Hill will publish an updated and expanded blog I wrote on Insight as a Service.  Next week (5/15), in collaboration with Zuora, I will be delivering a webinar on SaaS metrics.  This is an interim report of my ongoing work to identify the characteristics breakout SaaS companies.  Please email me your recommendations on important metrics that can predict, or simply characterize, breakout SaaS companies.  Alternatively, you can post them on Twitter to @esimoudis #breakoutSaaSmetrics.
After a good finish to 4Q11, IT companies expected a relative modest performance during 1Q12.  I think that, by and large, they got it.  As a result, during 1Q12 public and private SaaS companies had a good quarter, in-line with their expectations.  The mid-upper enterprise segment that is being targeted by many of our SaaS portfolio companies continues to embrace cloud computing.  Companies in this segment are becoming more optimistic about the US economy's prospects and continue to update and upgrade their front-office and back-office systems.  As a result, our SaaS portfolio companies did well during 1Q12 with 90% of them achieving their revenue, booking, and MRR (compared to 85% during 4Q11).
The public SaaS companies we monitor also demonstrated solid performance.  Companies such as Comscore, Realpage, Concur, Kenexa and Salesforce reported strong results, and some even beat the market's expectations.  Next week Jive will report for the first time since going public.  This will be a good indication not only of the market's increasing appetite for new SaaS issues, but also of the demand for social SaaS enterprise software.  Oracle's acquisition of Taleo during the quarter was the only noteworthy transaction.  However, just based on the inbound inquiries our own SaaS portfolio companies are receiving from large IT vendors, we expect that the pace of consolidation in the SaaS sector to increase with large companies buying large and smaller SaaS vendors.
Positive conclusions from our SaaS portfolio's performance:
Sales pipelines continue to grow nicely, particularly with prospects from the mid-upper enterprise segment our SaaS portfolio companies are targeting.  More importantly, the leads are coming from a variety of industries indicating the accelerating broad acceptance of SaaS applications, and cloud-computing in general.  The QoQ bookings and revenue growth for the SaaS companies continues to surpass that of the on-premise software portfolio companies.
Better monthly sales performance than I had reported in past quarters.  More of our portfolio companies were able to make their monthly sales targets during 1Q12 than during 3Q11 and 4Q11.
Four of our larger SaaS companies are seeing accelerating demand for their applications from European and Asian customers.
The channel is finally starting to perform as System Integrators (SIs are now starting to regularly bring new opportunities.  Our portfolio ended the quarter with an average of 10% of sales coming from the channel.  We are guiding them to move this to 30% over the next 18 months as we see the opportunity not only existing but growing.
Business unit executives continue to drive the decision process even though, as I had reported in the past, the CIOs are regularly inserting themselves in the sales cycles, particularly in the mid-upper enterprise segment.
Renewal rates remained steady at 85-95%.  Upsell rates were at 30-45%.  Large enterprise clients that signed during 3Q11 and 4Q11 are quickly returning with upsell opportunities both for new functionality as well as for introducing SaaS applications to additional divisions within their corporations.  This was continued indication of the value and continuous ROI that customers are finding through the use of SaaS applications.
Our portfolio companies have continued to increase annual license pricing with no apparent drop in sales conversion, an indication that particularly the mid-upper enterprise companies being targeted find significant value in SaaS applications.  In most cases these companies are replacing on-premise applications with their SaaS equivalent.
Discounting has improved and during the quarter we saw 6-7% discount per year of subscription down from 8-9% in past quarters.  We also saw more customers signing multi-year contracts than ever before and paying at least the first year upfront.  We are targeting 4-5% per year as best in class discounting.
Analytics-driven applications, social applications, and mobile applications with vertical focus continue to be in high demand, same in last quarter.  However, since most of our
SaaS companies address these 3 segments we should note that we would be worried if there was no strong demand for such applications.
The characteristics my partners and I didn't like from the quarterly performance of our SaaS companies include:
Higher than expected churn by SMB clients (15-20% in some instances).  For us this is an indicating of the continued softness in the economy which particularly impacts the smaller companies.
Margins didn't improve in some of our companies in the way we anticipated, reflecting higher than expected customer onboarding costs, as well as higher than expected sales costs for upselling and renewals, despite the demand.
Similar to what I had reported for 4Q11 performance, hiring continues to be difficult because the SaaS companies have a high demand for the same type of people as Internet companies: engineers, sales people, product managers, services people, and data analysts.
Last time I had indicated that I was expecting a more muted 2012 with flat IT-related budgets.  Surveys conducted by investment banks during last March and April, as well as checks performed by our own portfolio companies lead us to believe that IT budgets are actually increasing during 2012 by an additional 1%, putting them now at around 4-5% above the 2011 budgets.  The increases are allocated towards SaaS/cloud, social, mobile and big data initiatives, which is great news for our SaaS portfolio companies.  It is also leading us to continue aggressively investing in these sectors.  Finally, I expect that we will start seeing increasing acquisitions in these areas, as larger IT vendors come to realize the impact that social, mobile, big data and, of course, cloud and SaaS have on the enterprise.