Have you ever wanted to buy a set of color toner cartridges and a drum unit and compared the number of clicks necessary to research, find, analyze and buy the (typically) five items you're looking for on Amazon compared with a trusty SAP SRM install (we're talking SAP SRM without the help of a Simplifying IT, Hubwoo or IBX/Capgemini front-end)? Well, if you haven't, you're probably not aware of one of the reasons maverick purchasing remains common in earlier eProcurement implementations — SAP and otherwise. Compared to Amazon, many P2P implementations are cumbersome, clunky and make it difficult for the casual user to find what they're looking for. Granted, while we don't even consider Amazon the best shopping experience anymore, it's light years away from where most SAP SRM, Ariba Buyer, Oracle eBusiness suite and PeopleSoft procurement implementations are, usability-wise. Simply put, it's faster and easier.
Fortunately, all of this is about to change. Ariba is finally set to release a new search, shopping and requisitioning UI, based on what they showed at LIVE. And now SAP is getting in on the act by re-skinning its own SRM user interface. The planned release will be available later in 2012. But 25 different SAP SRM customers have already been contributing to the design and initial testing of the interface. Built on HTML5 and leveraging Ajax, the new UI is designed to make shopping truly intuitive and personal. SAP's plan calls for a continued focus on initial development through August and then plans to add new features (which we'll explore in more detail on a series looking at SRM's new face) before the formal testing phase with customers between August and November. The formal launch of SAP's User Interface Add-On will take place after this testing is complete. The new front-end will be free of charge to the SAP SRM customer base who are on maintenance.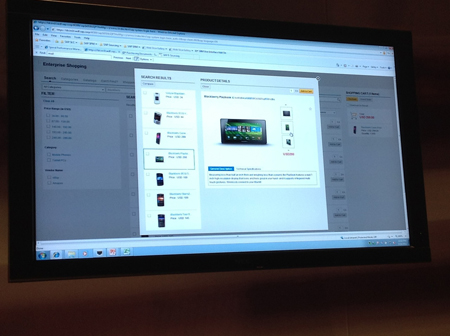 SAP's SRM User Interface Add-On in Prototype Action (Photo credit: Thomas Kase)
Users running SRM can expect implementations measured in weeks, not months. Because the Add-On works as a gateway that connects to other SAP systems (SRM to start), it is possible to customize and make changes (in HTML and Javascript) without touching an SAP SRM or ECC back-end. The system leverages real-time calls to bring back search and other results without requiring a screen refresh (the benefits of Ajax, which resemble where Flash was a few years ago).
The employee shopping interface presents an intuitive screen, comparable to Coupa and others who have prioritized a simple buying experience. Navigation is straightforward, with tabs that allow quick jumps to specific activities: search, categories, catalogs, "can't find" and shopping lists. The "can't find" feature has built-in intelligence for non-catalog and punch-out search that does not allow users to jump to use it immediately. From a search perspective, Google was the goal, and as users type in phrases, the system searches in real-time across multiple catalogs (internal or supplier searches) and punch-out sites. It cannot yet search general websites. Still, the faceted navigation and ability to tailor searches (e.g., by price range, category, vendor) provide a significant enhancement.
Users can filter and compare different selections. Images of items and ratings are displayed alongside items to make it easy to visually select and compare different alternatives. Our initial impression is that the Add-On fulfills the SAP-stated goal of "sitting people in front of a PC with no instruction" and allowing them to shop and buy. As such, the "search use case" was the core experience that SAP designed around with the Add-On. Still, the Add-On will also has some fairly advanced capabilities as well, such as breaking down lot sizes after a purchase.
For example, perhaps an executive assistant that purchases an item in a 1000 unit order quantity, a minimum order, but only need 300 of the items for her team, could then notify others in the system that 700 items were available in inventory. Once released, the Add-On will provide tight linkages with SAP systems that span inventory/stock internally and conduct availability checks with distributors and suppliers, where available.
The depth of the Add-On extends to after a frontline user has put an item in their shopping cart. For example, users can see (and sometimes change, if necessary) both standard and customized fields (e.g., shopping distribution, Cart ID, description, account assignments and approvals on an individual line item basis). Additional editable items — again on the line level — within the checkout environment include service and delivery requirements, shipping addresses, account assignments, sources of supply and related fields. Mass account changes are also possible.
In summary, SAP's User Interface Add-On presents an optional layer that will be a solid new UI choice for companies that will qualify to use it (i.e., those on SRM 7.0 and Support Pack 6 and above). It will provide competition to others competing in the SAP SRM re-skinning category, absolutely.
Stay tuned for our broader comparative and visual analysis of SAP SRM's new face in the coming weeks and months.