By this time next week, Facebook should have had its successful debut as a public company. With this highly anticipated event concluded, we'll get a sense of the market's true estimate of what the company is worth in terms of its long term prospects to create genuine value for investors. By all accounts, the IPO of the world's largest social network will match its equally impressive usage stats, making it the largest stock market debut of an Internet company in history.
Earlier this week I explored the social business ramifications of Facebook's IPO in detail and noted the significant opportunities and challenges both. Near-term challenges clearly abound: Successfully shifting the full power of Facebook's social networking platform to next-generation mobile devices in ways likely to preserve the unique value of the service will be one of two signature challenges of their early public days. So much so that it will likely define their continued growth and success in the next couple of years.
At the same time as the transition to smart mobile, is the second major challenge: Facebook must significantly beef up its business model. Even though the company's revenue stream was $3.7 billion last year, with an additionally impressively double-digit jump in net profit, it's clear that much of the value of the social network is being delivered to businesses for free and in a way that can't easily be charged for. This is a conclusion that GM came to recently and announced this week to considerable coverage and debate: Specifically, it pulled its ads from Facebook's advertising network. What was notable about this decision was that GM's formal ad spend only represented about a quarter of what the auto giant actually invests in Facebook, the rest is in staffing, content development, and agency work in order to engage where its customers are today. The lesson: Businesses feel they must significantly engage in social and in Facebook in particular, but the best way to do it probably isn't the captive push advertising schemes that have been devised so far.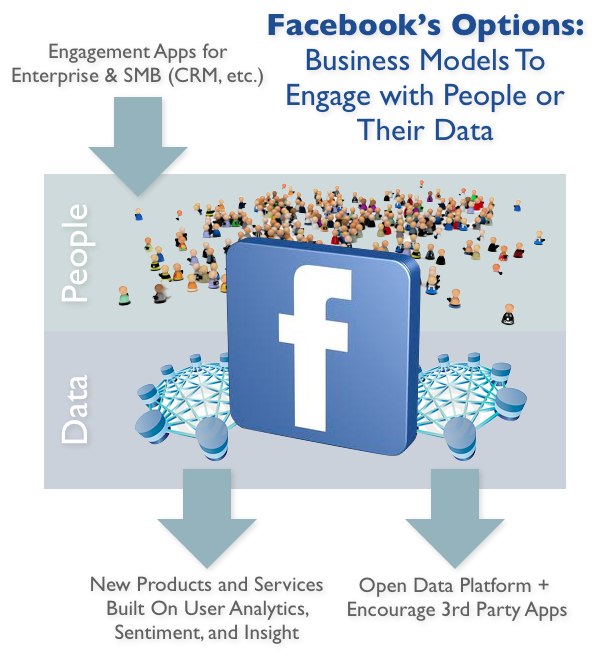 Therein lies the strategic challenge for Facebook: It's currently sitting on the most significant mountain of personal user behavior and insight in industry history. It's a dataset that's much deeper and more relevant even than Google's, which is still probably larger but not nearly as insightful. If Facebook can help businesses tap into this data ways that also truly protects its users, then there is a real long-term path for them towards a bright future of essentially untold value creation. As I've suggested before, there are other, less fraught paths to value for Facebook as well. While successfully leveraging user data in the form of increasingly refined consumer analytics and engagement services is probably the single largest and most valuable way forward for the company, there's plenty of value in just being a highly effective conduit to that same vast sea of largely captive participants. Plugging into the reinvention of CRM that's currently taking place in the industry is a great start, and enterprises would pay a lot for better tools to enable improved self-service, customer support, marketing, sales, and advocacy in social channels.
Why would Facebook choose merely to be a conduit to its users and not their data? Because there's an extraordinarily fine line between trust and any strategy that taps into their users' data for business purposes. In practice, it's perhaps too tempting, and frankly, all too easy a line to cross unintentionally, to use their truly invaluable social datasets to fuel products and services to businesses that — in the final analysis — unfairly take advantage of Facebook's users. Clearly and unequivocally putting users first and unquestionably beyond the realm of exploitation would go a long way towards keeping their network effect alive and healthy long term. But it would also fundamentally blunt the full potential of their business. And so I think we'll see the company continue to, and certainly investors call for them to, walk that extremely fine line, as difficult as that may eventually become.
The business impact of a public Facebook
So what does all of this mean to businesses currently employing Facebook in all its many forms, from simple Facebook pages to full-blown apps? There are a number of things that I believe will fundamentally change the way most companies engage with the world through the service. These will also ultimately decide how Facebook itself will fare:
User data experiments. As social analytics and business intelligence move to the core of the engagement cycle (listen, analyze, engage), Facebook will conduct many experiments in how to make the most of the insight they can derive for businesses, while also protecting their customers. The pressure to do this well will be intense once they're public and so prepare to encounter and evaluate a lot of these beta services until they are able to assemble a portfolio of successful offerings. One wild card will be what users will think of all this, much like the sometimes maligned Promoted Tweets on Twitter.
Social data protection services. While it'll take a while to ramp, an industry will likely form to provide people with the ability to see how their social data is being used online. Like a credit bureau protection service, these services will may become the bane of the business models of social networks like Facebook, putting pressure on their financial results as their use of user data creates.
Government regulation of social data. Many countries already have laws protecting consumer privacy which already affects most social networks today. These are only going to get stricter as the use of social data becomes more embedded in products and services sold to businesses. Ultimately the patchwork of regulation and the restrictions they impose will limit the upside potential of many business models based on social data, again, limiting financial results. Social media can be a "difficult business" in this regard.
Evolving their social data platform. Ultimately, and the major challenge of digital business today, Facebook will itself never be able to realize most of the innovative ideas that are possible with its platform. Continuing to strategically open up the platform's data to 3rd party partners through APIs will let them do far more than they could ever do themselves and APIs have become an important business model for Internet firms. While Facebook has largely been successful doing this with apps, these apps are also largely consumer facing. Doing this well so that startups can build highly valuable business-facing apps is going to be harder, yet where the longest term value is. Entrepreneurs should plan for opportunities in extending Facebook's value chain as the platform continues to open up. Investors should observe these experiments to see which ones will fuel revenue growth for the company. Remember how Amazon ultimately leveraged its platform for record-breaking growth? The same route is likely for Facebook if they can solve the data protection issues.
For now, the book is far from written on how social networks will be turned into highly successful global businesses. While LinkedIn, for its part, has been particularly successful in developing business models around its services, it also has an advantage: It was all about the business world from the outset. It's simply less clear that there is a safe way to fully take advantage of Facebook's uniquely compelling industry leading position in consumer social networking. That there is a way forward for them I have little doubt however, but what that path remains somewhat unclear for now.
For more analysis, please read With Facebook IPO, Social Business Becomes Key, which my co-author Peter Kim and I just published on CNBC. For further insight, please see Social Business By Design, our new best selling strategy guide to enterprise social media.