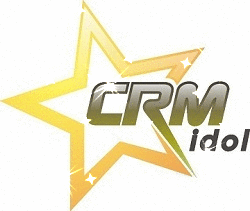 Each year, as many of you all know, we run CRM Idol. This is year 2 so we are still babes in the woods and learning but because we have an amazing braintrust in Brent Leary, Esteban Kolsky, Denis Pombriant, Jesus Hoyos, Laurence Buchanan, Mark Tamis and Silvana Buljan, (and me) we just make improvements both from year to year and on the fly.
Well, this morning, we announced the provisional contestants for CRM Idol 2012. Here's what we published on the site with the names of those who are going to compete:
Okay, folks, we're getting ready to rock and roll now. As of this minute, we're announcing the provisional CRM Idol 2012 contestants for your competitive viewing pleasure! Why provisional? We have to do the reference checks, people. If they pass those, they are in. This is now their slot to lose. They have it as long as the references check out. AND if they do check out, then this is their contest to win! We also did something a little sorta kinda radical, which is to realign a little. We didn't see the deep traction in Asia so we combined the EMEA with the Asia/Australia candidates and after culling the herd, we found 21 candidates in that combined region and 42 in the Americas that we consider serious competitors for the CRM Idol 2012 awards. There are 16 countries represented on this list. So, without further ado, and with no links to their sites, and in no particular order, here are the names of the companies (not the products) that are now your CRM Idol 2012 Contestants!
Americas
3CSI
Cloud9
SplendidCRM Software, Inc.
ShopIgniter
CustomerWinHQ
GreenRope
InfiniGraph
LogicBox Software, Inc.
Contactually
VIPorbit
Carmel Vision
AllClients
ReadyPulse
5Degrees, Inc
Badgeville
CallPro CRM, LLC
InterSolutions S.A.S.
LoopFuse
Matrix Solutions
MotherNode
NextPrinciples, Inc.
Performance Solutions S.A.C
Remotia, Inc.
Simply Measured, Inc.
VirtuOz
Awareness, Inc.
BlueCamroo, Inc.
Compendium
Nimble
Salestrakr
Totango
ToutApp
Demandbase
Nearstream
RedHorse Systems, Inc.
Mastersoft S.A.S.
Sequentia Environics
Social Dynamx
Crushpath
Sprout Social, Inc.
Apptivo
Crowdtap
EMEA/Asia/Australia
ArtenScience
Nexus Electronics
Idomoo, Ltd.
IKO System
OnePage CRM
amoCRM
Selfservice Company
Artesian Solutions
Atol d.o.o.
Atollon, Ltd.
Campe de Bases
Conversocial
Insightera
Pipedrive
Workbooks.com
Dimelo
Acidaes Solutions
Freshdesk
Soft Solvers Solutions Sdn Bhd
LeadMaster Australia Pty. Ltd.
Really Simple Systems