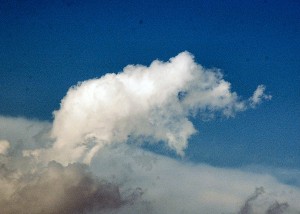 Gery Menegaz's bio says he is an "Executive IT Architect" for IBM. The small print says his columns for ZDNet including the recent one on clouds don't necessarily represent IBM's positions, strategies or opinions.
Except that they do.
His first point says "Data center migrations are disruptive, costly, and complicated. Tightly coupled mission critical systems that make up the minority of the data center take the most time and expense to migrate".
I have heard some version of this point in countless IBM proposals to prospects, presentations to clients, its ads.  In fairness, I hear it from many other legacy vendors, but IBM being one of the biggest enterprise hardware, software and services vendors shows up in my consulting and my research quite often.  IBM was one of the first to talk about "on-demand" computing (starting back in 2002), it acquired the ASP pioneer, Corio ( in 2005) and the cloud integration tool Cast Iron (in 2010). It has been flirting with clouds for a decade.
Its point boils down to this: "the status quo is safer". It may be so, but can the status quo not itself improve, evolve? Why does it need to be so expensive and onerous? Why over the decade have those migrations not become mindless?
Here is what has been happening in the industry in the last decade:
a) The Data Center has been a beehive of innovation. In my two books I have described countless improvements in the Microsoft Azure, Google and Facebook data centers. Location in obscure places, cooling efficiencies, vanity free servers, tax breaks – I could go on and on. Amazon and Apple, in their own way, are taking such innovations to another level. IBM is one of the biggest data center outsourcers in the world. Why has its status quo not improved dramatically?
b) SaaS vendors like Salesforce, NetSuite and Workday are showing remarkably efficient shared services when it comes to talent to support thousands of customers. Upgrades in their world are an absolute dream. IBM is one of the biggest application managers in the world. In the last decade it has dramatically grown staff in low cost pools like India, but should it not be emulating the SaaS vendors and moving to highly efficient and automated application management? Why has that status quo not improved dramatically?
c) Software maintenance and release management has become much more automated and cheaper with offshore resources. IBM is one of the biggest IT infrastructure software vendors with DB2, Websphere, Tivoli, Notes etc. The efficiencies it should have garnered in maintaining those relatively stable 20+ year pieces of code should be in the tens of biliions in the last decade. Why has the status quo in the form of its charges to customers not improved dramatically?
d) If you look at the projects in the services ecosystem around Azure, if you look at Appirio's countless projects around migrations to the Salesforce, Google and Amazon clouds, they are efficient and safe. IBM is the largest systems integrator in the world and has had plenty of experience with its own Corio, Cast Iron and other migration/integration tools. Why has that status quo not improved dramatically?
Next time you hear IBM say a move to the cloud is disruptive or unsafe, ask why IBM has not made it less so? But even more specifically ask why its status quo has not become much more efficient in the last decade.
(Image credit: BigStock)