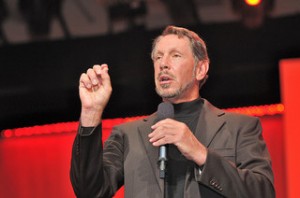 I first met Larry Ellison, briefly, in 1997. I have watched him infuriate competitors, drive analysts to drink, generate more quips than all boring tech execs put together. Over those 15 years I have also learned to look beyond his "dull roar" and try and figure out what is happening in his "private cloud"
4 years ago in an interview for The New Polymath, Zach Nelson, CEO of NetSuite told me:
"NetSuite built its infrastructure on a mesh of cheap HP Proliant servers. In fact, since NetSuite was born in 1997, like Google, you could argue that it deserves as much credit as Google gets for a fault – tolerant and commoditized architecture where loads are spread across a wide range of easy – to – replace and easy – to – scale assets. Ironically, the " small iron " thinking came from NetSuite ' s largest investor, Larry Ellison, who as CEO of Oracle sells companies " big iron " —Oracle ' s Exadata solution on high – end Sun hardware, described in Chapter 15 . Ellison has publicly mocked cloud computing. Nelson says, " Larry is one of the most creative and flexible technology architects there is. He can embrace contradictory trends, even while dissing them in public."
This week, I was traveling and missed out on Larry's and Mark Hurd's cloud webinar. I can see he has my friends Dennis Howlett, Frank Scavo and others going with his quips.
Frankly, I want to learn how the cloud ecosystem that Oracle plans will compare to Microsoft Azure's. How will Oracle's cloud data centers compare to Amazon's and Facebook's? How excited its customers are about the many services Oracle will offer versus those that Oracle packages with its own Fusion apps? How will Oracle's business model evolve?
In the meantime, I hope to also learn how its competitors' clouds will evolve. As I have written about:
IBM: "IBM was one of the first to talk about "on-demand" computing (starting back in 2002), it acquired the ASP pioneer, Corio ( in 2005) and the cloud integration tool Cast Iron (in 2010). It has been flirting with clouds for a decade."
HP: "This morning, I heard Dave Donatelli, EVP talk about the HP cloud, and I wondered how HP would manage cannibalization of its existing ES infrastructure outsourcing contracts."
SAP: Why is this any different from the annual "announce, then retract" parade I have seen from Shai, Zencke,Apotheker, Wookey, Snabe, McDermott, Plattner, Sikka?
Unlike Larry, many of them just promise and don't even make me chuckle 🙂