The trouble with most cloud trade shows and conferences you can go to today is that pretty much everyone there is buying and selling the wrong thing. I turned up at Cloud World Forum in London  with this thought in my mind, but I would have felt the same way had I been attending Cloud Expo in New York (I'll be moderating a panel on the future of software at the London show this afternoon). Fortunately, fellow ZDNet blogger Dennis Howlett and his JD-OD colleague Jon Reed were there to record my thoughts. Below, I'd like to add some explanation of how I reached this stark conclusion, but first, here's the video along with a taster of the key points:
"A lot of people are here for the wrong reason … are going to be wasting money on kit that they don't need …"

"The biggest benefit you'll get from cloud today is by adopting applications that are built on proper multi-tenant cloud infrastructure …"

"In ten years' time … software becomes part of the business infrastructure. A lot of companies won't even buy software at all, because they'll just buy services that run on top of software that someone else operates and owns …"

"What is happening with all this private cloud stuff at the moment is that people are being sold highly expensive software licences, hardware infrastructure, with management capabilities that are really totally irrelevant in a cloud environment. They're putting this stuff in and they're suddenly discovering that what they've got can never run economically, can never deliver the benefit they thought they were getting in the first place."
So how did I reach these conclusions? By happenstance, while picking up a coffee outside the show I had earlier bumped into Jack Watts from Supermicro distributor Boston Limited, for whom I've done some speaking and written a white paper [see disclosure]. When I started working with Boston last year I had some reservations about a role that was effectively encouraging people to implement their own clouds. What could I have been thinking? But my gut instinct had been right all along: if you're going to build a cloud, there's a right way and a wrong way, and the right way is to use a highly repeatable commodity platform like Supermicro. Over coffee, Jack told me about customers who had been persuaded to buy into other more complex, higher priced platforms and were faced with crippling upgrade costs when they tried to scale out — paying as much as 3x or more for equivalent capacity. This dovetails with what OpSource CEO Treb Ryan had said earlier this year about enterprises investing in private cloud infrastructure that ends up as shelfware because it simply isn't economic to operate.
Put all of this together with recent insights into the self-serving cloud FUD being peddled by established vendors such as IBM and Oracle, and the picture starts to become clear. I wasn't only one who was disappointed by the private infrastructure-building slant of Cloud World Forum yesterday. Here's a tweet from another attendee that makes exactly the same point I've been making.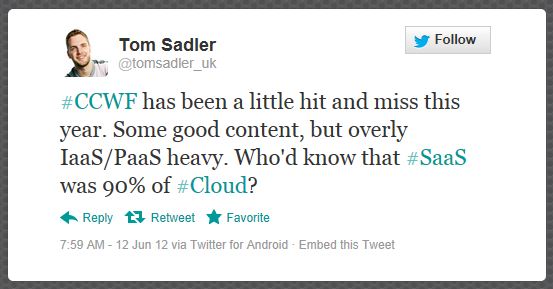 By the way, if you want to see why I think no one should take any notice of Larry Ellison when he trashes competitors, the JD-OD guys recorded another video you should watch.