It's rare to see more than 3-4 Enterprise Irregulars together, unless it's a major conference – but then we're all focusing on business, barely having time for each other.  Perhaps that will change, since Naomi Bloom made it her life mission to meet all of us in person in the next few years.  So when she recommended an EI get-together on her Bay Area trip, and Ray Wang graciously agreed to host, we knew we had just the right Constellation (pun intended) for a great party.
Naomi turned out to be a great event organizer taking inventory of attendees, spouses, significant others, kids, food ans what not… oh, boy, does she run a tight ship:-)  Ray proved to be a great host, even mobilizing his parents,  and an outstanding BBQ chef.  Now, a fair warning to his Enterprise Software clients: demand planning may not be his forte.  We've been making bets whether he secretly invited the entire street, would be manning a food stall at the Cupertino Art and Wine Festival, or perhaps has a catering contract at Apple HQ. 🙂
After eating copious amounts of food, even splurging on outrageous desserts we caught Ray load the barbecue for another round.  It was a full load of the Strawberry Hoisin Fusion Baby Back Ribs… oh, boy.  Suffice to say, we became the Enterprise Carnivores for the day.
Vinnie Mirchandani was holed up in Florida but he managed to re-route several NSA satellites and get precise information on the party, including the menu:
Sesame Peanut Noodles
Garlic infused cucumbers
Chinese chicken salad with all the fixing
Sweet Corn
Grilled peppers
Portabellos
Grilled Asparagus
Strawberry Hoisin Fusion Baby Back Ribs
Korean short ribs (cross cut)
Teriyaki drumsticks
Chicken apple sausage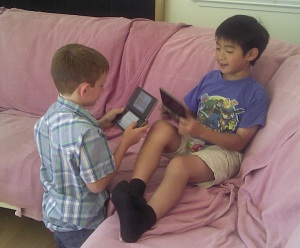 Plus all the desserts the guests provided.  No, Sameer,  your outrageously delicious  Bourbon Bread Pudding is not a dessert, it's an excuse to down some serious liquor:-)  (Did kids eat it?)
Talk about kids, it was fun to watch kids play together as if the had known each other forever.  They also got into some heavy tech-discussion on video game platforms, of which I did not understand a single word…
Now, of course not all kids got along well, some just had to fight it out.  Or is that a Cloud Platform discussion?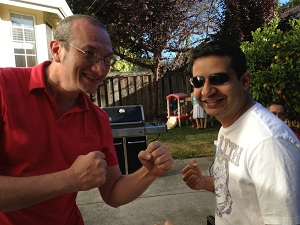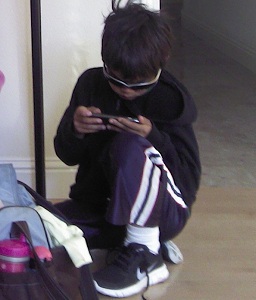 Other kids played it safe.. "me and my gadget" style. 🙂
Some of the bigger kids were thinking of securing their future .. who knows what Enterprise Software brings… there's always a need for jewellery. Bazaar Forever!.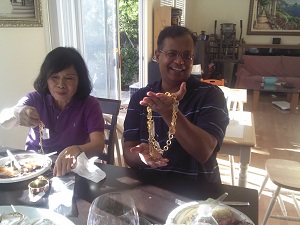 After all the food and bazaar experience we were treated to a surprise performance:  Jascha Joshua Haifetz  Moore played the violin theme from Schindler's List.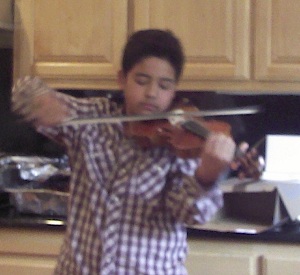 Josh played with so much emotion, it was … simply said, moving.   As if to lighten than emotional burden, he then casually sat down to the piano and played two more songs for us.  Apologies for the very poor audio / video quality below, it was a spur-of-the-moment shot using my cellphone, which was not even set up and I don't normally shoot videos.
Why do I think Josh won't be making a living in the Enterprise Software field? 🙂
Minutes after his performance as guests started to leave, Josh, the incredibly mature young man casually slipped back to being a kid, grabbing the Wii along with other kids, and his proud Dad.  Is @dbmoore discussing his son's music perfomance  or waiting for his turn on the Wii? 🙂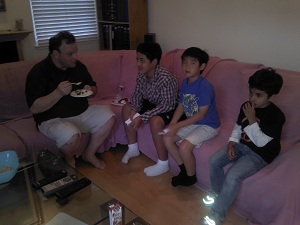 Thank you Ray, Ray's parents, Naomi and all attendees for a great party!