Along with the Enterprise 2.0 Conference last week, the details and trends of which I'll examine more closely in my next post, came the news that the software industry was largely expected to slow down this year, except in a few key hot spots. Issued by IDC earlier this month, the numbers tell the story of an industry adversely impacted by the economic woes in Europe these days.
Yet it's still a giant industry and remains relatively healthy overall. It remains the case that it's the enterprise where the big value — and money — in software lies. In fact, thelatest data from Gartner puts the global enterprise software industry at $120 billion in 2012, which in contrast to IDC they put at 4% growth from last year overall. ERP, office suites, business intelligence, and CRM round out the largest individual categories for software at the moment. Interestingly, SaaS and cloud, which get an inordinate amount of press compared to traditional software, will only account for about 13% of software spend this year, showing steady yet relatively modest growth.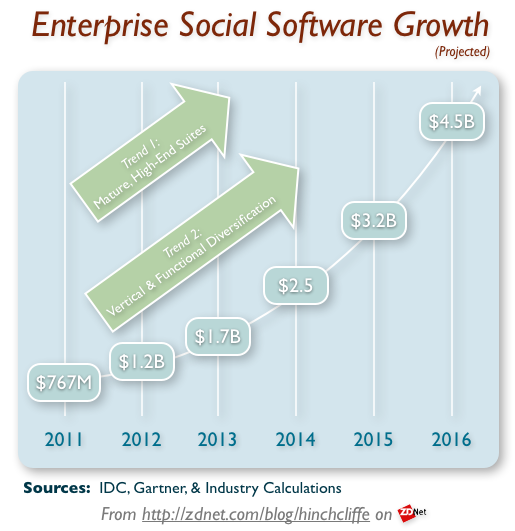 So, what specifically are the hot spots in software this year? In addition to virtualization — a technology primarily used to improve the cost effectiveness and agility of data centers — the two shining lights in the industry will be in areas where social media plays heavily: Enterprise social software and team collaboration applications. However, as any actuary will tell you, growth is much easier (and less significant to the market) if you're a tiny industry. So the question is, where are we with the overall size of the social software industry today?
To help with this, IDC recently released numbers on this as well, projecting "strong" 40% annualized growth from 2011 through 2016, going from less than $800 million to $4.5 billion by 2016, ultimately making the Enterprise 2.0 industry nearly half the size of the CRM or business intelligence software industries.
Related: CRM investments ramp due to social media and smart mobility
While this data does not necessarily come as a surprise to myself or others who follow the space, it does show that social software is finally coming its own and becoming a respectably-sized industry, even if it won't exactly break into the top 5 anytime soon.
Yet the Enterprise 2.0 landscape is also a highly fragmented space with only a few key leaders — with IBM and Jive largely carving up the very top end of the space — emerging in recent years. I tracked a vast number of commercial and open source Enterprise 2.0 offerings a few years back and not much has changed since then.
Social software grows up, gets practical
These days the market leaders in enterprise social software tend to be established, stable, and have increasingly complex and sophisticated offerings that can meet the diverse demands of large, global organizations. While there's long been the notion that it's the very simplicity of social software is what makes it emergent and able to adapt to the vagaries of community requirements and business needs alike, two factors seem to be driving an increase in variety and richness.
The first factor is the maturity of the social media space itself. It's now expected that social software have activity streams, rich user profiles, groups, blogs, wikis, microblogs, forums,analytics, connection to common business apps, security features, APIs for integration, seamless external/internal functionality, and much more. This has finally led to an arms race that only the more established vendors may ultimately be able to keep up with.
The second factor is that the number of use cases for social software in important verticals and business functions keeps proliferating. Social media can now be used effectively for marketing, customer care, workforce collaboration, product development, supply chain, and so much more to reduce costs, increase effectiveness, and improve innovation. It can be used in financial services, insurance, manufacturing, and healthcare (and that's just a partial list.)
These days, many of these industries benefit from social applications that zero in precisely on what those industries do and focus on their unique aspects, for example companies like SocialWare make products that help financial services firms ensure regulatory compliance with their social software. While general purpose social software platforms can certainly be used in all of these areas, high impact application of social media to the way we work often requires application-specific constraints on conversations and the resultant community activity. This means social customer care benefits from conversations organized around support, social supply chain focused on ERP transactions, and so on, along with software that supports these applied uses.
Related: Will social software startups "collapse into the orbit" of the big vendors?
In practical terms, the implications of the first factor is that although the general purpose social software is climbing the sophistication curve and maturing, we're seeing a second wave of social software aimed at the second factor: Focused applications in specific areas of the business and industry verticals.
It's also the case that the larger and more mature enterprise social software products remain expensive when compared to new startups, and this is creating further market opportunity. The result is that new entrants are continuing to emerge in the space, driving innovation in many areas. In fact, at the recent Enterprise 2.0 Conference, it was easy to quickly find 10 new products largely by walking the expo floor aisles, which I've summarized in an accompanying gallery.
Ten new enterprise social software products for 2012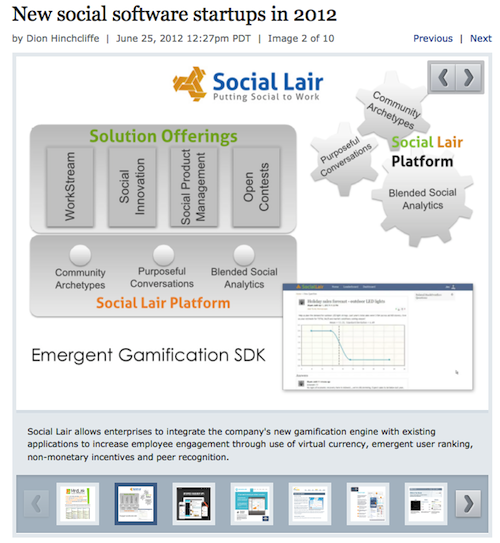 These products are typical of what we're seeing in the growing space, covering a wide range of social software needs, ranging from workforce collaboration and social analytics to marketing optimization and Social CRM. Although some in the industry may have gotten a bit tired of waiting for hockey stick growth, it's now clear that the industry continues to attract innovation just as it's poised for substantial growth in the next few years. In short, it's the exciting time for those getting started in social business today.
Coming next is my analysis of the interesting and important conversations that came out of last week's Enterprise 2.0 Conference, the benchmark event for the enterprise social software industry.