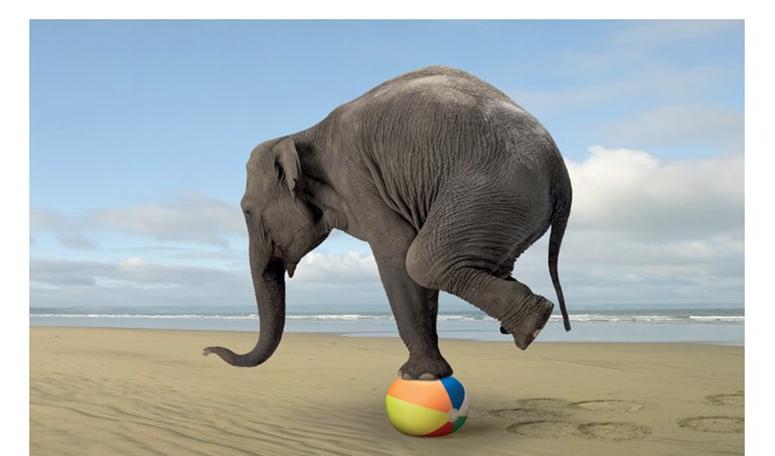 Over the past several years I've spent quite a bit of time looking at the impact of several change factors, including the application of social web driven ideas into business, the impact of mobile, cloud, and socialytics and a few others on business. All of these tech changes really are connected to the continued evolution of the Internet. Looking back a decade or so, it's obvious that the concept that the post-industrial information driven business environment is leading to a fundamental shift in the way businesses are managed and operate has deeper roots than just the past few years of research into social business. In fact a lot of the theory that could support these changes is at least twenty years old. Not that everything is "figured" out yet of course, many businesses are trying to sort out what this shift is really and how they can take advantage of the emerging models. The Internet is creating changes that impact business models, social interaction and technology. Subsequently businesses are reacting to these new models, technologies and maybe even more compelling, the change in people's expectations, be they employees, customers, partners, or competitors.In the early 1990's an IBM researcher named Steve Haeckel, put forward a new business management concept that he called sense and respond. The sense and respond (S&R) model is optimized to make organizations in the information economy more competitive by encouraging adaptability and by adjusting the business to react to demand, not plans. The industrial age model could then be called make and sell (M&S), and is in almost every way the antithesis of the sense and respond organization. Sense and respond companies take real time contextual market information, map that against the inherent capabilities of the company and then adapt the business to the new conditions, all of which could be characterized as an "open system". The company is structured in a way that gives maximum flexibility (not rigid hierarchy), minimizes silos, incents team collaborative behavior and is a knowledge sharing culture.
Make and sell organizations operate in a near static environment that is built around a mission, that leads to a strategy which is then translated into objectives and tactics, or in other words, a "closed system". The organizational structure is hierarchical and operates in a command and control model where controlling information is a power base for many managers. M&S companies are predictable and stable, they focus on things like efficiency, planning, goals and in general operate in multiple silos. Actually, M&S probably sounds pretty familiar to many people.
Now take the sense and response paradigm and move it forward into the social business frame of reference. It is, I believe, the more effective management system for the social business, but there's more to it than that. Think of it as the operating model for the social business, an open system that takes inputs from many data sources and uses those to support business decisions and ultimately form a response. This diagram is a simple representation of the process: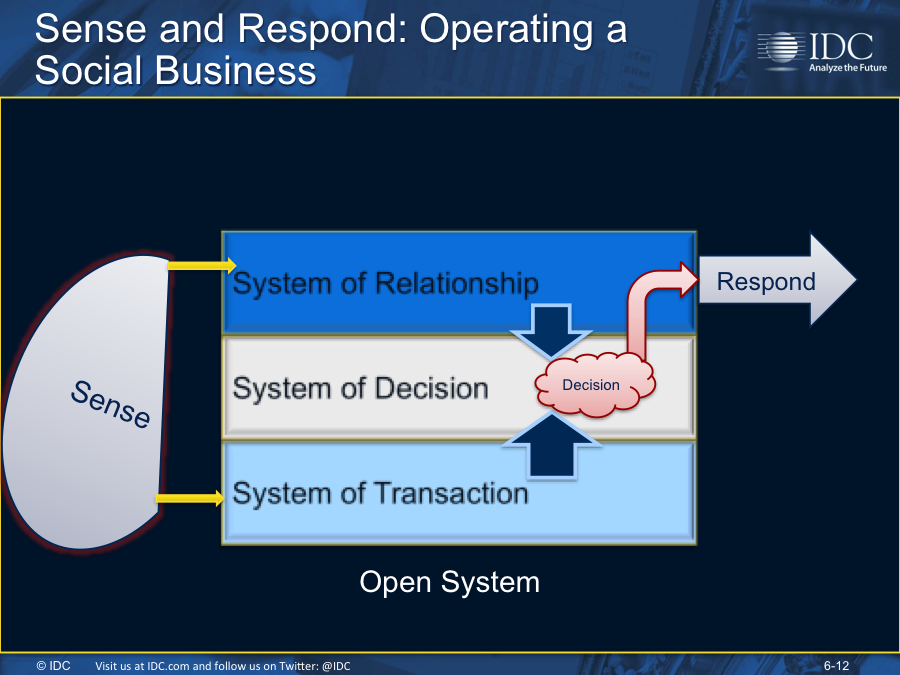 The inputs could come from many different sources, including structured and unstructured data. From the social listening systems (or social media monitoring) there is a wide range of useful data including customer feedback, comments, interactions etc.; influencer comments; competitive information, employee comments… basically any relevant social data. The sources could range from blogs and public social networks to private communities and internal communication systems like email and IM. General market and economic data are important inputs as well as data from the traditional transaction systems, which is extremely important and would be a critical part of the decision process. In fact some of the most important information could come at the intersection of the transactional, market and social data.
There are a bunch of system issues related to this process of course, not the least of which is tagging all data with some method of identifying the sources and finding ways to correlate different data points. For example businesses would need the ability to uniquely identify a customer across multiple "channels" so that all of the disparate data could be used to build a single model. I don't want to detour into a discussion of the technical issues with this seemingly "simple" task of identifying people on multiple networks and channels nor do I want to spend time at this point talking about master data management issues, but I'd be remiss in not at least mentioning them in this context. The data would, in many cases fit the definition of "big data" as well, but I'll just refer you to my post on smart data. It's smart data we need to develop and use in this process, not big data.
Responses could take many forms. A response could be as simple as reaching out to a disgruntled customer about a product issue that is discovered from monitoring a social network, or it could be as dramatic as a major business model shift caused by some new competitor changing the competitive landscape. Because the system is open, the responses can be as flexible as necessary to provide the correction. In the S&R model changes are iterative if required, as each correction produces more data that can be used to revise and adjust any change in real time. The focus is on finding the solution that produces the right outcome, not on following some predefined plan. Rather than building a business plan / strategy that spans some time period, the S&R managed business is constantly adjusting and responding to changing conditions in real time.
What do you think? Do you know any examples of businesses that use the sense and respond model?