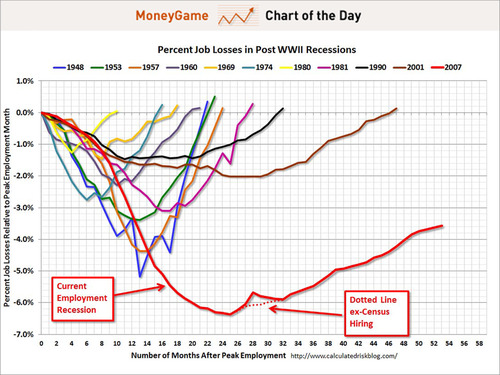 My fellow Enterprise Irregular Sameer Patel took me to task a bit earlier today for my prior post of the still-weak employment situation.
@cselland stop being a party pooper already. This is twitter, the capsule where we confine our selves to a bubbly valley view. 🙂

— Sameer Patel (@SameerPatel) July 7, 2012
While I presume that Sameer's tongue was at least somewhat in cheek, he raises a very important point and a distinction I need to make.
First of all, if there's a 'party' it's not very visible right now, at least not from where I sit. Yes employment is moving in the generally right direction, but at a glacial pace. Every day I meet and speak with talented friends and acquaintances who are out of work and, while doing their best to put on a good face, obviously increasingly discouraged and frustrated.
Meanwhile, the powers-that-be in Washington continue to devastate the value of our currency and sap our long-term (and future generations') wealth in a desperate attempt to hold on to power in November.
Yet, despite all of this and as I responded to Sameer, I am fundamentally an optimist – longer-term. Because, putting aside the incompetence and bad faith of our elected officials, I believe that Vivek Wadhwa (and probably Sameer) are absolutely right – we are entering the most innovative decade in history.
Why am I so optimistic? Because of the wide assortment of technologies that are advancing at exponential rates and converging. They are enabling small teams to do what was once only possible for governments and large corporations. These exponential technologies will help us solve many of humanity's grand challenges, including energy, education, water, food, and health.
This innovation – the 'Valley View' that Sameer talks of – is what will drive our economy forward. I firmly believe that these innovations will overcome and, eventually, obsolete the malpractice taking place in Washington and other traditional seats of power – and will create opportunity and economic growth beyond what we can imagine today.
So I am bullish – and optimistic – on the 'Valley View' – even while I remain extremely  bearish on the 'DC View'. For the sake of my kids and our future generations, I hope I'm right – and am going to continue to do everything in my power to bring that future closer.
P.S. Yes that does include working for change in Washington. However, since neither party has proven its ability or willingness to act responsibly when in power, at this point I'm of a mind that the best thing that can happen is for us to wind up with a divided government. With luck, DC will tie itself in knots and do as little harm as possible while the innovation economy takes over and drives the growth that we so desperately need.