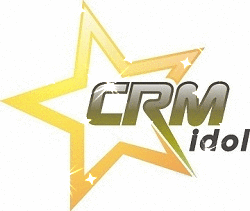 It's funny but every year, we learn something new about the thinking in the emerging business applications market by how the contestants line up in CRM Idol.  We learn not only what interests them as a business value proposition, but we find out what they are building their applications on, what they are thinking about current trends and what they do well and not as well.
By CRM Idol 2012 being our second year, it also gives us informal data on the evolution of the emerging technology market and how it changed from year to year.
Though we have completed the Americas portion of CRM Idol 2012, we have the EMEA/Asia/Australia portion of CRM Idol left to go,  so there are probably more insights to be gleaned that will become apparent after we finish that part of the competition next month.  I'm not going to do "lessons learned" in the demos thing here, which might be of value to the future contestants, but not necessarily those reading this. But what I will do is identify what we've found out that is applicable to the larger market, because there have been some interesting and even fascinating trends and information that we've uncovered that can be public and that has some impact on the market's thinking…we think.
Before I do that, I want to highlight the 13 companies that made it to the semi-finals because they are among the best of the emerging technology companies that we are seeing – and we is a significant portion of the leading analysts/influencers in the CRM space.
The CRM Idol 2012 Semi-Finalists
There are 14 semi-finalists. Here they are in alphabetical order with links back to their microsite at the CRM Idol website.
Congratulations to all of them!! It isn't easy to get to semi-finalists. They were 14 of the 41 entries who made it into the contestant round – which had 6 disqualifications and withdrawals of its own. So they are 14 of 47 in truth. Rarified air indeed.
The Caveats
Let's face it. As far as this being methodologically scientific, it ain't.  This is also a small sample set but it is plugged into larger trends that I've been seeing in the market and thus does have some significance, in context.  So, here's what I saw and what I think is worth ruminating over. Do what you do with it, but there it is.
The only other caveat is that I'm not going to get into the individual companies. If you want to do that, read the 41 reviews that we've already put up. Here's your starting point.
What We Know Now
Marketing in general (content, social, alignment of sales and marketing) is a dominant theme this year

with many of the CRM idol emerging companies presenting us with significant and functionally interesting marketing products.  It's reasonably obvious this is being driven by the amount of information that's being not just created by the social web, but also consumed by the social web. So we are seeing products that make creation, distribution and consumption of targeted content a focus of their business offering.  Interestingly, a small handful of them are presenting products in a way that's superior to even the largest vendors.
However, it's not just the content marketing application providers who are showing us something.  As many of you have probably read for the last couple of years – there is an increasing alignment of marketing and sales objectives going on at the corporate level. This is leading to a new form of relationship between the two departments that still retain their distinctive differences.  Even companies that are focused around small business are thinking about the association of revenue objectives with marketing department goals. This is leading to a more unbroken chain of lead to close processes that commonly impact sales and marketing, and thus tools, which now fall under the aegis of revenue performance management. Emerging tech companies are taking the hint from Eloqua and Marketo and gearing their applications in support of that alignment.  We see that with CRM Idol companies and with more established companies like Infusionsoft.

Social is just another set of channels and capabilities – This is something that directly corroborates what many of us have been saying for awhile now. Social is no longer "the shiny new object" as Esteban Kolsky says or in the experimental stage. It is a group of channels that are accessed through a set of tools that are provide communication media for customers (at least in a business context). They are to be considered when thinking through a multichannel strategy as to their value and the likely outcomes from using them.  CRM Idol this year has two sorts of companies that intersect "social." Several built around social channels as the core service offering – so it might be social analytics or social customer service. Several others built around applications that incorporate social components but they are just part of what is provided. It was noticeable that none of the contestants emphasized the "hey we got social" which was something that stood out last year.  None.
Stronger focus on outcomes and results than features and functions – While not a slam dunk of a trend, we noticed that there were more discussions on business outcomes than last year. The focus wasn't always around features and functions but what the products could do for the specific customers that they targeted. Was there enough of this? No, but the inability to do that is endemic to small emerging tech companies who are constantly in the weeds and rarely lift their head above the reed.   But there were more than last year who did discuss business outcomes with us, rather than how great their features and functions are.
Analytics a part of even the smallest players – the products that go beyond simple functionality, almost all incorporate analytics of some level. Some run deep, some lightweight. They run the gamut from social analytics to email analytics to business intelligence and even a little bit of predictive analytics.  But analytics is a theme that is threads throughout the entire gamut of contestant applications.The most advanced companies in the contest are seeing it from the standpoint of actionable intelligence.
Some of the applications provide their customers with the ability to take actions directly from a feed of some kind. So open a case from a Twitter complaint that would then be captured and placed in the system of record. Or identify an opportunity and promote an action based on a Facebook message. All examples of what some of the contestants can do.
Less Dot.Net architecture than last year – Even though we saw Dot.Net still more than we ever could have expected, there were more architectures dependent on php and the LAMP stack, etc.
These were trends that were noticeable among the contestants that resonated with the more general trends in the industry.
The Contestants
What about the contestants themselves, rather than how they reflected the trends?
Glad you asked.
We found some of the same problems that we found last year.  These are small companies that are more often built by developers than not and thus they are plagued by the problems that companies like that typically have.
The best way to put the primary problem is:
Engineers don't know how to market, nor do they understand it's importance.
Marketing is a most nebulous discipline for many engineers. They have some difficulty understanding why they should spend some of their very limited dollars on something so intangible. They deal with tangibles – code, products, deadlines.These are small companies they have to juggle their dollars understandably. So they tend to adopt a "build it and they will come" attitude.  Don't get me wrong. We see this in the engineering companies who have made it big too like Sony.
For many years "build it and they will come" worked.  Look at Oracle, who were that kind of company (note the "were") But the world has changed.
The problem is, given how highly competitive the market is, building a a great product  it isn't enough to make customers buy it any longer.  What we find is that often these small technology don't recognize is that there are others building products that provide the same benefits or at least similar ones with similar products, even if not as good as theirs.  Plus great features and functions don't a successful application make – by themselves. You have to be visible in the market. You have to be a company that is trusted – and known – not just have a good product. You have to be a company that is mentioned when your "category" comes up.  You have to be a company that is recommended by those who influence the purchasing decisions of your target market.  Just having a good product is nowhere NEAR sufficient to accomplish that.
What's fascinating is that while the CRM Idol company this year all in all are providing superior products even in comparison to last year, we still have the same concerns about their lack of marketing and outreach, and in some cases their lack of concern over it.  We know that CRM Idol is their tentative baby step. We hope that they take advantage of what we are trying to provide to them to invest in what can make or break their future – their visibility.
(Cross-posted @ ZDNet | Social CRM: The Conversation Blog RSS)