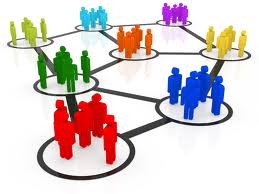 Building out an enterprise social network (ESN) goes beyond just connecting employees to each other. Talking about a company's ESN one might picture a single network, but in reality many companies will operate with several / many interconnected communities and networks. That's one of the reasons that community platforms, ESN platforms and private social networks need to be built on open standards. Disconnected communities and networks perpetuate silos. Integration is really critical.
Customer communities are used by companies for many different activities, support and service, marketing, and sales. As customers interact in the community a great deal of valuable content is developed. The value of that content is greatly increased by providing a method for sharing. Beyond the content the interactions in the community provides useful insight into the members behavior. Using analytics to examine the data, a great deal can be added to a prospect's / customer's profile. The information can be used to provide a much richer customer experience. The problem though, is getting that information into the right hands inside a company. Most communities are disconnected from the internal systems and thus, create data silos.
There are some "off the shelf" solutions to these data silos. Last week, for example, Salesforce.com announced Chatter Communities, a new community platform offering that is completely integrated into the Chatter ESN. Chatter Communities is available this Fall in limited beta and will generally be available Summer 2013. Last Spring Lithium and VMware SocialCast also announced a partnership to provide an offering that integrates SocialCast ESN with Lithium's community platform to provide voice of the customer (VOC) insight across the business. Yammer, recently acquired by Microsoft, also offers the capability to connect outside the internal network though the creation of external networks with customers and partners, or extranets. While each solution operates slightly differently, they all provide the capability to connect across the entire ecosystem of partners, suppliers, employees and customers. This extension of the ESN is a big step in creating an integrated business network that can leverage and build on each community in a way that is much more powerful when the silos are torn down.
(Cross-posted @ Michael Fauscette)