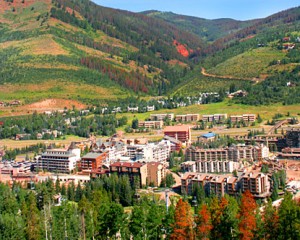 Two weeks ago Pacific Crest held its annual technology conference in Colorado.  David Spitz and Brendan Barnicle ran their annual SaaS workshop where I was invited to participate.  The workshop opened with Brendan's presentation on the results of the CIO survey the bank conducts and continued with David's presentation on the SaaS company survey.
The CIO survey held a few surprises.  On the positive side, it appears that 2012 IT budgets are holding up and they will show 3.6% increase for the year (smaller than the 5%+ that was being predicted earlier in the year but still a respectable growth and an indication that corporations recognize that they must continue investing in IT).  Applications are starting to be viewed as strategic assets.  In the past CIOs viewed their IT infrastructure as a corporate strategic asset.  As Brendan indicated, in the past corporations used to build their IT infrastructure first and then license or build applications around that infrastructure.  Now, they first select the applications and then build the infrastructure around them.  This is a big shift that could only be enabled through SaaS applications.
CRM and marketing applications dominate the list of solutions CIOs plan to acquire during the remaining of the year, underlying once again the increasing importance of the CMO in setting the IT agenda.  Social media and email marketing applications have decreased in importance (the last survey was conducted in February 2012).  I think that the reason for the decreasing priority of the social applications is because corporations are not able yet to clearly establish the ROI associated with the use of such applications for their marketing and sales efforts.  39% of the CIOs in the survey reported slight price increases (<5%) in the SaaS applications they license.  These are still relatively small numbers to get really excited about but at the very least the results point to price stability for SaaS applications.  Finally, Brendan reported on SaaS investor sentiment.  His survey confirmed that SaaS investors are paying for top line growth, rather than profitability and they expect SaaS IPO candidates to have the following characteristics:
Financial visibility which the pure SaaS model offers consistently.
Consistent growth.  Interestingly investors are willing to contend with slower growth and no surprises, as opposed to high growth that cannot be sustained QoQ.
Applications with broad functionality that enables them over time to be transformed to platforms.  Markets don't appear to differentiate between horizontal and vertical SaaS applications as long as the platform opportunity exists.
Well-defined Total Addressable Market.  Oftentimes, just the North American market is sufficient to excite investors.
Competitive advantage either in markets that are dominated today by large IT vendors with dated applications, or in markets where every other competitor is a much smaller SaaS vendor.
Rather than reviewing the 2012 SaaS survey results as I've done in the past, I will compare the 2012 results with those of the 2011 survey.  This year the survey included more companies (70 in 2011 vs 83 in 2012).  The employee count, customer count, and revenue median numbers of the surveyed companies were higher, but the ACV median was lower.
More of the surveyed companies are growing by 30-40%, lower than what they had projected in the 2011 survey. Companies are also projecting a lower median growth rate for the entire 2012 than in 2011.
Contract sizes are getting larger with 45% of the surveyed companies reporting median contract size of $250K-1M, almost 3x of what was reported last year.
More companies are using internet and channel sales as part of their sales strategy and the ones that are doing so are growing faster than the SaaS companies that are using field sales.  In fact, of the slower growing companies, 71% are targeting the enterprise, whereas 52% of the faster growing companies are targeting the enterprise.  This was a surprise to me based on what I'm seeing from our SaaS portfolio companies.  However, of the companies that target larger contracts ($100K and above), this year they all indicated that they are using field sales exclusively compared to last year during which some were using inside sales as well.  For the very large contracts (over $1M) the ratio of field and channel sales (50/50) remained unchanged.  Finally, for the smaller contracts (<$25K) companies are now using all four go to market modes (field, inside, internet and channel) where last year they had reported as using primarily inside and internet.
The distribution on CAC remained the same with companies spending anywhere from $0.5-3 for $1 of ACV.  However, the results were more statistically significant this year.  However, this year the cost to upsell to existing customers went down ($0.18 vs $0.28 in 2011) as did the cost to renew ($0.09 vs $0.16 in 2011).  The CAC associated with field sales went down ($0.83 vs $1 in 2011) which I think is a function of the longer contracts that companies are able to sign through the use of field sales teams.  The CAC associated with internet sales is the highest and has more than doubled from last year (median of $1.06 vs $0.45 in 2011).  Finally, the percent of ACV associated with upsells is lower in 2012 than it was in 2011.  This could be because more of the companies surveyed in 2012 are younger and are not as far along in their implementations with newly-signed customers to have the opportunity to upsell them, since of the companies that reported over $60M in annual revenue 40% of license revenue comes from upsells (2x the number reported in 2011 for the same segment).
Professional services are becoming a drag to gross margins.  The median gross margin associated with professional services was 22% whereas last year it was 47%.  Again, this could be a function of the companies being surveyed, as younger companies have less sophisticated services organizations and models.
Freemium and Try Before you Buy models are having a bigger impact this year.  21% of the companies expect up to 10% of their ACV to come from freemium strategies (almost 2x higher than 2011) and 18% of the companies expect over 50% of their ACV to come from Try Before you Buy models (also 2x the 2011 number).
Gross margins expectations at scale remained the same (71%) but the growth expected annual growth rate for the company came down (40% vs 45% in 2011).
Annual contract size was significantly lower in 2012 (median of $24K in 2012 vs $38K in 2011).
Contract length is coming down with fewer companies reporting longer contracts (still about 50% of the companies are signing 1-2 year contracts) but the number of companies signing less than year-long contracts has tripled (9% in 2012 vs 3.4% in 2011).  On the positive side, the number of companies paying 1-2 years upfront has gone up (6.3% in 2012 vs 1.8% in 2011) but these are still small numbers.  As one would expect the multi-year contracts tend to be $100K+, similar to what it was in 2011.  Finally, more companies are pricing their contracts based on the number of the customer's employees (9.7% in 2012 vs 1.7% in 2011) with per seat and per transaction remaining the dominant pricing metrics.
Overall churn numbers remained the same YoY with most improvement, i.e., lower churn, in the $1-5K contract size category and higher churn associated with sales through the internet, and lower (as expected) through field sales.
Interestingly, more companies (16 vs 10 in 2011) reported that they raised $25-50M to get to $35M in 2011 GAAP revenue, another indication that VCs are eager to fund SaaS companies that are reaching "escape velocity."
This was another great workshop.  The SaaS company survey provided additional validation of the trends we are seeing in our own SaaS portfolio.  My thanks to the Pacific Crest team for all the work they did to conduct these surveys and bring us together to have a meaningful conversation around the results.