The US General Services Administration (GSA) employs almost 12,000 people and has a budget of $25 billion. Fellow ZDNet blogger, Dion Hinchcliffe, and I spoke with CIO Casey Coleman about issues pertaining to IT leadership, cloud computing, Web 2.0, and innovation in the federal government.
Casey Coleman has a broad mandate and a large budget. The GSA website describes the breadth of her responsibilities: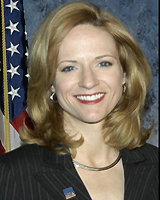 As CIO, Ms. Coleman is responsible for aligning technology with GSA strategic business objectives.  Her primary focus is leading and implementing the effective and efficient acquisition and management of information technology solutions across GSA.  Ms. Coleman manages the Agency's $500 million IT program, overseeing management, acquisition and integration of the GSA information resources.  Her oversight includes strategic planning, policy, capital planning, systems development, information security, enterprise architecture, and E-Government.
I urge you to listen to the complete podcast to gain insight into the world of an articulate IT leader managing a substantial budget during a period of economic and technological change.
Here are some excerpts from the conversation with Casey. Note: these edited summaries are not exact transcripts. The podcast discussion goes into depth on all these topics and much more.
Why do so many government IT projects run late, over-budget, or do not achieve planned results?
The federal government is one of the largest consumers of information technology in the world, with annual spending of $76 billion per year and growing. At that scale, successes are large and failures can be greater than in commercial industry. We operate at a level that has some risk, just by the size and magnitude of the effort.
Privacy and security along with other compliance issues that government computer systems must meet, mean that we can rarely use enterprise COTS (commercial off the shelf) products. Unique government requirements around transparency and processes often demands software customization and configuration, despite downstream difficulty upgrading or patching systems.
What about cloud computing?
We see software as a service (SaaS) as a key enabler of agility and potential cost savings in the federal government. Cloud computing is a priority for this administration; we're developing strategies to adopt cloud in a way that meets our security and privacy mandates. Productivity and work flow-type applications that would ordinarily reside on the desktop are areas where SaaS solutions can play a key role.
We're interested in SaaS-based financial and HR applications, but I'm not sure the market is there today for the federal customer. We're required to operate under the Federal Information Security Management Act (FISMA), which certifies control and security of government systems. Although it was developed when application and data center boundaries were well-defined, which is not the case today, we must still comply with FISMA. We're evaluating which controls are appropriate for cloud computing providers and determining procedures for monitoring compliance with those controls.
Are federal policies keeping pace with technology needed to support government 2.0 initiatives?
Technology moves quickly and advances continuously, but you must be thoughtful when making policy changes because you want those policies to last for some time. Therefore, you hope the policy can be enacted at a level of abstraction that doesn't require re-thinking every time there is a paradigm shift in technology. However, there are reviews underway in both the administration and in Congress to look at FISMA and other legislation to see whether it is time for an update. Over time, the technology framework does need to advance as technology continues to move forward.
Do social computing and open data actively help the GSA's day-to-day business?
Web 2.0 technologies can help us better serve GSA's stakeholders, which include our oversight community and partners in industry. Web 2.0 helps improve collaboration, increasing the ability to have open, trust relationships with members of our community who are outside agency boundaries. This is an area where Web 2.0 will play a key role.
As CIO of a large organization, what are your largest concerns?

My key concern is IT modernization and transformation to suit our 21st century mission.
Our budget and portfolio in the agency is 80 percent operations and maintenance; we invest only 20 percent in new and innovative technologies. The demands of our mission will require that we increase the percentage devoted to transformational technology, so we're looking hard to free up operations / maintenance dollars and invest in innovative solutions. For example, we have recently committed to VOIP, which we think will cut our spending on local voice service by 50 percent or more, allowing us to save money that can be reinvested in areas that support more innovative requirements.
———–
If you're interested in IT leadership, cloud computing, Web 2.0, or innovation inside the federal government, this engaging podcast is a must.
[Thanks to CRM great Paul Greenberg for introducing me to Casey Coleman. Photo of Casey Coleman from the GSA.]