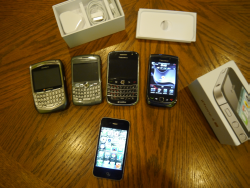 After 6 years happily thumb tapping my way around my email and messages with the real keyboard of the BlackBerry smart phone platform I defected to the Apple iPhone back in July (even though the new iPhone 5 was imminent).  It's such a shame – I've been a big fan of Research In Motion's BlackBerry approach and the integrated nature of their software, but to me this highlights how even strong and successful technology companies can lose their way and loyal customers with the wrong strategy and end user experience in a very short space of time.  In today's technolgy landscape, if you aren't always challenging your current product range and reinventing yourself, your toast!
Things were so different back in April 2006 when I followed Ross Mayfield's advice and replaced my Treo PDA and Sony Ericcson K700i phone with a BlackBerry 8700v smart phone, instead of the HP iPaq and Sony Ericsson P990i I had been looking at.  It was great advice!  I loved the simplicity of the click wheel interface and the way the email, messaging, contacts and phone functions were so elegantly integrated.  It actually worked well as a phone too.  Along the way I upgraded to an 8300 Curve, then a Bold 9000, and then a Torch 9800 with touchscreen, but still a real keyboard.  When the iPhone first came out in 2007 I went to play at the Apple Store, but I could never get on with the soft keyboard.  Way too many mistakes compared to my real BB keyboard – you get pretty dexterous with those thumbs.  The fact that the BB browser never worked well up until when the Torch came out didn't particularly bother me too much – email and messaging integrated with contacts and phone were the key apps.  Things got better with BlackBerry's Webkit based browser on the Torch, but still weren't near good enough.  Compared to the iPhone or the Android devices that have come on the scene in recent years it was too too slow, and BlackBerry have never reacted properly to get alongside, or even better, ahead of their friends at Apple (or Google).
I'm loyal to the brands I like, but BlackBerry have managed to push me away.   They made a complete mess of their foray in to the Tablet market.  They have a great reputation as the enterprise friendly device, but managed to misshandle their problems with outages.  They have a fantastic following with young people who love the keyboard for SMS, updating social networks, and using the "free" BB Messenger to keep in touch with their friends, all done on a tight budget.  You can see Will.I.Am tweeting from his Torch standing on his chair on TV programmes like The Voice, and even with all this BlackBerry haven't capitalised on being "for the cool kids" as well as Enterprise.  But the real problem is in not helping me want to stay on the platform, and instead trying to make money from me on incremental upgrades.  My Torch is on the BlackBerry 6 operating system.  If I want the features in the BB 7 operating system I have to pay to swap my 9800 for an almost identical Torch  9810 to run it – crazy!  The next, even better, operating system BB 10, which combines the best of BB and the QNX operating software they aquired and which is used on that failed Tablet, was going to arrive this autumn, but will now be sometime next year.  Need a new handset for that too.  And did I mention web browsing is too slow?  This is not the way you treat your existing customer base – other people do it better.
A few months out from my Vodafone contract renewal (which was around this day in September) I started to look at upgrade alternatives.  I was reasonably certain I would go Android, even though I've been using an iPad since May 2010.  My son replaced his beloved Google Nexus One with an HTC One X in May.  Initially I loved that big screen, and I started to try out available soft keyboards like Swiftkey and Swype.  I had a serious look at the Samsung Galaxy S III – the phone that has supposedly been hitting sales of the iPhone 4S.  It's a tough choice between the HTC and Samsung that probably comes down to whether you prefer HTC's Sense add ons or Samsung's smart overlays and apps.  Then my daughter's original Galaxy S came up for renewal in June and she looked at these two alongside the iPhone 4S.  She decided for iPhone on three issues – usability vs the Android she'd been living with for the last 2 years, the Apple cool factor, and the fact she has an iPad 2.  I think there was another, less conscious aspect – the form factor.  Are these big screens making the phone too unwieldy in the hand, trying to be a mini tablet as well as a smart phone?
I started to play around with her 4S, much to her annoyance, to see how much the soft keyboard has improved on this small device since that first iPhone – the answer, a lot!  Even accounting for the smaller 3.5 inch screen of the Apple compared to the 4.7 inch screens of the One X and S III, I was doing a more accurate job of typing.  This is down to two factors – the auto correct suggestions, but more importantly the fact that the iOS keyboard predicts what you might type next and makes the sensor area for that key bigger to improve your chances of hitting it.  The software even picks up names from your contacts, learns from what you regularly type, and there is a work around for you to be able to add your own auto correct suggestions.  Once I was over that major usability hurdle the choice to move to iPhone was easy – more and more useful apps compared to Android (700,000 with 250,000 optimised for iPad), slick user interface that I already know from the iPad, the Siri intelligent assistant and iCloud.  If you add a contact or make a change on the phone, within a second or two the iPad has been updated, and vice versa.  But should I switch now or wait for the iPhone 5 to come out?
Two months ago when I was considering this puzzle the Internet was awash with iPhone 5 rumours and leaked photos of what the case might look like, screen size and the like.  There was enough evidence to be reasonably certain of key things Apple would announce.  It seemed like the launch was going to be in early September.  It looked like the device wasn't going to be radically different from iPhone 4S with a screen that was bigger, but not as big as the 4.7 inch screens of the opposition.  It was highly likely that the 30 pin connector would be dropped for something smaller – I've already got lots of 30 pin connector accessories and using them with an adapter would be a pain.  It will handle 4G, but that won't be available in the UK on my provider's network for a while.  Even if the phone was released almost immediately in the US, it always takes longer to arrive in the UK.  Demand would be high, and actually getting hold of a phone before Christmas would probably be a struggle.  Two weeks in to July the smart people at Vodafone rang me and offered me the chance to upgrade my contract early – that tipped me over the edge and I picked an iPhone 4S without hesitation which duly arrived on 20th July.  It's a brilliant little device, but there is one killer feature that Apple get right, that so many other manufacturers get wrong.
As well as all of the great things about the handset, it doesn't have the redundancy that is built in to so much of the opposition's handsets.  There are some really cool new things in iOS 6 (new Maps, Facebook integration, shared photo streams, Passbook for boarding passes and cards, extra phone features) that I get on my "old" Apple phone for free when the new one comes out.  Even users of the iPhone 3GS two generations back from me and three generations back from the iPhone 5 get the new operating software as a free upgrade. It's available tomorrow – awesome, can't wait.  This is how you keep your customers loyal. This is why BlackBerry is on the ropes.
As you know the iPhone 5 was announced last week with some availability in many countries before the end of this month.  As you know the reaction from journalists and analysts has been mixed – some of them don't quite get it and expected something "Earth shattering".  The reaction from customers though is different – they get it.  The phone is pretty much sold out everywhere and there's a waiting list.  The biggest risk Apple have taken is in re-engineering the connector from the 30 pin that we've used with our Apple gadgets for the last 9 years. It's a logical, necessary and painful  move to save internal space and external size across the whole iPhone, iPod, iPad range, and to improve the platform for the next 9 or 10 years.  All products need to attack themselves with the new version to improve.   It's one of the factors that helped me decide to go settle the 4S over waiting for the 5.  The new iPhone has a 4 inch screen, a faster processor, is a bit longer, a bit thinner, but the same width and definitely lighter.  I'm surprised they didn't cram in NFC (Near Field Communication) for mobile payments and information exchange too but I'm sure that will come next year.  I wouldn't be at all suprized if the timing is related to the availability of more real World apps to use it effectively so that when it reaches iPhone it has a bigger, practical impact.  In any case, you have to be impressed with the beauty of the engineering job they have done.  The Apple keynote announcement itself is well worth watching.  The difference between an Apple launch and most other technology companies comes down to two things – a proper explanation of why they do what they do (start with why!), and real emphasis on what the product can actually do for you and how you use it.  Features and specifications get a mention but in the context of faster, easier, better ways of doing things and not just a list of numbers.  Apple have done enough to to make the best smart phone better and to lay the foundations for where they go next.  They have also made available some of the most significant new functionality to owners of 3 of the previous generations of handset owners making us even happier Apple users.
I wonder where next for BlackBerry and whether they are heading for acquisition.  Nokia haven't done enough with their recent Windows 8 announcement to even start to reclaim the smart phone ground they've lost.  HTC make good hardware, I wonder what Google will do with Motorola and Samsung are doing the best of the Android based opposition, but nobody has the coherent strategy, developer ecosystem, direct route to market through their retail chain, loyal customer set and execution skills of Apple.  The iPhone 5 is out and is roughly what I expected.  I'm still delighted with my 4S choice and I'll be happy to live with it for the next 18-24 months safe in the knowledge that I'll get new goodies from new iOS versions every year or so.  And last, but not least, if some company, organisation, school, college, or service produces a mobile app for what they do, it almost always comes out on iPhone first. I was walking round Goldsmiths, London as a prospective University for my son on Saturday – signs up promoting their iPhone app everywhere.  The recent combined Android market share numbers look good, but they're spread across many manufacturers with differing strategies and they don't yet reflect the impact of iPhone 5.  I just can't see Apple losing their smart phone supremacy for the foreseeable future.