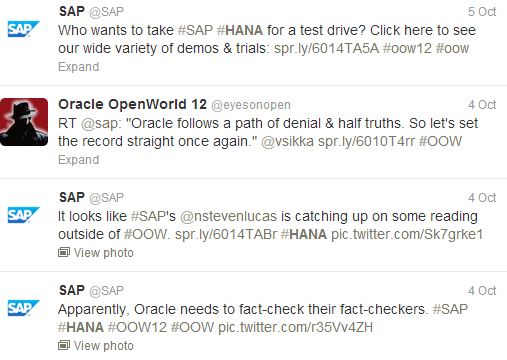 When I met Mark Hurd at OOW this week I complimented the fact that Larry Ellison was so on-message in both his keynotes. Mark smiled, probably thinking back to one point in the Sunday keynote where Larry apologized to Mark, and went off message. It would not be Larry if he did not tell a corny joke or tweaked a competitor in one of his keynotes or quarterly calls.
If anything, I worried if Joe Tucci of EMC was offended by Larry's cloud talk before his own OOW keynote a day later. Instead it was SAP which blew a gasket. As Dennis Howlett writes, SAP hijacked Oracle Open World twitter hashtags to respond to a Larry comment during his keynote.
In doing so, SAP brought attention to two major facts:
It is still beholden to IBM (and other big partners). Not sure it is smart to remind customers and prospects, its expensive ERP ecosystem albatross continues in the new world of cloud, mobile, social, analytical applications.
It has only 600 customers for HANA. For a product which its leadership has been talking about for years, to only show the equivalent of 0.5% penetration of its customer base is the equivalent of  a scenario where Tim Cook reports in 2015 that the iPhone 5 has sold only a few thousand units.
If I were SAP, I would be much more worried:
That Oracle is poised to build out the most elaborate cloud infrastructure in enterprise tech, which will make SAP's data center investments around BYD and SuccessFactors look miniscule.
That Oracle's social and customer experience applications position it much better as the market pivots toward revenue focused IT, whereas SAP continues to be focused on control and compliance IT
That the names Salesforce, Workday and NetSuite came up many, many more times during OOW than SAP'.
(Cross-posted @ DealArchitect Full)