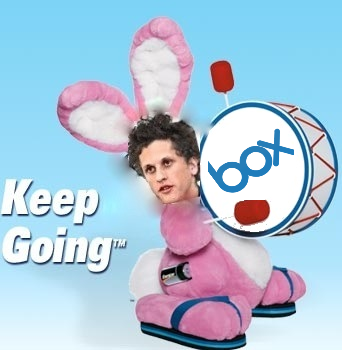 OK, so I 'm abandoning my pictorial post schedule, as Box-mania just broke out, and I feel compelled to jump in.  But the skipped  NetSuite post is coming soon…
I've been following
Box
longer than probably most observers and some of the old memories are worth sharing – from an admittedly subjective point of view.
I met a skinny hyperactive kid with big hair in  2005,  at Michael Arrington's house, at what turned out to be the
3rd TechCrunh BBQ
.   For reference, AOL was nowhere in the picture, TechCrunch was a non-entity, reaching 5k (yes thousand, not million) readers was a major achievement, and the highlight of the party (then just called BBQ) was the series of startup demos around the sofa  in Micahel's living room.
Aaron
was more noticable than his product, later to be known as Box.net, one of a
dozen file sharing apps
.  Literally a dozen – too much of a good thing?  How many can the market bear?  They were not expected to last long:  there were others with "better chances", including Omnidrive, which Arrington's business partner invested in, got featured @ TechCrunch numerous times…etc – if anyone, they were earmarked to emerge as a winner.
That I said, I wrote a piece about Box.net, but it wasn't so much about the service, rather a good startup – bad startup scenario, praising their
frugality and focus
on business first (link here).
Back than all online storage startups were launched by college kids and all they cared was photo- and music sharing.  And I wanted productivity tools. How boring.  I got into
some
sparring 
with Aaron, who still personally responded to blog comments on the importance of file syncing, to me a no-brainer, without which there is no productivity… then I gave up.
I took my eyes off Box.net, fully expecting them to be in the startup deadpool soon.
A few years later I received an invitation to an Enterprise event, hosted at HP's Palo Alto HQ, featuring the "Who is Who" of Enterprise Software – and the entire show put up by Box.net.  This was not an event about Box, not even file sharing – a stellar lineup of speakers discussed how Cloud Computing revolutionizes Enterprise Software.   Box were facilitators to the discussion, but by doing so, they created brand association with the Enterprise world: "watch us, we're a player in this space".  Genius marketing move, money well spent.
This is how I discovered what is now a well known story, i.e how Box Founders Aaron and Dylan arrived at their pivot point, entirely refocusing the company on the Enterprise market.  Why? Simple: that is where the money is.  If you can spare 37 minutes (yes, I know… but he is an entertaining speaker), watch Aaron tell his story in the video below:
Back in the 90′s the mantra for software startups was to avoid Microsoft's attention: they either crush you, or befriend you only to steal your products.  Sign of changing times… Box, now an enterprise contender boldly set out to challenge the Redmond giant: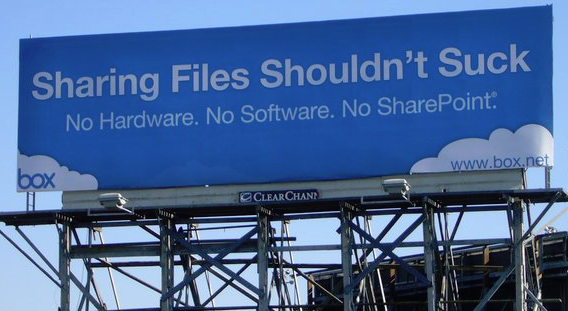 The enterprise play is clearly paying off for Box.  While most of the startups who "were supposed to win" the online storage race are in the deadpool – Box (renamed from Box.net)  has raised close to $300M in several investment rounds from traditional VC firms,  Private Equity, Strategic partners like Salesforce.com, SAP ventures,  you-name-it, really, it looks like the whole world is in line for the opportunity to grab a share or two), is valued over $1B, may very well IPO next year (although with their existing war chest they don't have to rush to it), and more importantly has an
amazing list of reference customers
.
Here's a little anecdote:  they used to sound a huge gong to celebrate customer wins – then as the wins got everyday routine, they started raising the bar from $5k to $10k… last time I visited I heard the new limit was $100k.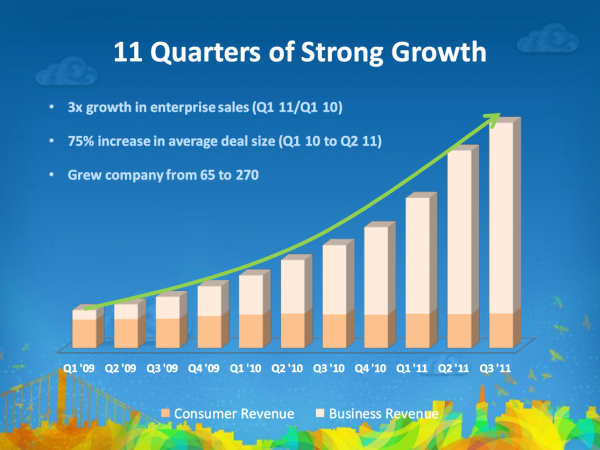 The above slide is a year old, and I expect to see a new one at  #
BoxWorks
  next week, but it clearly shows the trend: flat consumer revenue, skyrocketing Enterprise.
Enterprise customers love Box for the simplicity, ease of use whether a "Sharepoint replacement" or more realistically a complementary solution, and last but not least for the speed of new development and support.  Here's another telling chart from last year: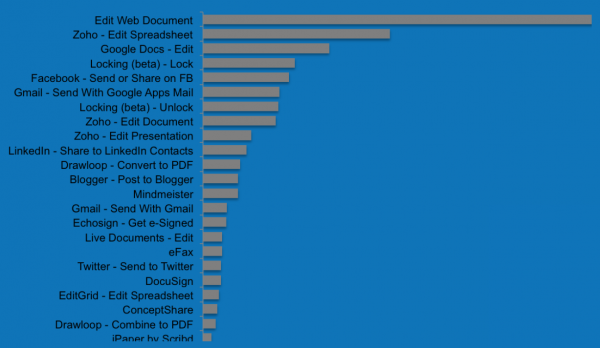 They see far more API calls then straigth downloads, which shows how Cloud usage is gaining – last year Box  users had access to 120+ integrated web apps. Box is no longer about file storage. It's becoming a collaboration enabler, providing access to your data  anywhere on any platform  using whatever app you like.  They also have integration / partnership deals with other enterprise players like  SAP, NetSuite, Salesforce.com.  The latter gave them a little spanking at Dreamforce, announcing Chatterbox –
no surprise
with that name, huh?

Phil Wainwright differentiates
Chatterbox as being more signal-centric, grounded in the process flow between people vs the document-centric view of Box, and I think he is right, but not all companies will want "in flow", not all will want to have Salesorce's  Chatter either.  Chatterbox is unlikely to become a standalone product, rather an add-on to Chatter. For a serve-your-data-anywhere-integrated-with-a-smorgashboard-of-apps approach  Box is  a leading provider. And secure, unlike some of their consumer peers.
Box did not take the slap from Salesforce.com (who, remember, are investors)  too seriously, just as they had not stopped for a moment when Google Drive or Apple's iCloud were announced (those being more consumer focused solutions).  Nothing Stops the Box Bunny

Only days after Dreamforce they announced a partnership with Tibco whose Tibbr social software is used by a million users.
I'm confident at next week's #BoxWorks we'll hear not only product announcements, but customer success stories and new alliances.  Oh, have I mentioned Box has built a
decent ecosystem
, hands out funds to startups, and is an overall cheerleader of the "make enterprise sexy" movement?
There's another reason why Box is one of my favorite startups.  (Well, technically, a company with over 600 employees is hardly a startup anymore. Only in spirit.)    Box is the epitomy of the new type of Startup founded, run and driven to success all the way by the Founders.
The standard playbook for Enterprise Software startups in the 90′s was:
Launch > Get funded > VC brings in "grey hair" management > Founders get pushed out or aside > Exec-heavy startup fades into oblivion > Imported CEO and Exec run back to their large co. hometurf.
Aaron and Dylan were college kids when they launched the business, and while they also hired "grey hairs"  – oops, I should be more careful with "grey",
apologies to the First, Second , Third .. ladies at Box

– but retained control.  They made
mistakes
, were quite aware of their own limitations, and methodologically trained to become top executives, paying top-notch management gurus to train them, seeking advice from industry luminaries..etc.  They've grown with the job, and frankly, having lead a company through seven years, from 4 to soon 1000 employees and most likely to a succesful IPO more than compensates to whatever they left behind when they skipped college.  They have gained more management experience than most graduates will in a lifetime.  Box is living proof to the thesis that companies are most successful when lead by Founders.
Now, that's the end of the real article … but it would not be me if I didn't close on a ligther note:-)
Two years or so ago Marc Benioff started a fashion trend appearing in bright
rainbow-striped socks
.  Some even thought it was the sixth secret to
leadership success
.  Except of course Aaron Levie, who knew the real secret was .. in the shoes.  Watch him literally fly onto stage wearing his trademark orange sneakers.  Now, this year Marc Benioff took a hint from Aaron.. watch his sneakers below.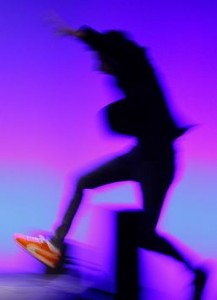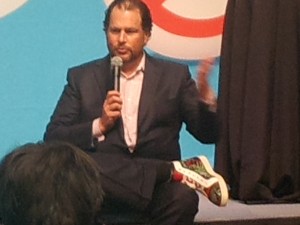 Clearly, Aaron looks up on Marc Benioff for leadership… but now we know where Marc finds fashion advice

First socks, then shoes… do we even want to think of what's next?  Hint: Box employees internally refer to themselves as … yes, boxers:-)
(Disclosure: As is customary in business, Box and other  vendors mentioned or referred to covered or will cover my T&E for conference attendance)
disclosure
(Cross-posted @ CloudAve » Zoli Erdos)