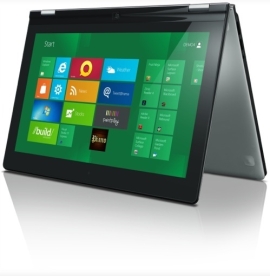 Like a lot of people I am watching the launch of Windows 8 in the market unfold in real time and find it one of the most fascinating shows in tech right now. There are few moments in our industry's history that combine such a wide array of transformational disruptions on a company, while at the same time the company itself is positioning itself to break with it's entire history and embrace change.
Here's what I know:
Windows 8 is a fundamentally different approach to the Windows user experience.
From the ground up Win8 fully embraces a touch driven user interface.
Win8 features a rich immersive audio and video capabilities.
Built for the cloud with integrated services via SkyDrive.
Let's run through some of the criticisms that I am reading, and contrast with how other companies are treated.
1) It's a confusing user experience. 
Maybe, time will tell but the context this criticism is usually presented in is that of existing Windows users who are struggling to adapt to a new UX. This is the most unfair criticism that Windows 8 is subjected to because were it any other company the criticism would not be offered, instead what would be said is that the company is question is positioning for the future. How many times has Apple unilaterally changed something about their products to the sound of crickets among the chattering class?
Microsoft is at the forefront of a post-PC landscape and they are doing something about it. It's not that desktop computing will go away, but it clearly – by any measure – isn't driving growth and Microsoft is responding by drawing on their considerable experience in gaming, media, and mobile technologies to offer a next generation platform. I, for one, am looking forward to being confused by a new generation of Windows…
2) Companies will hold off on upgrading.
No shit, seriously is this what passes for tech journalism? We are in the midst of a recession (whatever you want to call it, the economy sucks) and companies are in no mood for an upgrade cycle. It's also worth pointing out that Windows 7 is well supported in the modern enterprise and does what companies want it to do.
There is a bigger issue to take into account, which is that for Microsoft the future will always hinge on supporting businesses using Windows (and Office) but for the company to adapt to a bigger competitive landscape they have to change the dynamic of selling predominately through companies and OEMs.
We have been talking about consumerization of the enterprise for 10 years and it has already happened. New technologies don't leak into companies through individuals, it is a primary path through which technology products now enter the enterprise. For Microsoft this means they need to appeal to individuals more strongly and draft on that to drive uptake with CIOs.
3) Windows 8 is a tablet experience forced into a desktop/laptop paradigm.
Perhaps, but to accept this blindly also means that we are not imagining a hardware convergence between tablets and ultra portable laptops. How many people use a bluetooth keyboard with their iPad to, effectively, use it as a Macbook Air? This convergence is already happening and Samsung has already announced a laptop with a touchscreen display…
4) OEMs are unhappy with Windows 8.
and the problem is….? Why should I care if OEMs are unhappy? The PC supply chain has stagnated, driving little innovation in recent years as consumers have put design and usability values ahead of low cost commoditization. Microsoft has allowed their OEM partners to crapify the initial user experience and force to the forefront mediocre applications that people don't want and didn't use. Microsoft has the chops to be a force in hardware manufacturing, they should embrace this and let Surface be a shot across the bow to companies like Dell and HP that design matters and if they won't deliver it then Microsoft will.
In the process of writing this post I pretty much decided I am going to order one of the new Win8 devices when they become available. As much as I like my Macbook Air I am also objective enough to point out that Apple has been neglecting the Macbook product lines, substituting incrementalism for real innovation while they put the brunt of their efforts on iOS development and device support. I'm ready to give Microsoft another shot..
PS- I deliberately titled this post to reflect a "post Microsoft era". This is not a typo from the oft heard "post PC era". Microsoft needs to completely reinvent the platform that got them to where they are, just prettying up Windows and adding some cool features isn't enough to capture customers like me.
(Cross-posted @ Venture Chronicles)
(Cross-posted @ Venture Chronicles)