Last year, when I attended Box.com's BoxWorks conference for the first time, I was struck by the outrageous coolness emanating from founder and CEO Aaron Levie, as he stood on stage and ripped into Microsoft SharePoint as the embodiment of all that was evil and useless.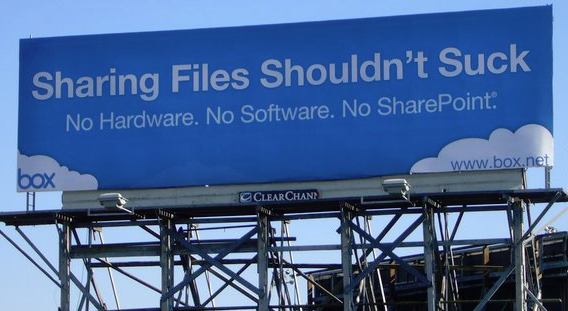 It made for great theatre, and outrageous coolness not only set the tone for the conference but also apparently heralded a great year for Box. Not only did the company garner some major investors – SAP, and Salesforce.com, among many others  – but it also began an amazing growth spurt that has catapulted Box out in front of a cloud apps market that is the most fast-moving sector of the tech industry this side of mobile.
And with great success has come something that is rare in dynamic startups run by charismatic, young founders: maturity. Levie is still funny and outrageous, and Box is still young and hip, but the company's focus is clearly on making sure that growth and new markets are characterized by an astute reading of market forces, and not just on being cool and hip.
Hence, at BoxWorks 2012, instead of coming to bury SharePoint,  Levie came to praise it – or at least co-opt it. And instead of looking in the rear-view mirror at erstwhile partner Salesforce.com's announcement of its own Box competitor, Chatterbox, or even giving passing mention to Microsoft's Skydrive online storage and sync service, Box took the high road and made it clear that online storage and sync, the origins of Box, are no longer the differentiating characteristics of what Box is offering the market.
Instead, the message was clearly focused on the enterprise, and on issues that matter to enterprises  that are trying to fill in the white space in their business processes with not just storage and sync, but by also enabling real collaboration. All the while keeping an eye on security, regulatory compliance,  business process, and other features that distinguish enterprise solutions from their consumer counterparts.
I think the SharePoint shift characterizes the maturation of Box perfectly. SharePoint is the number one collaborative software product in the world, and that's despite the best efforts of the dozens of collaboration vendors out there. There are  over 65,000  installations and over 125 million users in the world, according to published figures attributed to Microsoft,  so while in many ways SharePoint is truly the antithesis of Box, its pervasiveness is indisputable.
Hence Box's co-opt model: instead of being vilified as the enemy, SharePoint is now a launch pad for Box. The main problems with SharePoint – nimble and agile are not words that come to mind when thinking about SharePoint – dovetail nicely with Box, where nimble and agile are the coin of the realm. As such we heard a number of users talk about letting SharePoint remain as the "system of record" in the enterprise and using Box as the "system of engagement" for enabling the kind of ad hoc collaboration and rapid enablement of workgroups that characterizes many high-value collaborative enterprise processes today.
The SharePoint shift reminds me of what another company founder, once known for his outrageous coolness and humor and now known for his love of sailing and hardware, told me about his own march  to maturity. The year was 1991, and his market was starting the maturation phase of an amazing upward march to fame and fortune. What was different with his approach in 1991 versus the 1980s, I asked him. Back in the '80s, he replied, he was the bad boy showing up on a motorcycle to change the world. Now, in 1991, he's driving a sedan and wearing a suit, because in addition to changing the world he also wants to date the CEO's daughter, and no grey-haired CEO is  going to let some punk on a Harley take out his little girl.
I don't think Aaron Levie's next step is to get a pair of wingtips and a wool suit, partly because I like his style, and partly because he's already proving to be date-worthy, and the SharePoint shift is the perfect example. Seven years since its founding, Box has moved to its next phase, one in which it is balancing disruption with maturity, outrageousness with common sense. With style.  But in a sense Levie isn't just trying to be hip and cool, he's also trying to be meaningful to an IT/enterprise audience that wants a company like Box to be the bridge between enterprise functionality and consumer usability. And he's pulling it off.
The takeaway from BoxWorks 2012 is that Box is becoming an enterprise player, moving beyond storage and sync into what I would like to call enterprise process optimization, except that sounds too heavy and slow.  But that's really what Box is doing – filling in the white space in key processes that require sharing documents and collaborating , and in the process outmaneuvering the likes of SharePoint and Dropbox simultaneously. On the face of it, the differences are obvious – security, control, access, management, reporting are what makes Box the anti-Dropbox, and not just a competitor. And agility, flexibility, and usability, the hallmarks of a consumer product, make it the anti-SharePoint.
Levie was still outrageous and cool at BoxWorks 2012, even if he was delivering a more sober message about what really matters to the enterprise. Getting rid of SharePoint may not be top of mind, but enabling better control of enterprise information absolutely is. And if Box has to co-exist with SharePoint to make the point, so be it. Box.com doesn't need to declare the end of SharePoint to succeed. Letting SharePoint be SharePoint seems to have been the much better strategy, and so far it's working like a charm.