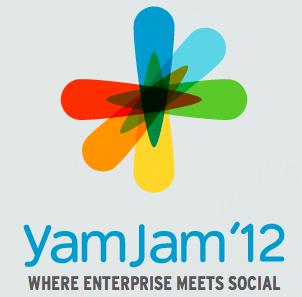 I spent the last couple of days attending Yammer's first ever user conference in San Francisco along with an engaged set of Yammer customers and partners. The event had a lot of energy and particularly for a "1st" version, was very well executed. I had the opportunity to spend quite a bit of time with both company executives and customers as well as participate in a fun "fireside" chat session with Yammer co-founder and CTO Adam Pisoni on "creating a culture of sharing."
During the opening keynote Yammer co-founder and CEO David Sacks laid out a few concepts that I found very interesting and that align to some of our recent research. David's insight revolved around the idea that enterprise social networks (ESNs) are gaining lots of traction and are very popular but that in many companies this is leading to an issue that he called network sprawl. The sprawl is particularly evident in the fact that many other enterprise systems are starting to embed ESN features, thus creating siloed networks. I'd say from my own research that this is in fact a reality in some companies and something that could easily get out of control as more vendors move to include ESNs in existing product suites. It's a classic double edged sword situation, the new ESNs are very important to building a social business but if not interconnected could actually make companies less open and collaborative. According to David the solution is to implement a social platform that can create an enterprise social graph, and thus connect any siloed networks, forming an enterprise social backbone. Yammer is releasing several key features that will help companies build this so called "enterprise graph". While I"m not sure I'd use exactly the same terms I do agree completely with the concept. In fact in a recent research report on ESNs I wrote about the same concept, that a company needs to think of an ESN as an interconnected set of networks and that there needs to be a sort of social backbone that provides this connectivity. So is Yammer on to something important, I'd say that at least IMHO, they and a couple of other leaders in this ESN software market (SocialCast by VMware for example) are spot on.
In support of the enterprise graph Yammer made the following product announcements this week:
The capability to embed Yammer inside other enterprise business objects (other applications) including records, documents and data. Other enterprise applications can now include the Yammer feed embedded into a contextual workflow, a feature that is absolutely essential for the next generation of applications and for getting the kind of widespread adoption that is essential for the ESN to be successful.
The capability to embed follow and like buttons / functionality into almost any enterprise application to track updates from these business objects.
Profiles for business objects, called Pages, that provide recent activity, followers and conversations around the object. On the application side the Yammer Embed feature allows the same information to be visible there as well.
An example of a Page:
Yammer also launched an App Directory that provides a listing of partner apps that have been successfully reviewed by Yammer for use with the Yammer ESN. This should make it much easier for partners and Yammer customers to find each other and help customers get access to rich add on functionality.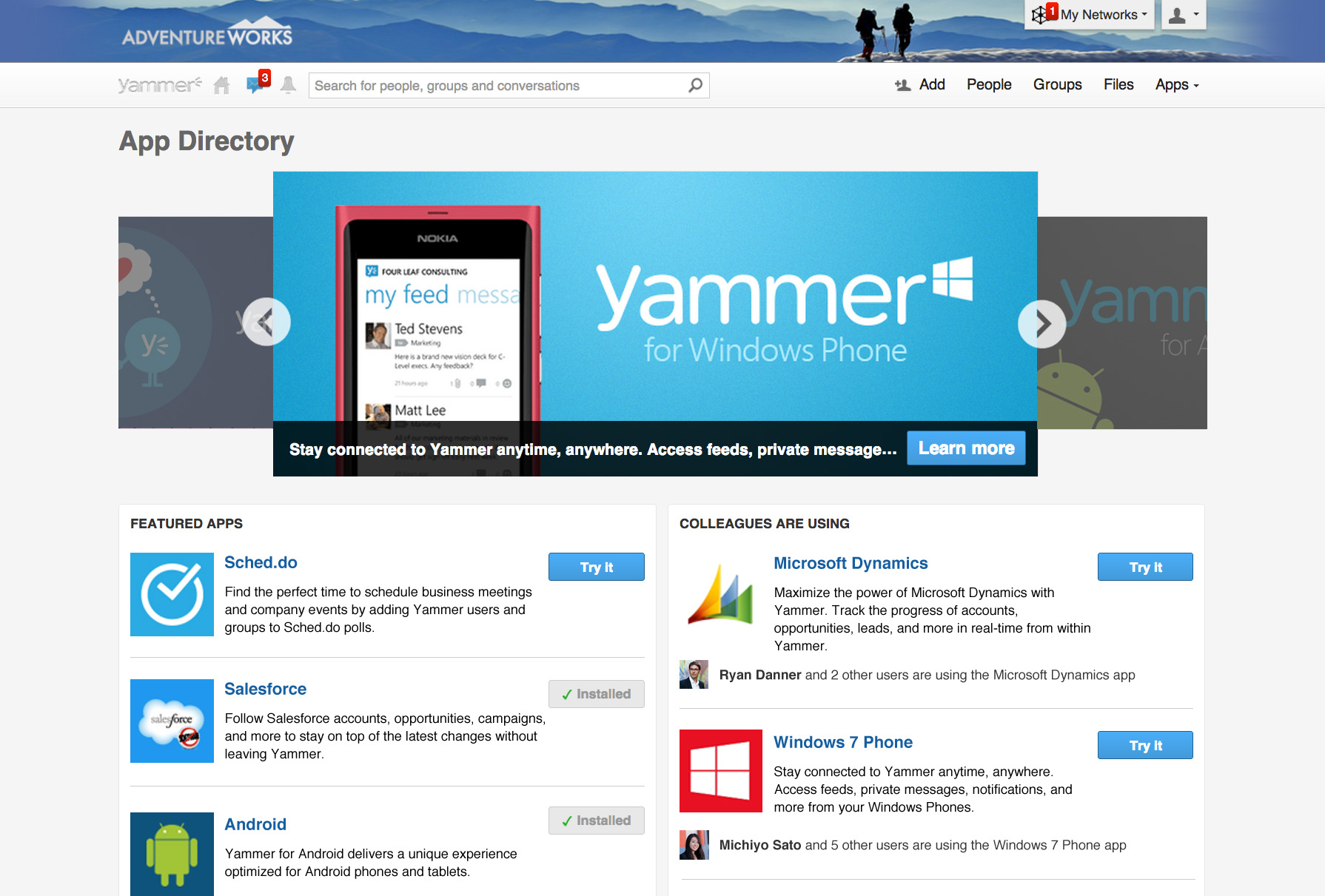 Yammer's new parent company, Microsoft was well represented at the conference as well. During the opening keynote Microsoft executive Jeff Teper took the stage to talk about the acquisition and its importance to Microsoft. According to Teper Microsoft acquired Yammer to accelerate Microsoft's cloud adoption and efforts, learn and adopt Yammer's rapid development practices and to support Microsoft's belief that the future of applications is social. The one related product announcement that clearly signals future product direction, was related to Dynamics CRM. Yammer is now natively integrated with the CRM products, a move that clearly aimed at Microsoft's stiffest competition in the CRM market, Salesforce.com and it's Chatter ESN product. The integration leverages the product features explained above to provide a seamless Yammer experience inside Dynamics CRM.
(Cross-posted @ Michael Fauscette)