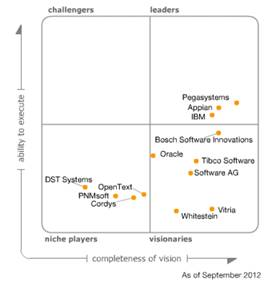 The Gartner iBPMS MQ released in September of this year has been controversial, to say the least; I'm not here to talk about that controversy, but rather address the general reaction to one of the vendors: high up in the "visionaries" quadrant – almost into the sparsely-populated  and coveted "leaders" quadrant – is Bosch Software Innovations. Although well known in consumer products and manufacturing, it's probably fair to say that Bosch is not the first name on anyone's lips when BPM is mentioned.
In the past couple of years, however, they acquired Visual Rules and inubit, integrating them to break into the market of rules and process: intelligent BPMS, if you prefer. Their edge, and what puts them squarely in the visionaries space, is combining their "internet of things" with the rules, process and big data management: consider that you're not only automating processes and decisions, but you're bringing physical devices into the mix. By putting their own interface boards (and hopefully in the future, something like Arduino) into physical devices, they now have the ability not just to sense and monitor what's happening on the remote devices, but download rules that will run on the device for local decisioning since their interface board includes things such as a web server and a JVM. That just sets my geekly little heart a-flutter.
On the webinar, they went through how they met the iBPMS MQ requirements:
Model-driven composition and repository via their modeling workbench, which provides different views/perspectives for different user types, plus a repository that allows for staging between development, test and production environments.
Content interaction, providing case management with rules and processes, social portals via Liferay integration, and access to content management systems via JSR 170 (proving that you do not need to have a product that includes all of the capabilities of a specific MQ to rate highly, only that you need to have a good integration story)
Human interaction through forms-based interfaces to processes and cases, plus mobile interfaces for monitoring and participating in work.
Business rules management they achieved easily via the Visual Rules acquisition, providing robust tools for modeling, deploying and running rules.
Active analytics, for which they provide out of the box BAM capabilities with their own processes, but the linkage to physical devices has to give them a huge advantage here. They can also place probes into legacy apps to capture events and add them to their dashboards. They also provide active analytics through rules firing to feed into the monitoring event stream.
On demand analytics including simulation of both processes and rules, plus realtime execution analytics via partnerships with Fraunhofer and PSI, each of which provide some specific analytical algorithms for applications such as fleet management and continuous control systems.
Connectivity and orchestration via the usual web service integration plus their 70+ out of the box adapters.
Management and administration by integrating their BPM and BRM suites with other management tools such as HP Quality Center.
They went through a number of their intelligent business operations (IBO) case studies that helped to bolster their position as an iBPMS player:
John Deere, for field monitoring of large machinery, which can provide predictive analytics that allow for preventative maintenance to minimize breakdowns and downtime.
Home and building automation for integrated control of HVAC, security and other systems to improve efficiency, comfort and security within large commercial buildings.
E.ON Ruhrgas for control and monitoring of gas distribution within the EU.
Bosch Healthcare for remote sensing and collection of health-related information, plus rule-based analysis of health to raise specific conditions to the appropriate medical personnel.
Last year's acquisition of inubit, combined with their previous acquisition of Visual Rules, provided key components of the platform that has allowed them to leap into the MQ in a single bound, but obviously there's more to it than that. First of all, their remote device instrumentation and control is pretty unique. Secondly, they have done an excellent job of partnering with other companies to integrate complementary products to create the complete offering required by the MQ, rather than trying to build everything themselves. Finally, their background in engineering and manufacturing appears to have created the right sort of corporate culture to allow them to build a solid offering in a relatively short period of time, once they set their mind to it.
They'll be doing this webinar again on November 29th at 10am and 5pm CET (4am and 11am ET); you can sign up here.
(Disclosure: I own a Bosch dishwasher. It's very quiet.)
(Cross-posted @ Column 2)