I was delighted earlier this week to discover Facebook is starting to charge brands to send messages to their followers. Perhaps this will spell an end to all those ridiculous competitions that encourage you to 'like' a product's Facebook page in return for a chance to win some prize. Too many marketeers (not for the first time on the Web) have been confusing reach with engagement. If I like a product in order to win a prize, the like is meaningless — personally, I feel insulted that brands believe they can buy my endorsement so cheaply.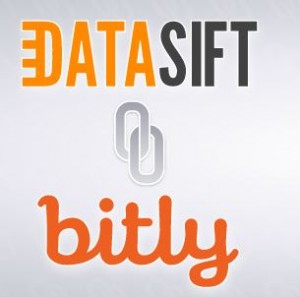 Fortunately, we are starting to move past the hype cycle peak of social media into an era of greater sophistication (indeed Dalton Caldwell has written an interesting analysis of what 'like-gate' tells us about Facebook's strategy to filter and then monetize our attention). Another sign of that increasing sophistication is today's announcement of a tie-up between tweetstream analytics platform DataSift and link shortener Bitly. Under the deal, DataSift is combining Bitly clickthrough data with its privileged access to the historic tweetstream, giving its customers the ability to find out which retweeted links actually get read. Bitly brings a surge of new material for DatSift to crunch in its big data cloud, as CMO Tim Barker told me in a phone call earlier this week: every day, Bitly users add around 80 million new links every day and Bitly links receive 200m new clickthroughs.
This at last gives some insight into the interests of passive social media consumers — using the 90:9:1 rule, that's the 90 percent who just glance at their streams as opposed to the 10 percent who retweet and the one percent who add content of their own. The disparities can be surprising, as Hubspot's Dan Zarrella recently noted: "many people will retweet a tweet with a link without even clicking on that link" (hat-tip TheNextWeb). Quantifying the pass-the-parcel nature of social media, he found there's no meaningful correlation between the number of retweets and the number of clickthroughs for a given link.
DataSift customers will now be able to benchmark the effectiveness of their Twitter campaigns in terms of engagement rather than simple reach. They'll not only have their own web analytics to know how many visitors came to them via Bitly, they'll also be able to see how their competitors did with similar campaigns. The value for CMOs, said Barker, is that they can look at clickthrough data to see what types of content engages most and thus have more insight into what kind of content is relevant to customers.
The Bitly tie-up comes hot on the heels of a new $15 million funding round DataSift announced earlier this week. Having acquired around 300 customers since Barker joined at beginning of the year, it has proven there is demand for the social data and analytics it provides. Customers fall into three main categories:
Cloud application companies building commercial apps that consume social data for enterprise use
Digital and media agencies
Enterprises in industries such as financials and consumer brands
Interestingly, Barker mentioned that DataSift had been surprised to find how often organisations seem to lack the in-house smarts to put DataSift's output to productive use. "You would think you could take this raw technology to [for example] any hedge fund in the world and they would take it from there. What we've found is that we need to become a bit more prescriptive. We've invested in building a model that gives them a curated stream of content. Companies are in such an early stage of understanding that providers need to become more out-of-the-box. We need to package it up in a way to make it easier to action."
Thus DataSift is not only packaging up the output from its data as a service, but also includes the smarts of its data scientists in that package so that customers can quickly start getting results. "We can invest in a data scientist team that can solve problems that exist across companies," said Barker. "You need to be able to give [new customers] the five insights that are going to give them the quick wins."