Paul Greenberg recently wrote about the phenomena of companies declaring themselves to be focused on customer experience, and graciously giving them the opportunity to put up or shut up. Get Satisfaction was referenced in the esteemed list of companies who are at the forefront of this trend and I am here today to take care of the putting up part of the equation.
OF COURSE CRM IS NOT DEAD
The subtext of Paul's critique is that companies, like Get Satisfaction, are trying to run away from the CRM moniker in a hasty move to grab ahold of a shiny new object… and he is wrong and right at the same time. We are certainly not abandoning CRM as a pillar of our positioning, we are recognizing that there is a more expansive vision to aim for, one which borrows on the lessons and capabilities of CRM while more fully embracing a next generation of social technologies that don't exist exclusively in the context of master data and transaction records.
I was on a panel this weekend and reacted to the statement that "CRM had failed" by pointing out that CRM has been, as a category, extremely successful but that it is solving a different set of problems than companies are trying to solve with next generation social technologies. CRM is essential and a core building block for successful CXM, but it cannot and will not achieve what CXM is capable of doing.
CEM/CXM: SOFTWARE OR STRATEGY
First let us take a look at this thing called CXM really is. Paul chastises us by saying that morphing Customer Experience Management (CEM) into an enhanced acronym, CXM, does not create a new category, nor does it refresh what has been around for as long as businesses have had customers. He is right, and to his credit Paul saw the importance of customer experience and wrote about this in 2001.
The criticism that CEM is a business strategy more than a product category holds a lot of water, but with few exceptions the entire enterprise software category reflects business strategies that are enhanced by technology? The question is whether these strategies are broad enough to deserve their own category. If technologies develop that enable a scaling of capabilities and, more importantly, broadening the opportunity for participation that enables companies of all sizes to take advantage of it, then they should. And it is certainly possible for a technology to provide benefit across multiple strategies–CEM and CRM–particularly technologies that are being transformed by the new consumer power afforded by social media.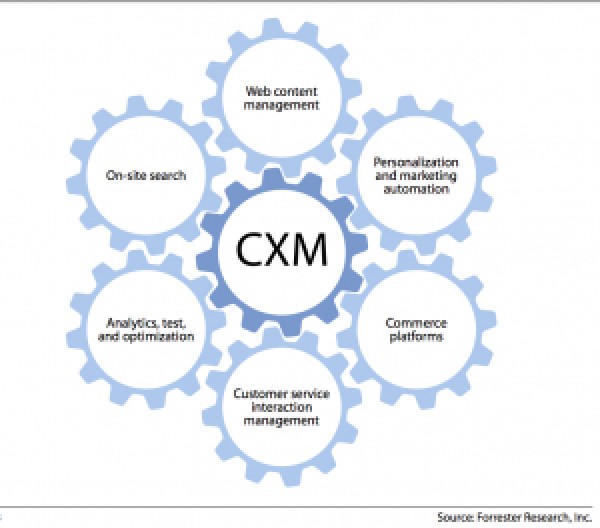 CXM IS WHAT CHANGED, NOT GET SATISFACTION
Technologies for CEM run a diverse spectrum of capabilities, from surveys to web content instrumentation to focus groups and secret shopper feedback boxes. Social technologies that are widely available today enable, for the first time, customer experience innovation at large scale. Rather than data sets that are samples and customer segmentation that attempts to discern coarse grained distinctions between customer groups, social networks and engagement tools enable companies with a capability that scales down to individual customers and up to every customer and prospective customer a company has.
What is CXM and how is it different, let's take a look at what Forrester defines as CXM, which is a pretty good starting place to work from, and attempt to build on it with the trajectory of future services disrupting the category:
1) Web Content Management: No piece of technology is more disrupted nor consequential than content management. The big shift in web content is how user generated content is being captured and re-used. Companies will always create and present content but with increasing frequency they are now capturing, tagging with metadata, and syndicating across their various assets content which is created by people other than those who work for the company.
I like to think about content in the same manner by which marketing people think about media, there is stuff you own, stuff you buy, and stuff you earn. Customer generated content in the form of community and forum posts, comments, Tweets, Facebook Wall posts, and much more is at it's core earned media. Rather than earned media derived from journalists and media sites, it is now also captured from individuals expressing passive and active advocacy of companies and products they identify with.
Mindjet is a great example of this in action, they use positive feedback from customers, captured in their customer community and in the form of tweets, as advocate content on their website. They literally embody the principle of using your customers are your marketing force.
2) Personalization and Marketing Automation: Personalization has two flavors, the presentation of content according to site visitor interests and also the result of successful gamification initiatives that result in better profiles from which to deliver more relevant personalized content.
Thanks to the wide array of public data sources and social graph initiatives, we also have the ability to capture more core information about a person and the context by which they present themselves. Without being creepy about it, we can filter based on what they like, interests and brands they interact with, and who they know… but creepy is subjective so companies continue to be appropriately cautious about pushing the envelope on this.
At any rate, personalization is perhaps the more disruptive and transformative aspect of the new generation of CXM technologies because it intersects the "customer of one" at the intersection of product or service need and the values they attach value to as a person. The potential for marketing to individual customers at all aspects of the customer lifecycle is tremendously exciting because it has utility for the customer as well as the company, rather than using marketing as a blunt force instrument we can use knowledge about the individual to market to them in a manner that has utility and value for them.
3) Commerce Platforms: After "discover" and "evaluate" the actual transaction process is the 3rd leg in the customer lifecycle and represents the point at which customer experience shifts from selling to supporting. At this point the marketing part of the customer lifecycles shifts to one cf customer support.
Customer generated content is common in online shopping experiences, ratings and reviews. We are all familiar with reading online reviews embedded in product pages but where reviews stop other forms of Customer generated content can take over. Product questions about fitment and specifications are a common cause of shopping cart abandonment, and who among us has not paused before committing a purchase while pondering an unanswered question only to go to Google for the answer and end up on a different retail site? This is customer experience gone wrong.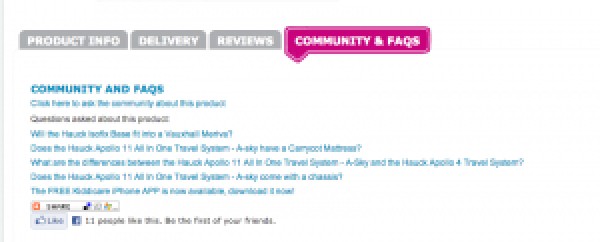 Kiddicare, a UK-based retailer of children's products, uses their customer community at the product page level. Going beyond ratings and reviews, Kiddicare uses community to answer product questions, e.g. vehicle fitment for car seats, and the result has run a spectrum of decreased call center inbound to first call resolution rates to, most significantly, a decline in shopping cart abandonment rates.
4) Customer Service Interaction: Here we reach the front line of customer experience in the phase of the customer lifecycle where bonding and advocacy is developed. Call centers and interactive support tools deliver one aspect of customer experience, while online community and self-service capabilities deliver another.
It is here that social technologies have the most profound impact on customer focused organizations because customers have new expectations about how, when and where customer service will be provided. Twitter and Facebook are critical channels to support and research shows that these channels are, in the eyes of customers, equal in importance with telephone and other forms of direct support.
Citrix and Sonos are examples of using dynamic customer generated community and FAQ knowledge to augment traditional static knowledge maintained by support and marketing organizations. The pulse of the community resonates in this content and connects people coming into the website with up to the minute content generated in the community.
5) Analytics: Traditional analytics have focused on benchmarks and operational metrics, which are still important but reflecting a rearward facing view of the business. Analytics today combine the benchmarking capabilities that we all expect while adding in new data streams to measure, such as Google Analytics, and combining data elements to inform future actions, like influence measurement.
Sophisticated sentiment measurement and unstructured text analysis goes well beyond what transactional and master data systems, such as CRM, are capable of doing at high scale because not every data element will map to a customer record, the atomic unit in a CRM system.
6) On Site Search: Search is easy, right? In years past it was relatively simple, accomplished through search technologies that bolted on to your website.
Today on site search is challenging on many fronts, not the least of which is that search likely won't happen on your site but through a public search service, the manner by which consumers increasingly discover brand content. When operating on your site, search now has to capture and present a range of content items, from structured KB and FAQ content to dynamic community content curated by your customers. Search is hard and done right has a dramatic impact on customer experience on your site and beyond.
THE ROAD AHEAD: WALKING THE CUSTOMER JOURNEY
We could have a reasonable debate around the nature of CRM and CXM, centering on whether they are in fact separate markets of extensions of the same. However, such an argument misses the broader point that businesses have reached a limit in what they CRM systems are capable of affecting, and bolting on social listening solves a problem that is at best aligned with segments of the customer lifecycle.
Ideally CRM and CXM work together, one enabling another but the fact remains that if existing CRM systems could do the capabilities I have outlined above, then we wouldn't even have a debate and customers would not be looking for something they are not getting from their current systems.
CXM is a market that is undergoing a renaissance as a result of broad-based social technologies, new customer behaviors, and increasingly individualized approaches to marketing to individuals instead of demographics. It is an exciting time and Get Satisfaction is at the forefront of the reinvention of CXM from sampled customer feedback to large scale dynamic customer generated content that augments CRM for a result that CRM alone cannot achieve. Far from pivoting from CRM, we recognize there is a bigger movement underway, one which builds on the business process and workflow foundation that CRM achieved. Our objective in aligning with CXM reflects this, we are at our core a customer engagement platform so we gladly accept Paul's challenge to shine a light on why CXM is in a renaissance as a result of the road that CRM paved and the impact of changing online customer behaviors as a result of large scale social technologies.
(Cross-posted @ Venture Chronicles)