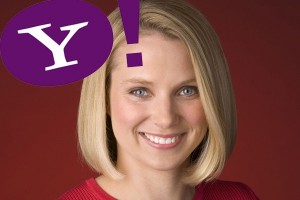 Although the company is assured a place in Web history, Yahoo over the years has always seemed to have the role of reflecting conventional wisdom about the Web rather than changing people's perceptions of what's possible. No wonder Om Malik believes its glory days are over.
Yahoo's first iteration, back in 1994, was as a directory of the Web — hardly an earth-shattering idea, though much needed at the time. Back then, people really did spend hours just surfing the Web, serendipitously following links to see where they ended up. Yahoo filled this vacuum with its burgeoning directory of sites, but it was only useful if you already knew where to find what you were looking for. It was only when Infoseek and similar crawler-driven search portals brought keyword searching that it suddenly became possible to easily discover useful information online. For the first time, I could see some real value in using the Web.
At the time, the main reason people used the Internet was for email, which usually came bundled with their Internet access. This was the key to the success of AOL, which at the time also controlled and guided its subscribers' online experiences with a so-called 'walled garden' of curated content. Yahoo, Infoseek and the rest were seen as 'portals' that people used to access 'cyberspace' as we called it then in deference to the science fiction of William Gibson. To complete its portal offering, Yahoo acquired webmail provider Rocketmail, becoming for a while the trendy alternative to an aol.com email address.
By 2001, Yahoo needed a new boost, but since conventional wisdom said its future lay in becoming a content and media property, it hired former Warner Bros executive Terry Semel as CEO. This is where it really lost its way in my view. This period coincided with Google's rapid rise on the back of hurrying users off its clean, content-free home page as rapidly as possible — the antithesis of a destination. Interestingly, the architect of that clean home page design was one Marissa Mayer, who this year became CEO of Yahoo!
Today's conventional wisdom has gone full circle and we're back-to-the-future of walled gardens. In this dystopian parallel universe (I'm thinking part 2 of the trilogy), people keep directing me to a destination called Facebook, where I have to log in to view their content (I don't, on principle). Or they interrupt my iPad browsing to have me load another app, wanting to make me hunt for information across separate silos, just like I used to on my PC in the 1980s. Like Anil Dash, this makes me nostalgic for The Web We Lost.
If Yahoo! stays true to its history, it will once again follow conventional wisdom and aim to erect its own garden walls to keep users inside its web properties. But my hope is that, with Marissa Mayer in charge, it will buck the habits of its corporate lifetime and take a leadership position for once, skating to where the puck's going to be instead of hanging back with the pack. There is a gap in the market today, somewhere among the spaces inhabited by IFTTT and App.net. In amongst the walled gardens of social and mobile, I have a hunch there's a free space — a connected universe of open web services — that Yahoo! can become the directory and the glue for.