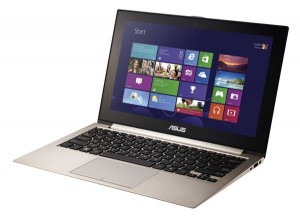 I recently purchased an Asus Zenbook Touch laptop to replace my trusty Macbook Air. I was impressed by the hardware design being exhibited by the top tier ultrabook manufacturers, they embody sleek design elements and a fantastic build quality but more importantly Windows 8 has created a once in a generation opportunity to redefine what a PC is and much to my delight manufacturers like Samsung, Asus, Acer, Dell and HP are running with it.
Keep in mind that I switched from Windows to a Mac around the 2003 time period so for me this was not a decision to make lightly. I am accustomed to a Mac and did not object to paying a premium for the experience, however in recent years I was left feeling neglected as everything exciting that Apple did was around iOS while OS X was subject to incremental updates that often brought discomfort (e.g. performance on Lion) and the improved features were clearly aimed at people using iOS (e.g. Mountain Lion).
I long ago switched to Android for a smartphone and have no attachment to Apple's software applications, instead relying on Google Apps. What I wanted from Apple was groundbreaking hardware that provided well integrated and reliable software experiences and Apple has been coming up short on both counts. Their hardware is consistently well designed and pleasing to look at, externally of course but the new Retina displays are amazing. but nothing they are doing with laptops is disruptive, it's a turn here and a tweak there.
My Macbook Air was getting a little long in the tooth and in need of replacement. I was intrigued by Windows 8 and on a whim I walked over to the Best Buy a block away from my office and tried a few out. I was really impressed by the array of premium hardware and by how positive my initial hands on experience was with Windows 8. Even more surprising to me was how naturally I was reaching for the screen to interact with the system as a touchscreen.
Before I took the plunge I spent a couple of weeks reading up on Windows 8 and the shortlist of hardware that I liked. The Asus Zenbook, Acer S7, Samsung Series 9, and Sony models were on my list, all featuring an Air like hardware profile, fantastic displays, SSD storage, and comfortable keyboards. I selected the Asus Zenbook Touch because it met all of the above and offered strong battery performance, something the sexiest ultrabook in the category, the Acer S7, did not. I really wanted to convince myself to buy the Acer but the battery issue is a showstopper for me.
I actually found the experience of buying a Windows laptop to be really frustrating on several levels. What these manufacturers need to understand is that Apple flattened out the hardware curve by reducing the options and making it easier to buy. PC manufacturers still dwell on specifications and numbers, and the result is that even when you think you know what you are buying you may end up with something completely different. Asus has a family of Zenbook Prime computers, spread across several major groupings, the UX21A and UX31A groups. In the UX31A group there are 3 distinct models with many option sets. I ended up buying the UX31A-BHI5T11. Really.
It turns out that Asus doesn't even provide the specific model numbers on their site, I found it on a retailer site in the fine print and then used that to search for other sources. It was a horrible experience and if they don't come up with a better way to sell these things they will turn away more people than they serve.
The initial experience with the packaging and power up was impressive, Asus has clearly learned from Apple on this front. I was also massively happy to see that the computer was not crapified with manufacturer supplied software, there were a few apps bolted on to the UX but no AOL and Intuit tiles! Power up was instant, per the promise that Microsoft designed to, and the initial setup was really easy. I was on my network and doing stuff within 10 minutes of unboxing the laptop.
The Windows 8 tile experience is really exciting because the desktop does a lot more than just present icons, you can consume content through the tiles and the way the layout is presented begs to be interacted with. I love the touch experience and this is the most surprising aspect of my initial journey. you actually want to use the touch gestures in addition to the keypad and touchpad.
I was also pleasantly surprised to see that Windows found my network printer and set it up without prompting me, as well as provides a "devices" experience for bringing my smartphone and other bluetooth enabled devices into the mix.
Switching from the tile experience to the traditional Windows desktop is not as disruptive as I initially imagined although I am looking forward to more applications that are built to Win8 for a dedicated focus. This is subtle but really does depart from the multiple open windows focus that prior versions of Windows delivered to. I do one thing at a time but I want to rapidly and seamlessly task shift when I am working so that I can do other things in a dedicated fashion. Like I said, it's subtle but important to me.
Here's what I don't like about this so far. The touchpad on the Asus is a challenge, prone to random clicks and gestures. Speaking of gestures, Windows 8 is proving to be a learning curve as it relates to where all the features are, they really need to put in place a better first power up getting started routine to highlight where stuff is. The Asus power supply is really compact but why can't these manufacturers deliver a magnetic coupling connector? The SSD is pretty small but I decided to take a chance on this because I increasingly use cloud storage for photos and videos (which consume a ridiculous amount of my Macbook's SSD).
I have been using this laptop for a couple of days now and have not once felt the need to reach from my Macbook except to move files, which thanks to everything being in the cloud now is a breeze. As I get more time under my belt with Windows 8 I will post additional observations and experiences.
UPDATE: It occurred to me that the problems I am having with the Asus touchpad are twofold… it is way too sensitive and does not have adequate "palm rejection" but it is also setup for a right handed user, I am left handed and it was never an issue on the Mac touchpad because there is not an explicit left vs. right in their hardware.
(Cross-posted @ Venture Chronicles)