At the end of last year my founding partner dropped a quite outstanding post – The Importance of Software at IBM. In it Stephen analysed IBM's 2011 financial results through the lens he has been using for most of the year (the end of the age of Software-only business models).  It should surprise nobody that Software is a higher margin business than Services, but it is still striking that by September 2015 fully 50% of IBM's profit is expected to come from Software, especially given it currently only accounts for around 25% of total revenue.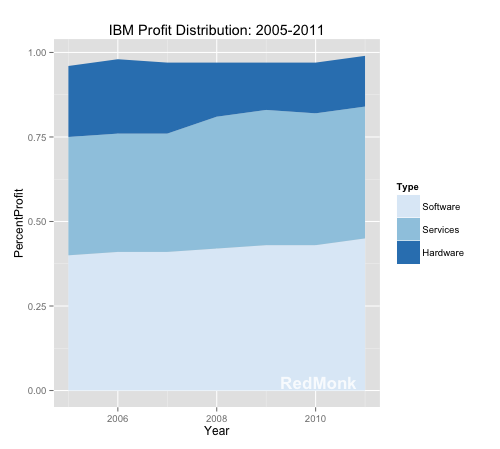 In answer to the larger question of how important software is to IBM, it's clear that SWG [Software] is core to the business moving forward. Its unique-to-IBM ability to extract outsized profits is the foundation upon which the company's profit growth depends. Strengths, however, can also represent weaknesses if they open doors to disruption.

In IBM's case, it's important to consider the wider market context. Across a wide variety of software segments, the evidence suggests that the realizable margins attached to software are in decline. From collaboration software to middleware to databases, margin oriented revenue models are under attack from volume focused alternatives. The precise competitive mechanisms may vary – cloud, open source, SaaS – but the result is a more competitive pricing market for software. While demand for software is more or less inelastic, credible free or low cost options almost inevitably lower the realizable revenues for software. The resulting lower margins are perfectly acceptable for volume based businesses, but much less for those built upon high margins such as IBM.
Stephen, as is his wont, ends on cautionary note, but my take on his analysis is slightly different – I think IBM still has plenty of room to improve its margins – by the simple expedient of building better products – using better design. IBM definitely isn't selling "just software" – it invented end to end stacks, and it knows how to move money and cost around these stacks better than anyone. The current grand reintegration of everything suits IBM pretty well. While Oracle is losing money on hardware, IBM is not. They key to margin, and so winning, is packaging.
I am fond of saying that The Best Packager in any Tech Wave Wins and Wins Big.
Great UX is a function of masterful packaging. Its not about building the best components but doing the best job of integrating them. Open Source, somewhat counter-intuitively, is a driver of the New proprietary – Apple is built on FreeBSD foundations, for example, while Google runs its own customised Linux, and so on. The cloud accelerates the new proprietary – because, not being classed as software distribution, it allows for open source code to be embedded to deliver a service, without requiring any reciprocity.

IBM is of course a past master of integrating open source into its proprietary middleware products – WebSphere Application Server embeds the Apache Web Server, for example. IBM's Smarter Computing products don't only embed open source however- IBM's Cloudburst private cloud provisioning engine, for example, embeds VMware's hypervisor.
Microsoft got the memo, too. See Microsoft Surface and the Future of Software. Google meanwhile is selling Android devices that compete with competitors.
The week before Stephen's post RedMonk team attended Analyst Insights in Stamford, CT, an event where IBM SVP Steve Mills, who now runs both Software and Hardware at Big Blue, explains the state of his business to a bunch of industry analysts. Its always hard to know what to focus on after a couple of days of torrential information, but Stephen's post frames things nicely, especially given's Apple's special place in the industry, and given the importance of great design to its success. How many margin points is great design worth?
Apple, famously, invests less in R&D than its competitors . In 2012 Apple spend $3.4bn on R&D, 2.18% of its $156bn revenue for the year…
(Cross-posted @ James Governor's Monkchips)