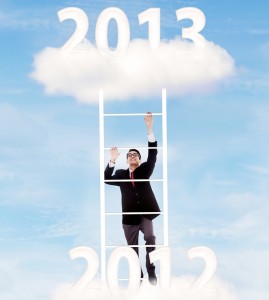 Happy New Year!  After a longer than normal holiday break, I'm taking this opportunity to reflect on 2012 and provide my early thoughts regarding investment activities in 2013.
During 2012 50 companies went public, the most of any year since 2007, but only 8 venture-backed companies during 4Q12, the lowest number in any quarter since 2009.  The $11.2B raised through these IPOs was the most since 2000, though most of it came through Facebook's IPO.  M&A proved a little more disappointing than in 2011 with 433 deals valued at $40.3B completed, compared to 548 deals valued at $49.8B that were completed during 2011.  Because of the uncertainty surrounding the US economy, due to the "fiscal cliff" and the associated tax issues, corporations appeared to be holding back on acquisitions, especially during 2H12, despite their healthy balance sheets.  I don't see the liquidity environment changing materially during 2013.
Late last year I wrote about the overall VC investments during 2012, and the financing terms (including valuations) that private companies with certain characteristics were able to negotiate putting entrepreneurs and management teams in the driver's seat.  However, by the end of the year it also started becoming apparent that during 2013 seed-stage startups will face a financing crisis and most won't be able to raise new capital.  Over the past 3-4 years angel investors (casual and experienced) funded too many companies that have weak teams, undifferentiated IP and debatable business models.  Therefore, in my opinion, the expected "pruning" of early stage startups will be welcome.
Many venture and private equity firms will attempt to raise new funds during 2013.  The LPs remain skeptical of the ability of venture and private equity to provide them with yield. Because many investment firms will be in fundraising and even more firms have reached the end of their funds with no hope of raising new pools of capital, I expect that during 2013 we will see an investment slowdown with fewer new financings overall compared to what we saw in 2012.  Investors will focus their investments on existing portfolio companies.
Our SaaS portfolio consists of enterprise applications, including social and mobile enterprise applications, and adtech platforms.  In most of these solutions big data management and analytics play a central role.  During 2012 we saw the emergence of a few important trends, which I expect will continue in 2013.
As we look into 2013, we also take into account the following observations from 2012:
SaaS alone is not sufficient to make a private company interesting for venture funding. Maybe with a few industry-specific exceptions, most applications today are developed to run in a cloud environment.  So SaaS has become table-stakes.  Perhaps this is a sign of the model's maturation process.  To be interesting for an investment that has the potential of "venture returns," a company developing application software needs to utilize a variety of appropriate technologies, e.g., single instance multi-tenancy, cloud delivery, big data analytics, social, etc., to solve an important problem for which a buyer (corporate or consumer) would be willing to pay significant amounts to have it solved.  We are seeing venture investors transitioning from being SaaS technology-centric, to becoming problem-centric as they consider investment opportunities.
Enterprise SaaS is emerging as a separate category.  The SaaS model proliferated enough where we can no longer treat it in a monolithic way.  I think that it is time that we start differentiating enterprise SaaS from SaaS applications aimed at smaller companies.  Enterprise SaaS applications are sold by hybrid teams that consist of field and inside sales personnel.  These teams use novel technology-driven demand generation methods and sales models, e.g., freemium, to achieve their goal.  Enterprise SaaS is characterized by sales cycles that are similar to other forms of enterprise software.  Such applications are often available in private, public and hybrid cloud configurations, and are licensed in multi-year contracts.
Security is the biggest impediment to the broad adoption of enterprise SaaS and big data solutions.  All CIOs I have spoken with list enterprise data security as their top issue in moving more of the applications and IT workloads to the cloud, as well as in adopting new applications, including social, mobile and cloud-based big data applications.  This issue is even more central in regulated industries such as financial services, insurance, utilities where customer data needs to be moved to the cloud.  We expect that this concern will continue to drive CIOs to adopt hybrid and private clouds.  Interestingly enough, uptime is no longer as big of an issue as it was as late as last year.  CIOs have come to accept that like every system, cloud computing systems will also have issues and breakdowns.
With the increasing use of mobile devices, mobile application development may become a big issue during 2013.  The magnitude of the issue will depend on how many mobile applications corporations will need to develop on their own, and how many of their existing enterprise applications will need to be accessed via mobile devices.
Based on the number of big data startups that have been established and funded in this area we expect 2013 to be the year when the big data bubble will burst but also the year that we could see a small number of acquisitions of big data infrastructure companies by large data management incumbents such as IBM, Oracle and Microsoft.
Because of these trends and observations I expect that during 2013 we will continue to focus on investments in companies that develop:
Solutions for customer understanding, mcommerce particularly as it impacts industries such as retailing, travel and financial services,sales enablement and Internet monetization using cloud computing, mobile, social and big data analytics technologies.  All these solutions emphasize the increasing role of the CMO in setting a big part of the corporate application strategy.
Data security solutions for cloud and mobile environments that will add to our already extensive security portfolio.
(Image credit: BigStock)