Still in awe after Round 1 of the Sourcing Savants web-debate last spring? Well, reminisce no more as we gear up for Round 2 on January 17th, when we bring together the seven most most prominent sourcing savants to debate publicly the critical challenges facing sourcing today.
Join us on January 17th at 10am EST!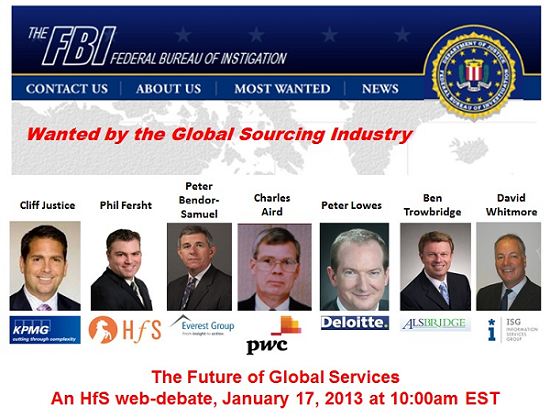 Our guests are primed and ready to debate these issues and take your questions:
Achieving Value Beyond Cost: Can the corporate mindset be shifted from cost-savings myopia to value-creation and growth?
Envisioning The Future Global Operating Model: How can enterprises integrate sourcing, shared services and inhouse operations under a common framework to achieve business objectives?
Developing Sourcing Talent: What on earth can enterprises and providers do to develop their sourcing talent to go beyond tactical performance?
Accomplishing Realistic Innovation: How are today's relationships really faring when it come to accomplishing "innovation" by improving enterprise and provider collaboration?
Join us on January 17th at 10am EST!
(Cross-posted @ Horses for Sources)