The Kill Email meme never really dies. Ever since the dawn of enterprise social computing circa 2006, the value proposition has been waffling between being a process killer to a portal killer and my favorite, an email killer. Stare Email in the face all you want. She's looking back and laughing at you.
Then I saw this by Stowe Boyd over at GigaOm Pro. Stowe cites some insightful findings in Nassim Tableb's book "The Surprising Truth: Technology Is Aging in Reverse";
"We're living in a Black Swan world, but what does this mean for the future of technology? My new book Antifragile argues that technologies, ideas, and theories – anything informational or cultural, as opposed to physical – age in reverse.

We may be trained to think that the new is about to overcome the old, but that's just an optical illusion. Because the failure rate of the new is much, much higher than the failure rate of the old. When you see a young child and an old adult, you can be confident that the younger will likely survive the elder.

Yet with something nonperishable like a technology, that's not the case.

There are two possibilities: Either both are expected to have the same additional life expectancy, or the old is expected to have a longer expectancy than the young. In this situation, if the old is 80 and the young is 10, the elder is expected to live eight times as long as the younger one."
Stowe ends with:
"So, applying Taleb's reasoning and Benoit Mandelbrot's version of the Lindy effect, our modern social technologies — most of which haven't been with us more than five years — can be guaranteed to be with us only an addition five years or so. And those pre- or proto-social technologies — like instant messaging and email — may be with us 50 years or more, even if the social tools don't fall into disuse."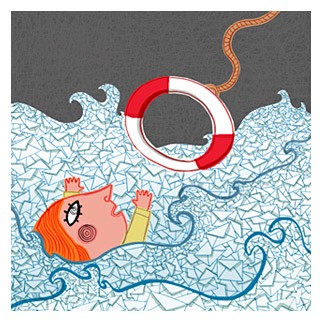 Here's the thing about reducing email with social networking: if you hate email because a good chunk of it is a irrelevant stream of information someone pushed at you without your consent, you aint seen nothing yet. Silo'd enterprise social networking can be way worse – not only do you have people pushing stuff at you, you have system notifications coming from applications drowning out even the few golden nuggets. As Constellation Research's Alan Lepofsky wrote:
"Any reduction in the number of emails is a good thing. OMG I hate this one. Now instead of checking my inbox I have to check Twitter, Facebook, Google+, Yammer, LinkedIn, etc. Uggghhhh. Bifurcation of information is a real problem. Yes all these tools can send email notifications, but isn't the point to reduce email? Yes many streams can aggregate information from multiple sources, but that just leads to a lot of noise, so how is that different than an inbox?"
Look, information overload is absolutely a huge problem. But enterprise social networking isn't the obvious solution. What's needed is what Stowe describes as "new communication technologies have to be a full order of magnitude better that those that came earlier". That full order of magnitude won't come from just shifting notifications from Outlook to SocialNetwork feeds. Rather, it will come from making it exponentially more efficient to message, to collaborate and to share in radically different ways where the outcome is 5-10-50 times better. And one of those ways is to infuse: a) Comprehensive people discovery based on new identity paradigms, and b) Collaboration into core business activities and tasks and in a way that implicitly shows how collaboration capabilities available at whatever point of action – a business event like discussing an invoice exception, or facilitating sales budgeting within your Finance ERP application, or dispute resolution with a supplier – making it far more effective to drive execution and decisions than anything that your zero-IQ email inbox can even dream of handling.
Nassim points a new headache: regardless of your good intentions to kill email, the odd are against you. Moving from one dumb messaging paradigm like email to another dumb messaging paradigm like stand alone social networking won't cut it.
But in actuality, the stakes are really high. On one hand, most core business activities have a huge unstructured component that happens outside transaction systems such as CRM, Talent Management or Supply Chain. But we have a ways to go when it comes to leveraging social tools to facilitate this change. On the other hand, none of us need statistics to really convince ourselves that email bankruptcy is a fact of working life for almost all of us. So clearly the opportunity to show a better approach is ripe.
There's some amazing innovation out there to super charge email. Simple tools such as Rapportive, Boomerang, and this very nifty tool from AOL called Alto (Hat Tip, Jeff Nolan). Whilst I can't live without some of these, in the large scheme of things these are short-term Tylenol tablets to a tenacious problem that's going to keep getting worse.
The answer won't come from these sophisticated email tools but rather, from re-thinking business applications which is clearly underway and subsumes a lot of my time as I think about our product. And as CIO's, it's time to reconsider messaging as infrastructure and business software as applications. Rather, these teams need to collectively think about what combination of technology can re-cast the very essence of digital messaging by making it smart, in context of work that you are doing, and available at the point of action and decision making.
Image Credit: ClearContext.
(Cross-posted @ Pretzel Logic – Social and Collaborative Business)