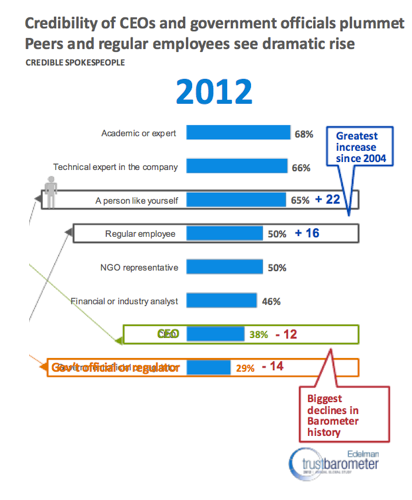 Who do we ultimately turn to when we need to make important decisions in our lives? That's the fundamental question at the heart of so much today when it comes to media, influence, and ultimately, marketing. What's more, the reliable sources of trust today are currently on the move. We are in an era where a significant shift in trust is creating an urgent need to change how we engage with each other, our customers, and the marketplace.
While you're undoubtedly aware of the trends in the large, you might not have the very latest data. First, trust in virtually all sources of authority is in marked decline, except for media. Second, according to sources such as Edelman's Trust Barometer for 2012, while business leaders and government officials are experiencing a particularly sharp fall in trust, consumers and regular employees have experienced some of the most significant increases in public regard when it comes to influence and integrity (see chart right.) In other words, regular people are now more trusted than just about any other source.
Except businesses aren't as ready as they could be for this change. Given that this is a very recent development, actionable reservoirs of these vital new sources of trust are something that most companies have in short supply at the moment. The vast industry of media and entertainment, which is now expected to be a $2.1 trillion global industry by 2016 will not only be two-thirds digital by then, but set in a new world where the arbiters of authority and influence are not who they were, even as recently as last year.
As companies redesign their customer journey to be more coherent and consistent so they can provide an orderly and understandable experience in a more sustained fashion during the entire customer lifecycle, they're discovering that the decisions people use to stay in that journey increasingly come from these new sources of trusted advocates.
Trust Has Moved and Companies Must Adapt
The data from eMarketer's 2012 brand advocacy report couldn't be clearer: Most people now advocate the products and services they enjoy online, and those that do tend to do it a lot, with the vast majority having recommended 5 or more products per year. In short, not only are consumers and line workers much more trusted than they were even a couple of years ago, they're also far and away the largest pool of advocacy that exists today.
So this then is the rub: Companies literally pour hundreds of billions a year worldwide into creating brand awareness, mindshare, and passion for their products. But increasingly, they can only do the first one using traditional paid media.
Instead, the part of media that matters most, the ability to shape opinion, create engagement, and foster useful outcomes, has moved to new forms of communication. In particular, the rise of social media, in all its modes — from free form conversations in social networks to highly structured online ratings and reviews — has coincided with — and in all probability directly led to — these major shifts in trust and advocacy.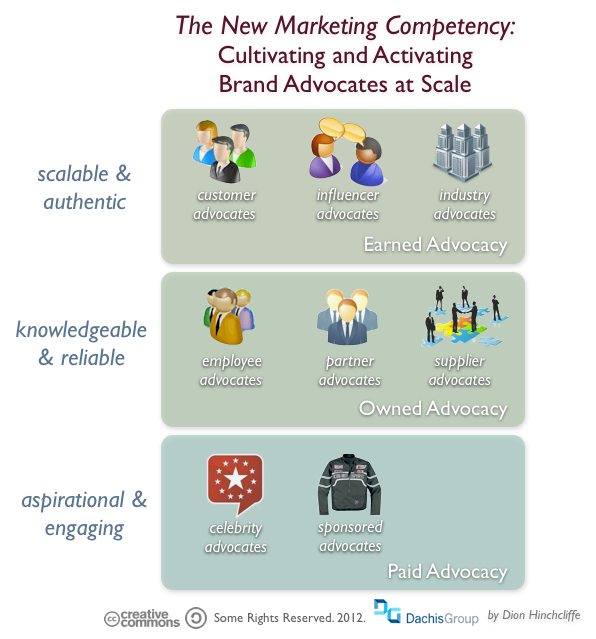 But what does all this mean? Will traditional marketing finally fade away and be replaced by social media marketing? Will professional brand marketing disappear entirely as the world depends on largely amateur brand advocates? Not hardly. But both global digital media and the services built upon it are in the process of undergoing a major change. Peer production, social engagement, crowdsourcing, and all forms of innovation at the edge has been fundamentally transforming media for over a decade now and its new form is taking shape.
So it's not all one form or the other. It turns out that traditional media is still uniquely powerful for certain activities, such as creating, gathering, and focusing the very communities needed to make new media work in scale. Push media creates the funnel; social media — now the primary source of trust and motive force — creates and greatly amplifies the value.
Whitepaper: Engagement@Scale: Fulfilling the Promise of Data Driven Social Marketing
Understanding and Activating Advocacy At The Edge
What resources then do organizations have to put to bear to tap into advocacy and turn their traditional media into community powered vehicles for value creation? (And yes, by value creation, I mean buying, selling, co-creation, and all the other ways that actual business results from all of this advocacy-based communication.) Well, it turns out there are three primary types of advocacy that organizations have at their disposal and that they need to engage with competently:
Paid Advocacy. These are the advocates that companies ostensibly pay for, such as celebrity endorsers, sponsored athletes, and other influencers that are signed on to the company's point-of-view (and accept remuneration.) Paid advocates are particularly effective at aspirational amplification and starting the customer engagement process.
Owned Advocacy. While today these are largely the employees of the company that are involved in advocate programs, it also includes business partners and suppliers, which also have a stake — and a powerful insider's advocate perspective — in the success of your marketing and engagement efforts. Owned advocacy is particularly important in the middle of the funnel, as customers try to ascertain particulars as they get ready to fully engage.
Earned Advocacy. The most valuable — and scalable — source of advocacy is from actual customers, which are now more trusted than most other sources, although influencers and industry advocates can be important advocates too. The process of earning advocates themselves is the result of the hard work of providing great products and services that are well supported, along with a brand narrative that tells a compelling story. When all this happens, the very best source of marketing becomes the authentic and voluntary expression of countless pleased and engaged customers.
Significantly, each of these types of advocacy can be optimized and amplified far better than most organizations are presently doing. This then is the unfortunate insight: While all three types of advocates are largely untapped by most companies, they are now the single most important and significant sources of trusted advocacy that can be mobilized and amplified today to achieve strategic marketing outcomes. Fortunately, all that's needed is some way to realize their potential.
Making Advocacy Operational
The process of successfully locating, activating, and retaining brand advocates could, up until recently, be regarded as a poorly understood art form. Fortunately, the recent rise of big data techniques has increasingly made it a repeatable science in the last 18 months or so. Fortunately, the general workflow in this new world where both trust and scalable advocacy lie largely on the edge of the network, while a very different and less predictable one, is now largely understood. It looks something like this:
Cultivate Your Advocates – Create a program that will foster and manage your different pools of advocates over time. Employees are a good place to start and get rapid acceleration, but all three groups are vital long term.
Evaluate Your Brand Activities and Impact – Examine your brand portfolio, brand platforms, associated marketing campaigns, and look at what is working and resonating with the market. These days, this is often aided with powerful analytic dashboards, business intelligence, and reporting tools.
Use Advocacy To Amplify What Works – Co-create vehicles that take the success stories of your brand and make the most of them. There are now many, many good examples of this to learn from.
Measure and Isolate the Results. Tweak and Repeat. – Possibly the biggest challenge in doing all this is in making sure it's data-driven and grounded in truth. Analyze your advocates activities, separate the signal from the noise (the activities most effective in driving outcomes), and revise what you're doing to optimize the results in a natural and continuous process.
The good news is that the steps above are not a theoretical workflow. The rise of social media command centers over the last couple of years has made this a common and real-time process for many global brands such as Nestle, Gatorade, Red Bull, Coca-Cola, and many others. Today, companies must build their social capital, gathering their advocates around them, and relentlessly engage while using practical methods to uncover and then zero-in on what works. For without embracing the new currency of marketing, companies will continue to have to spend through the decline curves of legacy marketing channels.
See Also: Six Strategies to Optimize Your Social Business Efforts