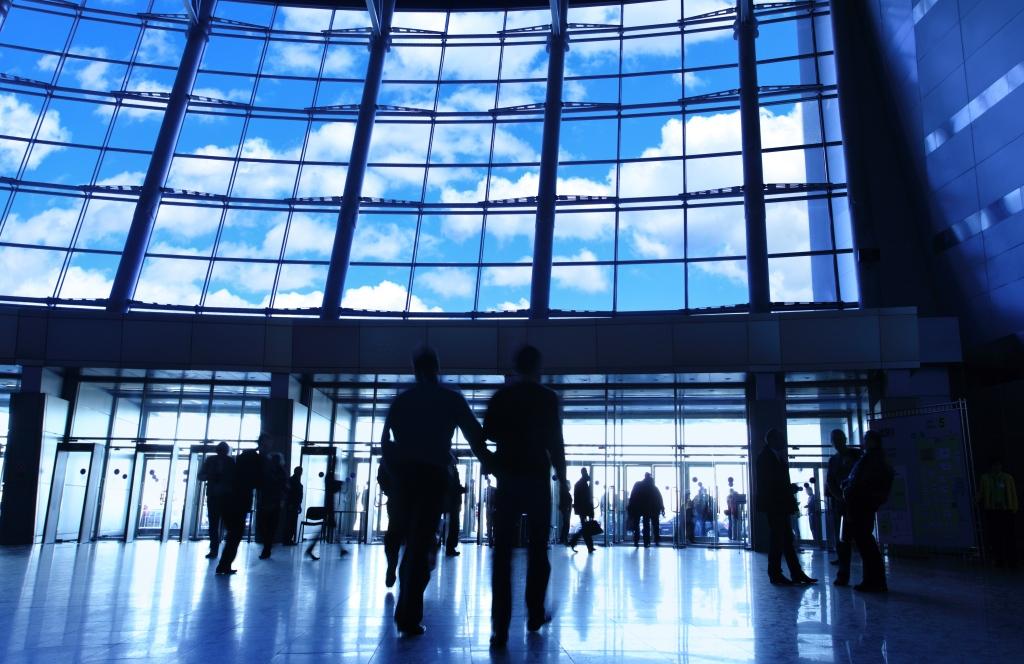 B2B marketers need to get more focused on how fast their prospects and customers are changing as a result of social media.  It's time to question long-held assumptions and look to social media as a means to connect with prospects and customers more effectively.
Getting Beyond PDFs to see Prospects As People
In 2013, its clear B2B prospects are already much more selective with their time.  They expect much more than just a data sheet or a series of choreographed PDFs to each of the stages of the buying process.  They want to know a company is in their corner and gets their problems – not at a simple level – but at the very heart of who the company is.  This is especially the case with B2B manufacturers who have deep expertise in solving complex problems.
2013 is going to be a year full of great marketing intensity.  It is up to B2B marketers to choose if they want to compete at that level right now.
Social Media Is How Customers Want To Learn
One area I consistently see CMOs of B2B companies divided on in their efforts to compete is the value of social media.  I think it is incredibly short-sighted of any CMO, whether in B2B or business-to-consumer (B2C) to discount its value and say it is irrelevant to their marketing efforts.  Social media is how the current and next generation of B2B customers are choosing to learn about new solutions and stay current on brands they are loyal to.
It's time for more B2B CMOs to seriously evaluate the value of social media in their marketing efforts.  It could just be the catalyst that reconnects them with their customers and ignites innovation through marketing, sales, and product development.  A recent webinar titled High-Tech Tuesday Webinar: Profile of Marketing as a Technology Buyer hosted by Laura McLellan speaks to this point.  The following two slides from her presentation underscore how critical social media is going to be this year.  Social media (84%), digital content creation (79%) and digital advertising (76%) are the three most common digital marketing strategies companies are planning on.  The sample includes both B2C and B2B companies.  Of these, social media is the most effective in creating and sustaining communication with an entirely new segment of customers that aren't being listened to today.      Source: High-Tech Tuesday Webinar: Profile of Marketing as a Technology Buyer 25 October 2012 by Laura McLellan.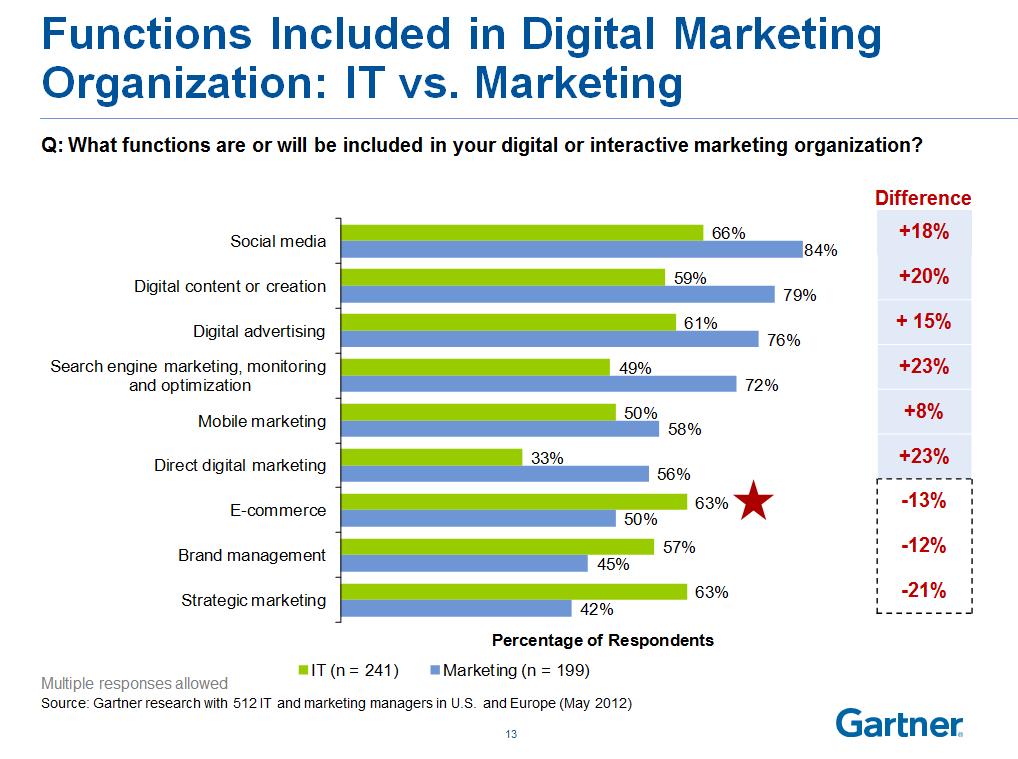 When asked about their company's plans for investing in digital marketing over the next 12 months, 61% said they would be increasing spending in social media, 58% mentioned mobile applications and 54% said CRM.  Investing in social media, mobile applications and CRM sets a solid foundation for changing customer engagement and experiences as well.  Source: High-Tech Tuesday Webinar: Profile of Marketing as a Technology Buyer 25 October 2012 by Laura McLellan .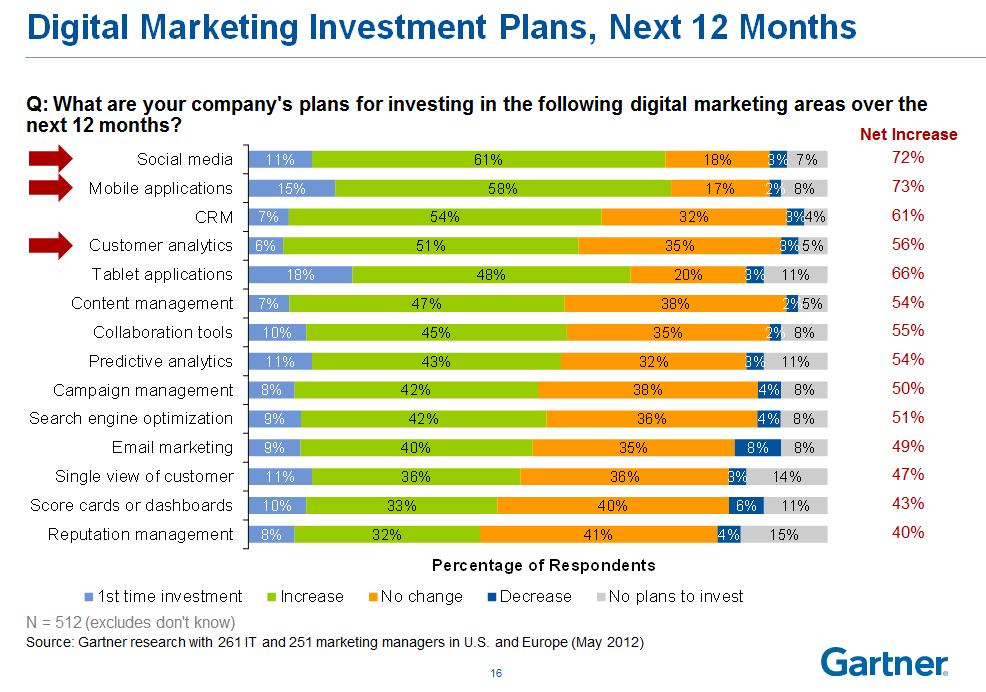 Galvanizing Your Company to Excel for Customers
Nothing galvanizes a company more than being on a mission to excel for their customers.  When a B2B marketer decides to entirely commit themselves to stay in step with their customers and how they learn, the get a shot at the most precious resource of all: trust.  And while there are plenty of studies for and against the value of social media in B2B marketing in general and manufacturing specifically, it is unequivocal that how customers choose to learn is changing quickly for even the most marketing-driven companies.
One of the best recent articles on this topic ran in the CIO Journal of the Wall Street Journal on January 14th of this year.  Titled Manufacturers Sign on To Facebook, LinkedIn and Twitter, the article provides several excellent examples of how B2B manufacturing companies are successfully using social media.  Here are several key take-aways:
About 68% of companies that sell products or services to other businesses said they engaged in social media marketing, according to a September 2012 survey by Chief Marketer, a publication of Penton Media Inc. 79% of consumer brands use social media for marketing purposes.
The article shows how electronics contract manufacturer Etratech Inc. began using LinkedIn, Twitter, Facebook, Google+ and YouTube just over twelve months ago to more effectively promote their business.  Given a set of aggressive sales targets, the company had to move fast and tackle selling problems with entirely new ways of thinking.  This led them to adopt social media as a significant part of their marketing strategy quickly.
Etratech says their manufacturing facility is one of their most valuable selling points, yet many prospects don't see it until well into the sales cycle.  This is very common in B2B selling cycles.  Using YouTube videos to deliver virtual tours of their manufacturing facility has helped to speed up sales cycles.  Etratech says sales cycles that took six-to-eight months are being compressed to as little as six to eight weeks.
Caterpillar Inc. is using separate Facebook sites to serve the information needs of various customer segments and constituencies including construction, power generation, paving, and financial services.   The feedback continues to be very positive from customers who appreciate how easier it is to get support from Caterpillar.
Caterpillar Inc. has also seen positive results from the use of social media from a multichannel standpoint as well.  Today the B2B manufacturer is reaching customers via YouTube, Twitter, LinkedIn and Google+.  The company has also integrated its CRM system, Salesforce.com, with it social media sites.  Caterpillar reports that this is a major process improvement as their current generation of customers are adopting Facebook as a platform to learn about new products.
Getting the most value out of social media needs to be a strategic part of any marketing department.  Integrating legacy, 3rd party, CRM, and pricing systems together to give sales and service all the information they need to responsively serve customers.  The B2B companies who are excelling at social media today commit and excel at integrating these systems together to reduce the time it takes to get customers and prospects the information they need.  It's no secret any customer or prospect on social media sees time itself as much more compressed than those using other channels.  The expectation of immediate response is always there; it's critical how B2B manufacturers choose to respond and manage it.
Bottom line:  Customers are changing faster than many B2B marketers give them credit for.  Look at social media as an opportunity to continually earn customers' trust by delivering useful, high valuable content continually and creating a solid platform of communication.
(Cross-posted @ Enterprise Software Strategist)