In only a few years time, Coupa has gone from a purchase-to-pay (P2P) upstart to the fastest growing eProcurement provider, besting the growth of companies many times its size in new customer wins, adoption levels and percentage revenue increases, among other metrics. In a recent press release, Coupa shared some figures around this growth, including an increase of over 100% in annual revenue and a tripling of spend going through its platform. These numbers are significant considering that all of this is organic (i.e., not through acquisition).

Coupa's platform is both their best asset and strongest growth inhibitor to an even faster CAGR. On one hand, the platform has a common architecture and data model that allows it to develop modules, capabilities and analytics that truly work together, including a new and improving accounts payable capability that could prove a significant threat to incumbents in that market. In the many times I've met with Rob Bernshteyn, Coupa's CEO, he has been adamant about the ultimate strategic advantage that a single cloud platform brings.
Yet on the other hand, this view is holding Coupa back from even faster growth by serving as a consolidator of SaaS and other providers in the P2P market. Just as Ariba, for example, was able to do a significant revenue arbitrage on Quadrem and others to drive its own valuation while maintaining separate solutions and platforms, so too could Coupa use its multiple strengths and backing to consolidate smaller P2P and related providers in the market (either opting to leverage their technology or ultimately migrate them into the Coupa stack). It's a bit of a catch 22 given the opportunity for even further inorganic growth compared to the academic and pragmatic benefits of the single platform strategy.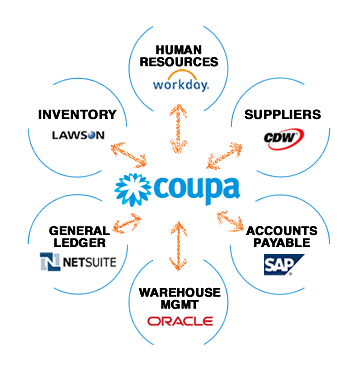 Coupa Integrates Across The Enterprise
Still, we won't second-guess things. What's important for Spend Matters readers is to understand where Coupa's strengths and weaknesses lie today and where they are headed tomorrow. Coupa has focused quite a bit of attention on implementations and integration, and have now integrated with nearly 30 various ERP and HR systems across 318 distinct different fields and objects. Given complex GL structures and added cross-system complexity in heterogeneous ERP environments, the potential for integration complexity in deployments becomes very significant. Still, Coupa has published its average implementation time at 83 days (with the shortest implementation on record in 6 days!)
Given Coupa's growth and the challenges inherent in scaling any professional services organization, it's important for companies seriously evaluating their solutions to speak to current references (ideally with similar environments). A sub 90 day implementation with material integration components may sound great, but the question of the level of integration in that time frame and the typical customer experience is just as important.
Then there's supplier on-boarding and integration. In its recent release, Coupa announced it surpassed 650,000 suppliers in its ecosystem. They do have a supplier network, but it is more akin to a modern version of what Oracle was up to with the original OSN in an EDI-replacement sort of way. In other words, Coupa's supplier network is not a many-to-many network system where suppliers log in a single time to see all of their invoices across different customers. It also does not yet even begin to access the type of multi-tier visibility that some of the more advanced network value propositions are beginning to bring (yet remain far off, looking at the mass market). For this more advanced purpose, they have established partnerships with companies such as OB10.
Most important, however, is that Coupa's network is free, and previously enabled suppliers can speed new vendor on-boarding efforts as well. Still, we go along with the label Coupa gives its network: a "supplier ecosystem." True supplier networks do more than what many have called their "networks" to date. And Coupa has clearly made modular enhancements and suite expansion more of a priority than focusing on the connectivity layer and visibility between trading partners outside of providing a path to link transactional systems and data. At least so far.
Stay tuned as we continue to explore Coupa's expansion, including a deeper dive look at what they're doing in accounts payable territory.
(Cross-posted @ SpendMatters Full)