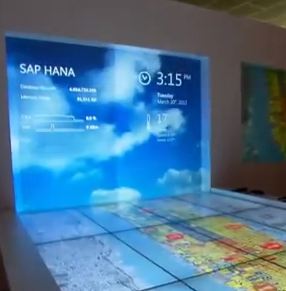 Most folks using procurement technology would rather not get into the underlying bits and bytes of technology architecture, let alone the nuances of database technology. For the most part this makes sense, though we'd argue that for systems integration, a lot of incremental business value in the P2P and services procurement areas can be derived from tighter linkages between systems (e.g., eProcurement, vendor management system, asset management, inventory, badging, and credentialing). But procurement practitioners and executives should begin to pay greater attention to the database itself. This is what SAP has introduced with its in-memory HANA technology.

Over on Supply Chain Matters, Bob Ferrari provides a helpful summary of the news regarding SAP's recent announcement and availability of the SAP Business Suite powered by HANA. We've already covered some of the capabilities that HANA can bring to such applications as supply risk management (see SAP Supplier InfoNet coverage here from Sapphire in 2012) and SAP Spend Performance Management. FYI, with massive data set juggling and on-the-fly heuristics and analysis, the SAP's Supplier InfoNet app is purpose built to run on HANA.
Going beyond Supplier InfoNet, at last SAP is bringing the power of HANA to a broader set of business applications. As Bob Ferrari notes, "This release offers SAP Business Suite applications on the in-memory architecture based SAP HANA platform, including transactions and business intelligence. This includes SAP Supplier Relationship Management and SAP Supply Chain Management suites. The primary marketing message is supporting a real-time business platform. There is a SAP HANA Analytics Foundation offered as a separate package to support analytical needs."
Bob continues by providing a useful list of aggregated coverage of the announcement from other bloggers and columnists. At Spend Matters, when we began to consider the power of HANA as applied to SAP procurement applications, we came to the conclusion that the power of an in-memory database approach matters the most when it comes to network-centric applications alongside analytics (including the predictive analytics SAP features in its Supplier InfoNet solution).
As SAP shares more with us about the impact of HANA to SRM and related applications areas, we'll update our analysis on Spend Matters and Spend Matters PRO. In the meantime, we'll feature some additional analysis today from previous commentary ( Spend Matters PRO analysis following SAP's (then-announced) acquisition of Ariba in the summer of 2012) on the power of HANA applied to new procurement areas and the Ariba Supplier Network.
Looking ahead, Spend Matters believes that the basis of business network competition will shift toward technology (versus focusing on enabling functionality) as a means of differentiation. We believe that SAP and Ariba have a unique opportunity based on HANA and other architectural components, not to mention their ability to rapidly prototype and develop highly advanced mobile applications (consider their SuccessFactors platform and its elegant UI). So much of the emphasis on competitive advantage for procurement solutions in recent years has come from either focusing first on usability (e.g., the Coupa approach) or going deep on feature/function, often for highly specific environments (what SciQuest, Emptoris and others have focused on). To date, the underlying technology has really played a secondary role.
This will start to change as procurement organizations learn what technologies such as in-memory databases can bring. As my colleague Thomas Kase remarked recently:
"As spend analytics tools start to reach into the full PO detail level, covering multiple years across numerous ERP and other solutions … technologies like this become critical and should help enable new levels of visibility and analysis. Similarly, supply chain risk management (early warning) solutions that aggregate and analyze data across more or less all publicly available information globally will likely be other adopters of this level of performance."
The future of the Ariba network under SAP is clearly dependent on taking advantage of the fundamental shift in scale, speed, data, and analytics that SAP already has in their technology arsenal. If SAP gets the future of the Ariba network business right, the only provider they'll have to worry about on the near-term horizon is Oracle, which has similar underlying assets they can exploit. But the good news for SAP in this regard is that Oracle has very limited network capability, and no experience with commercial business network models in the procurement area.
Spend Matters Prediction: By 2015, supplier networks based on older architectures (e.g., Basware, OB10, Hubwoo, Perfect, Transcepta) will still be focused on enabling basic transactional connectivity, financing, supplier management and related areas, but will be unable to keep pace with SAP by adding new capabilities focused on business network intelligence, predictive analytics, dynamic offers and truly information-based business network offerings – unless they, too, rebuild upon a new underlying business network architecture.
The future likely holds grist for SAP's mill, but at the same time it is likely that most large organizations will be as far behind the technological capability curve in 2015 as they are today, so there should still be opportunities to sell less-than-cutting-edge solutions in the future. It will depend on procurement leadership among clients whether or not these solutions get deployed – at Spend Matters we will continue to provide you with awareness and insights.
There is no doubt that SAP HANA will be the database at the core of a future network architecture. SAP Supplier InfoNet was designed from the ground up for HANA to take advantage of many of the types of capabilities we've outlined already in this analysis.
In the meantime, we expect to see the Ariba network gradually taking advantage of SAP's enabling technology up and down the stack, from new mobile interfaces on the user level to greater integration on the connectivity layer.
Spend Matters Prediction: Within the next 2-3 years, expect at least a dozen plug-ins and enhancements to the network leveraging SAP technology. These incremental improvements will precede any major overhaul of the network.
We strongly encourage SAP/Ariba competitors to seriously consider the potential to be outflanked by underlying business network-based technology in the coming years – and to make suitable investments now rather than later from the database level (e.g., HANA, Oracle EXADATA) all the way through to more advanced mobile platforms. Our hypothesis is that when change comes it will be quickly, far more quickly than competitors have historically seen from SAP and Ariba.
Aside from the underlying Ariba network, there are numerous other applications for HANA within SAP's procurement and supply chain application suite. As Bob Ferrari notes on Supply Chain Matters in his recent commentary on the subject:
"The compelling business need of supply chain applications rests in broader and more-timely supply chain wide and B2B business intelligence and predictive analytics. That includes needs for enabling virtual B2B and collaborative sales and operations planning (S&OP) and supply chain control tower processes that synthesize both structured and unstructured information."
For procurement, this will undoubtedly include new types of visibility and predictive analytics to help companies make better total cost decisions (based on ever-changing internal and external factors) in the sourcing process as well as visibility, connectivity and awareness across the multi-tier supply chain into risk elements and opportunities. For e-Procurement and e-Invoicing, SAP SRM and Ariba P2P/Buyer may also stand to benefit from the capabilities HANA can provide – consider predictive analytics around demand and working capital opportunities, real-time supplier offers/discounts, etc.
This will also allow procurement to drive compliance deeper into the supply chain (reference our story on Walmart's current attempts to go multi-tier in their code of conduct, onboarding and ongoing enforcement) and our Spend Matters PRO stories on conflict mineral (3T/G) compliance (here and here.) As a result of this newfound visibility and analytical horsepower, you can drive not only traditional purchase price reduction initiatives and other short-term bottom-line results, but also help drive the top line and guard the stock price at the same time. The sooner you embrace this technology, the quicker we can all move away from viewing procurement as purely a cost center to deliver true best value results.
(Cross-posted @ SpendMatters Full)