The Latest Silicon Valley Disruption Is…A Car?
It's all the rage in the valley.  No, it's not the latest social, mobile, and big data app.  No, it's not some cloud computing break through.  No, it's not even bio tech.  It's actually a car. 
Source: Tesla Motors, Inc.

Whether you are a tree-hugging environmentalist or gas guzzling performance driver, the Tesla Model S actually brings the best of both worlds together. The Tesla Model S is an all-electric, meaning not hybrid with a back up engine, vehicle that:
Goes from 0 to 60 in 4.4 seconds (for the Performance models)
Achieves a driving range of 300 miles
Sports a 17″ hepatic touch screen user experience
Receives on-going software updates throughout the life of the car
Has a 8 year, unlimited mileage battery warranty (for the Performance models)
Seats up to 7 (including rear-facing child seats)
Pretty wild right?  It also comes with an upfront sticker shock of $100,000 USD for the top line versions.  This definitely puts the car out of reach for most folks, or not?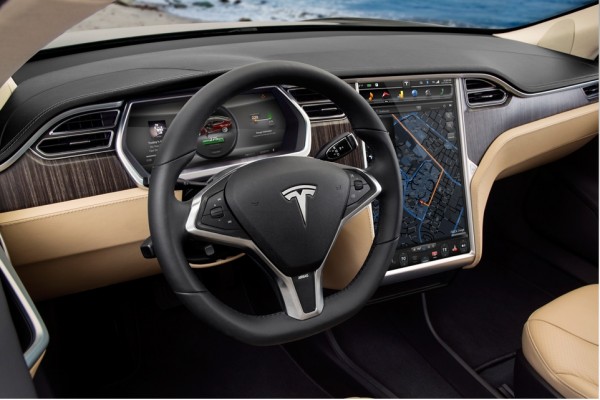 Source: Tesla Motors, Inc.
Behind The Numbers, The Model S Is Actually More Affordable Than You Think
Here's the secret, the life time ownership costs are cheaper than owning an internal combustion engine (ICE) vehicle.  Are you in shock?  Let me show you why.   Using the same approach we take to calculating technology ownership costs, we considered a number of factors (See Figure 1):
Planned ownership. How long will you own the car?
Miles per year. How many miles to be driven per year?

Total energy costs. What are the fuel/energy costs will be in a year?

Yearly service fees. What are the total service and maintenance costs per year?

Cost/mile/year. How much does it cost to operate a car per mile per year.

% reimbursable mileage. If you have a business, what percentage of the mileage is business related.

Reimbursement rate. How much does the tax agency allow you to deduct for mileage?

Car priced with options. What's the cost before taxes for the vehicle?

Financing costs. What are you paying for a car loan?
Tax incentives. What credits are being given to purchase an electric vehicle?
The comparison in Figure 1 assumes a comparison of an ICE (e.g. Audi A6, BMW 5-series, Lexus GS, Mercedes E-Class) vs an 85KwH Tesla Model S Performance Sedan.  Take a look at the results:
Figure 1. ICE vs Tesla Model S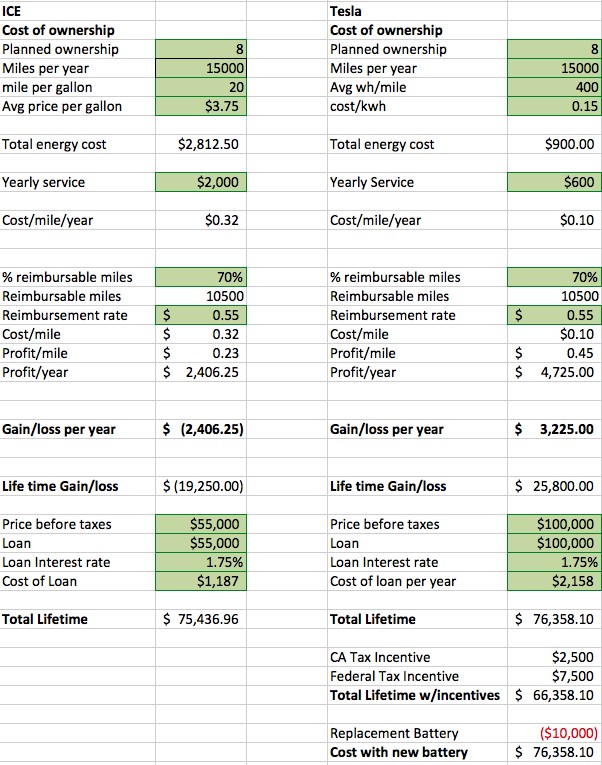 Source: Insider Associates, LLC.
With incentives, the car's lifetime ownership costs, not including insurance, but including a one-time replacement battery of 10,000 USD is almost equivalent to the lifetime cost of an ICE.  The cost savings come for a few reasons:
Lower cost/mile of operation.  Assuming a $.15 per KwH, which is high as the national rates are $.11 per KwH, and $3.75 per gallon of gas, the Tesla is still operating at $.22/mile cheaper than an ICE vehicle.
Minimal service costs per year. Service costs for premium vehicles average out at about $2000 per year, assuming about 15,000 miles driven.
Federal mileage reimbursement rates remain high. At $.55 per mile, those with small businesses can deduct almost $.22 more per mile at $.45/mile.
The Bottom Line: Have Your Cake And Eat It Too.
You don't have to trade performance for greenness.  The Tesla Model S is a game changer.  While the costs are front-loaded, low vehicle interest rates below 2% make ownership very affordable.  For more savings, put a solar panel on your roof. In the meantime, you can outrun a Porsche Panorama making faster, better, cheaper a reality.

Not convinced, go at it on your own.  Here's the spreadsheet.  Have some fun.
Reprints
Reprints can be purchased through Constellation Research, Inc. To request official reprints in PDF format, please contact Sales .
Disclosure
Although we work closely with many mega software vendors, we want you to trust us. For the full disclosure policy, stay tuned for the full client list on the Constellation Research website.
* Not responsible for any factual errors or omissions.  However, happy to correct any errors upon email receipt.
Copyright © 2001 – 2013 R Wang and Insider Associates, LLC All rights reserved.
Contact the Sales team to purchase this report on a a la carte basis or join the Constellation Customer Experience.
(Cross-posted @ A Software Insider's Point of View)