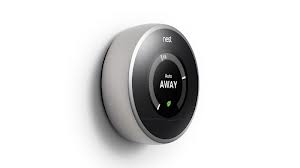 In a world of smartphones, mifi mobile hot spots, wifi hot spots and broadband home Internet most of us live an always connected life. Smartphones are extending this connectivity around the world and into place where it would have taken years to get infrastructure in place to support other types of access. Beyond connecting people though, it's a common conversation in tech circles to think about the possibilities of extending connectivity to all sorts of devices. In the past I think the very attractive concept has proven to be mostly hype or at best experimentation. Not that there haven't already been some interesting Internet of things (IoT) examples, but that the practical use of the technology really hasn't reached the general public. If the reports out of CES and the growing number of product announcements are any indicator this is shifting this year, as more and more IoT products come on the market.
IoT is really about machine to machine (M2M) / automated communication of data between connected devices, it's not just hardware though, the software is really the key to making IoT usable. IoT devices work in a sense and respond model, they collect a specific type of data and communicate it to some device that enables the response. This might be an automated response or it might be actionable information sent to an individual. This is an important point, IoT isn't just about connecting M2M, it's also about providing data to people to enable some subsequent action. IoT devices can be used to solve business and personal issues, and open up all sorts of possibilities.
Health, or as it's starting to be called "smart health", is an area that's seeing an explosion of connected devices. Personal sensors can be used to improve health and fitness or can be used by medical personnel to remotely monitor critical health factors and even administer medications to correct problems.  Connected health then spans preventative, diagnostic and treatment. Personally I tried a wrist band device last year to monitor activity and sleep but eventually returned it due to a variety of malfunctions. In only a year those sensor systems have progressed quite a bit, and I started using a wearable device called a Fitbit One a couple of months ago. It tracks activity and sleep and reports that automatically to an app on my iPhone using Bluetooth and to my MacBook through a wireless USB device. The app is both on my devices and is available online. Through the app you can track weight, food and water consumption (entered manually), workout activities, steps, and sleep; monitoring progress against personally set goals. Extending it another step, Fitbit also offers a connected scale that transmits  weight information to your device.
For the medical community IoT has broad applicability. Remote monitoring of patient data through a wearable sensor could improve quality of life for people with chronic health issues and increase the possibility of getting the proper response for a critical health development. For diseases that require precise medication either on a routine basis like daily insulin shots, or event driven like a heart attack, the devices are lifesavers. Just collecting data for subsequent analysis could help in all sorts of health scenarios. Think about chronic insomnia for example, with a device monitoring the patient over time, a very complete sleep profile can be collected and used for diagnosis. Without the device the data sets would be very limited and often in the past were collected by having the patient spend one or a few nights in a facility.
The connected home is another area that is benefiting from the proliferation of connected devices. You now can remotely monitor and control locks, heating and AC, lights, etc. The Nest Thermostat (which is the device in the picture above) is now in second generation and not only provides remote monitoring and control but learns your habits over time to automatically adjust temperature for events like day/night or even vacations / extended absence. Converged devices that combine several connected activities are also becoming available. Refrigerators that not only provide inventory information to a smartphone app, or perhaps even auto order replacement staples but also stream music or video to provide kitchen entertainment.
There are many more examples for connected "thing", including connected automobiles, utilities, smart cities, etc. I'll stop with the ones we've listed so far, I think you get the point. Anything that benefits from remote monitoring, and/or control, is a candidate for IoT devices. The application in business is no less that personal and medical. Extending automation provides all sorts of possibilities in manufacturing production control. Logistics is making extensive use of RFID to monitor and control shipments. I wrote about a Fedex example a couple of years ago here.
IoT is an example of how three of the current hot trends, big data, mobile, and cloud come together to provide a great deal of value personally and for businesses. When you start to think of all the devices that will be connected over the next few years, you can see that the amount of data generated will explode and to make any sense out of it will require a significant effort. Turning all this sensor data into actionable insight both as M2M automation and as decision support information is the key to value for IoT. In the area of systems of decision this data, if provided in the context of a business decision, in real time, changes the effectiveness of decision making processes. The new business model, sense and respond, rely's heavily on IoT sensor data to change the decision processes in many industries.
With all these new data sources what are the risks both personally and to businesses? In general I suppose there are the usual risks of quality of data and signal interference that are always present when automating processes with technology. Beyond that though, the addition to all these new data sources does open up new security and privacy risks. From a business perspective there are risks of exposing critical and / or competitive information like intellectual property (IP) but there's also the potential for business interruption due to hacker activities into automation systems. From a personal perspective we're opening up the potential for exposing all sorts of personal data or even risk of personal harm from the purposeful interference or misuse of sensors that deliver medications.
It's exciting to see IoT finally move mainstream and to see the reality of all that can actually be done to add value to businesses and to individuals. The next few years will see a massive growth in what can be done using IoT as more and more things get connected.
(Cross-posted @ Michael Fauscette)