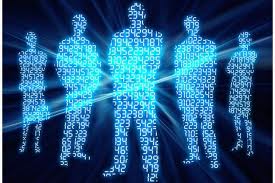 At IDC we do a social business survey a couple of times a year and I now have fresh and just out of the field data to share. It's proven very interesting and telling to trend the survey results over the past 3-4 years, as hot topics have changed and as companies learned more about what works and what doesn't. The one number that has climbed steadily across all the surveys though, is the percentage of North American companies using some type of enterprise social network (ESN). The ESNs are providing the systems of relationship that is the new vehicle for enterprise collaboration and knowledge sharing. An ESN along side of a system to get data to the place in the company where it's needed, when it's needed and in context (or in other words, a system of decision), is critical to operating in the sense and respond model, the key to solving ad hoc problems (problems that occur outside of the systems of transaction), and the basis for the data driven organization (more on that in a future post). Out of 701 responses in North America, this is what we found when we asked companies to indicate "the likelihood of your organization of deploying a corporate sponsored enterprise social network":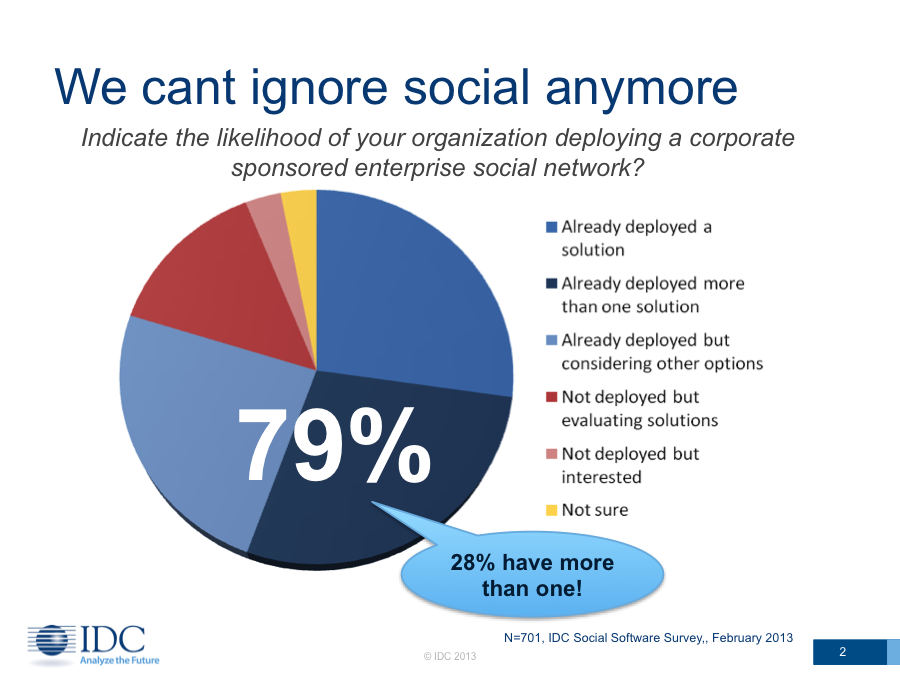 What is really visually striking I think, is how small the yellow "not sure" slice is. The second thing that jumps out is the fairly high number of companies that have "already deployed but considering other options". Clearly there are still many adoption challenges in many companies, changing behavior and culture is much harder and take longer than implementing software. The last bit that I want to point out though, is the number of companies that have more than one ESN, 28%. I've posted recently on network sprawl and this number definitely supports that post.
The question response that has changed the most over the years though, is "what specific initiatives are you planning to conduct using social software for business purposes in the next 12 months?" In our original survey over 4 years ago, companies were very focused on using social for outbound marketing. That wasn't a surprise, at that time marketing was leading the use of social tools and there was not yet a clear understanding of the value of the conversation over the broadcast and on the value of community and networks. In the next round of surveys the focus shifted to internal collaboration and building a knowledge sharing culture. This phase was important for broadening the scope of social and for drawing more of the employees into the activities. This in turn demonstrated to more groups inside the company how social could provide solid business benefit and opened up new processes to social activities. Last year, as companies matured in the use of social tools, the focus shifted yet again to integrated activities like drawing customers and partners into the network, solving customer issues, getting customer and partner feedback, etc. Important because it started to show the business that the future is really networked and connected.
Now in Feb 2013, what are companies focusing on? Well, there is a sign of maturing use as you might guess, so here is the data: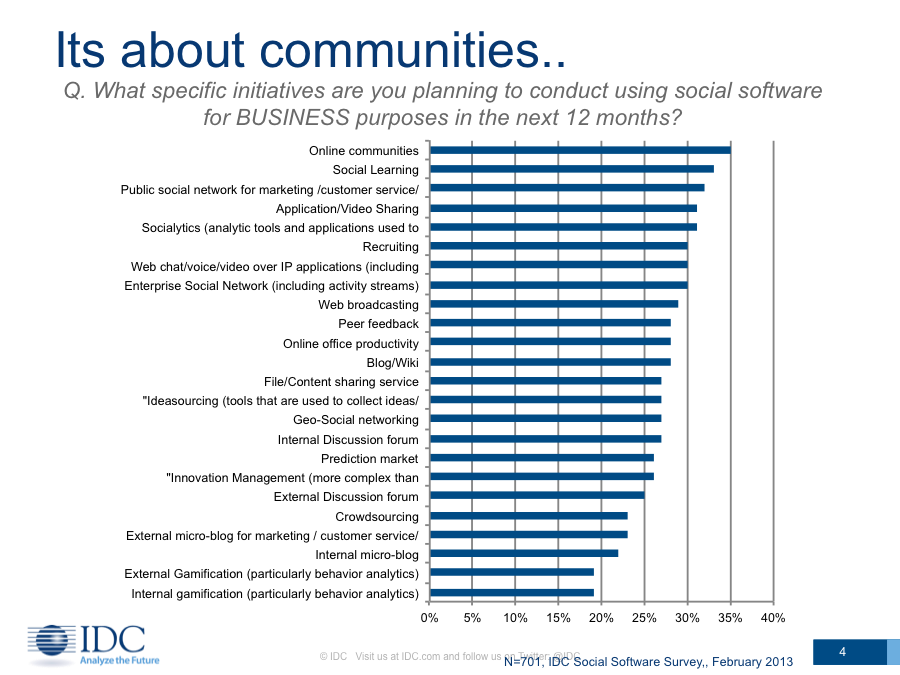 The #1 initiative is now online communities. That doesn't surprise me really, communities is a focus from my research around customer experience and I've noticed a much broader use of them across many functions from marketing to customer service. I wrote about it here. I won't go back through that post, but the data does reinforce the power of using communities for customers, partners, suppliers and employees.
There's more data of course, and as we analyze it over the next few weeks I might pull out some other interesting bits. So what do you think, is online community your #1 initiative this year?

(Cross-posted @ Michael Fauscette)