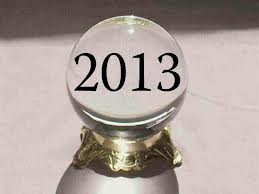 This year, for the first time, the IDC social business team produced a set of top ten predictions for social business as a part of the annual predictions cycle.  We're holding a webinar at noon ET today to discuss them, sign up here. In general this year is a year driven by the maturing use of social tools and increasing pressure to integrate social activities into the workflow. Initiative are consolidating around three major business areas, customer experience, employee experience and partner experience management. These strategic initiatives tie directly to the social business framework that we defined a few years ago and have refreshed recently in a doc titled "Converting Social Software to Business Value", available here (subscription required). The framework is a tool for companies to examine their business drivers for any social projects and then select the right technology accompanied with appropriate change management to more successfully implement the strategy. In one of my upcoming Directions presentations, a collaborative effort with IDC Insights analyst Kimberly Knickle, we'll talk more about the framework and how it can be used. Here's the framework: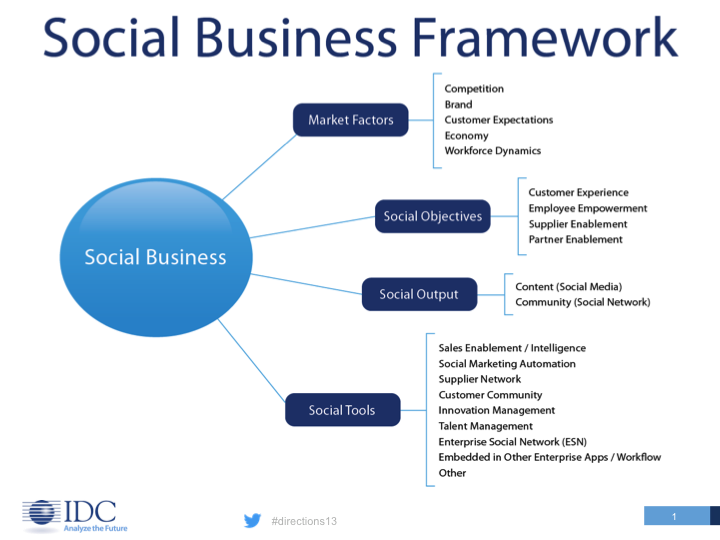 Now on to the predictions, created by a team of IDC analysts including Vanessa Thompson, Mary Wardley, Lisa Rowan, Christine Dover and me:
Social network sprawl continues to be a growing problem as more companies move into the integration maturity phase and realize that instead of eliminating silos, the grass roots nature of networks has led to network silos across the company created by the existence of multiple ESNs.
The talent gap in system integrators and other consulting firms drives some high profile "issues" among fortune 500 as they struggle to integrate social across the business.
ESN deployments in North America will slow with "rest of world" gaining momentum through application refresh cycles.
SAP accelerates its social, cloud and marketing efforts by buying a marketing automation vendor like Marketo.
Customer service continues to converge with marketing, becoming the public face of the company.
Oracle continues to build out its customer experience cloud portfolio by acquiring a community management platform.
Social will further infiltrate employee performance management.
Jive redefines itself by focusing on a few major use cases, and gains significant momentum in 2013.
IBM moves from web experience management to customer experience management by expanding its software portfolio through acquisition.
B2B procurement escapes its organizational silos and goes social with ratings, reviews and more.
So there you have them…and of course as usual, time will tell how accurate we've been. Check back late this year to see how they come out.
(Cross-posted @ Michael Fauscette)